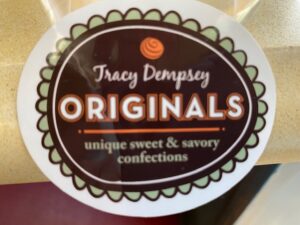 Meet A Talented Chef Who Has Found Her "Sweet Spot" In Phoenix Area!
I recently attended a "Virtual" Cooking Demonstration with a wonderfully engaging chef, the Owner of "Tracy Dempsey Originals".  Her focus is on "unique sweet &savory confections" but in reality her shop is so much more. Granted things are a bit different right now with this pandemic, but she has pivoted her business to meet the needs and will rotate again when it is safe to do so. We have the Destination Team at www.VisitPhoenix.com for arranging this, as they  highlight various venues and local business owners to keep this Valley front-and-center for those of us who write about food and travel.
An Original Right Here in Phoenix
She has arranged purchasing easy-peasy with curbside pick-up for customers. She also has smartly arranged for private in-store shopping by appointment for just 1-3 customers at a time. Cooking classes are on-hold right now but she is doing a few of those virtually, and I will provide more on that later in this article.
Tracey is offering the following Thursday through Saturday and you can check the web site for updated menus.  Here is just a sampling to wet your whistle:
-A plethora of Baked Goods—both sweet and savory
-Cakes for celebrations
-Weekly Menu offerings for Breakfast, Lunch and Dinner
-Weekly Lunch Box offering
-Wines- TDO & ODV Wines for the perfect pairing
Imagine homemade butter biscuits and English muffins, flavored Granola, Hatch Green Chile Pecan Bars, Roasted Poblano Potato Soup with cornbread, Greek Beef Stew with yogurt, Harissa chicken meatballs with feta cheese, and so forth. She even offers frozen cookie dough in three flavors that is in frozen form to and bake in the oven for that at home "hero win".
A bit of a surprise, but she has a huge selection of wines—from reds, to whites, sparkling, dessert wines and so forth. It is a quite impressive list and she can help you pair wine with your meal selection. Tracy also supports other small businesses, as they did for her early on. Derek Sips Coffee is a local small batch coffee roaster and serves up 7 different blends in 12 ounce bags for purchase through Tracy's shop.
Virtual Cooking Demonstration-
We had the pleasure of watching Tracy demonstrate her acumen in the kitchen and what fun to observe her. It is the next best thing to being right there with her. She makes it all look so easy! She showed us how easy it is to make Grenache which is a creamy chocolate mixture that adds milk and allows one to drizzle chocolate on all kinds of desserts! It is like magic.
She also demonstrated how easy it is to use this mixture to prepare Chocolate Dipped Strawberries. Perfect for the upcoming Valentine's Weekend—and quite healthy…right? The key, she shared a key is after washing, to thoroughly dry the strawberries so that the chocolate will adhere and the fruit will not become soggy.
Fondues of chocolate or caramel laced with Brandy or Absinthe (licorice flavor) are among her favorites. She also does desserts with a dash of sea salt, and cookies with tie-dyed icing on top!  Homemade Marshmallows were torched to gently brown the outside. Hers are shaped in rectangles on wooden sticks and then dipped in chocolate. Now, I have made marshmallows in cooking classes numerous times. Let me tell you the taste is incredible. Not anything like what you find in the market. However it is not as easy as it looks!
Special Delivery To Us!
Tracy was so sweet she actually shipped some of her special treats to us since all of us writers attending this session could not be there in person. What a fun surprise that was. Thank you so much Tracy! In my special delivery, I received:
-Chocolate Dipped Homemade Marshmallow and it was incredibly good!
-Red Hot Pepita & Cranberry Brittle which had the perfect balance of sweet, hot and yummy crunchy goodness
-An Arizona shaped Graham Cracker Cookie and that was delicious!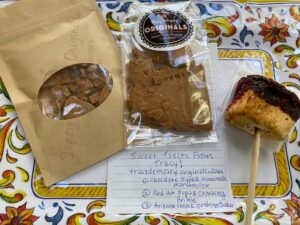 What You May Not Know About Tracy Dempsey-
-Her Mom's Time-Life International Cookbook series piqued her interest in cooking, as well as the entire family enjoyed cooking.
-Her Dad was a petroleum geologist with oil companies so they lived in Singapore, Indonesia, England and later she went to France.
-At one time she lived in Irvine, CA which is where I live and am writing this article right now.
-Has a Master's Degree in French from the University of Oklahoma
-Moved to The Arizona Valley for her husband's job.
-Has worked for some of the most famous Chefs in The Valley
-A dish she is especially proud of is her Chicken Satay and Peanut Sauce (her cooking instructor added a splash of sherry to her dish and now that is her secret sauce)
-Enjoys putting interesting combinations together like …. Bacon and brittle, s'mores and bread pudding! Who does that?
-Adores making soups and desserts and creating dishes with what just happens to be on hand.
-She gets a lot of satisfaction by helping local, small producers, as others did for her when she was just starting out and doing pop-ups.
Tracy Dempsey Originals
1323 W. University Drive
Tempe, AZ
602-376-9021
tracy@tracydempsey.com
www.TracyDempseyOriginals.com