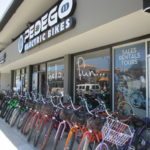 This is a fun electric bike tour among natural surroundings and tranquil waterways.  We take a trail set amidst the natural beauty of an estuary—-with a serene bay, meandering pathways and birdlife.  On this route, we ride a total of approximately 8 miles.  I will also note a few places to grab a quick drink, a bite to eat, and even spots to return another time for kayak and paddle board rentals.  As usual, we try to traverse routes that keep us away from most of the busy streets. Perhaps print this route, and bring this with you as a guide to help you navigate your way to, and around The Back Bay.
We begin this ride at the Pedego Corona del Mar retail store (in Newport Beach CA). This is a gem of a store with wonderful owners (Joe and Hal) and a very friendly staff.  They sell all the different models of bikes, perform repairs and installation of accessories, and rent bikes. They also offer guided tours for groups and events, and have special packages from time-to-time, so check their web site for the latest news. (More information about Pedego Corona del Mar can be found at the end of this article.)
Just to give you a quick overview—- we start this bike route by meandering our way through the residential neighborhood of Corona del Mar, heading north, and then heading east to the nature trail as we explore the Back Bay. Then we reverse our way back to the Pedego Corona del Mar retail store on a slightly different route. We designed this route to avoid as many of the major roadways as possible. It is just more relaxing that way!  When you see RIGHT or LEFT (in all capital letters) that indicates for you to make a turn.
Learning About The Back Bay….
The Upper Newport Bay Nature Preserve and Ecological Reserve represent approximately 1,000 acres of open space. The Nature Preserve is made up of the bluffs surrounding the Bay, with three sensitive species:  the California Gnatcatcher, San Diego Cactus Wren, and Burrowing Owl. Along the bluffs, grasslands and coastal sage scrub can be found. The coastal wetland, one of the largest in southern California, is renowned as one of the finest bird watching sites in North America.  During winter migrations, up to 35,000 birds can be using the Bay at one time. It is home to six rare or endangered species, including the: Light Footed Clapper Rail, Brown Pelican, Belding's Savannah Sparrow, Black Rail, Peregrine Falcon and California Least Tern. The Bay is home to one endangered plant species – the Saltmarsh Bird's Beak. Considered a "critical estuary" habitat— Upper Newport Bay is one of the most pristine remaining estuaries in Southern California.
Source: OCParks.com
Getting Started For The Bike Tour-
-Before leaving, confirm what time you will be returning to the store, and what time the store actually closes. Get your loaner helmet and slather on some sun screen. You can also ask to borrow a bike lock; however, I never let the bike out of my sight.
-A Quick Reminder for your Safety: Always watch for cars, and especially when you are riding on the sidewalks (where permitted). Cars may not expect you to be riding along on the sidewalks, let alone at 8-10 mph.  I also notice that they often drive right up past the cross-walk before stopping their car. This can be quite dangerous if you happen to be passing by at that exact moment. Be alert. Make eye contact. Use your bell. Don't just assume they see you and will stop. Just sayin'!
Heading To The Back Bay –
-Departing from the Pedego Corona del Mar retail store on PCH, we head north, and make a LEFT turn on the very first street,  Carnation Street.
-At Fourth Street we make a RIGHT turn and continue north all the way to Avocado Street.  Cross this street, which has a median strip in the middle, while also watching traffic in both directions.
-On the other side of Avocado Street, there will be a large office building parking lot. Ride through this lot and at the other end of the lot, veer to the RIGHT and then LEFT up onto the wide sidewalk heading north.  PCH will be to your right.
-There are no retail shops along this sidewalk, and for the most part it has a large, wide pathway on which to ride. There is a large wall to the left, sheltering the residential homes on the other side, and PCH is to the right. The path is shaded by large trees, so it is a comfortable ride along this stretch which runs for at least a mile.
-At the corner of Jamboree Blvd. and PCH you can peek down Jamboree to the left and catch a glimpse of Balboa Island below. However, you will want to make a RIGHT turn, crossing PCH and continue riding along Jamboree Blvd. down a slight hill toward the east. There is a bike lane noted on the street, or you can ride on the sidewalk, which is wide and very manageable.
Exploring The Back Bay-
-The next corner there has a traffic light at Back Bay Drive. You will be making a LEFT turn at this light and then work your way to the other side of the street going with the flow of traffic (and heading north). On the left you will notice the entrance to Newport Dunes and through that guard gate you can also detour, turning to the right and head down to the far end where Back Bay Bistro (a restaurant) is located.
-Continue along Back Bay Drive and the street will wind around to the right. At the far end is where the bike path begins. To the left will be the Back Bay Science Center. You can check the web site at the end of this article for more information on this organization and the programs they may have on the calendar. It is not open to the public each day, however does conduct many educational programs.
-Once you are on the bike path, this is a lovely, leisurely ride up the south side of Newport's Back Bay. It is peaceful, there are birds chirping, and the tall grasses are waving in the light breeze. The water shimmers in the sunlight. The bike path is well marked and a joy to ride along for 2-3 miles.
Making A Decision To Turn Left, Right or Return Back in Reverse Order-
-Toward the end of this trail, you will reach a small hill. Heading up this hill, the bike trail ends at the street there on Eastbluff.  It is near the intersection of Jamboree and University, and the street name changes—University turns into Eastbluff.
-1) To the RIGHT- If you follow this along to the RIGHT, you will find a supermarket, two restaurants, a pizza and frozen yogurt shop, and a pharmacy in a compact mall setting.
-2) To the LEFT- You can also choose to make a LEFT turn, cross the bridge along Jamboree, and work your way through the residential neighborhoods to the other side of the Back Bay. However, there is no formal bike trail. Once riders arrive at the Peter and Mary Muth Interpretive Center on the other side of the Bay, there is a bike and jogging trail for a mile or so, along Irvine Avenue. You can continue down to Dover Drive and pick up PCH north of the Back Bay.
-3) To Reverse Back- We typically turn around when we reach the end of the bike trail, and head back in the reverse direction. This scenery never gets old. We always seem to find new things along the way.
-If you do decide to reverse direction, there are two choices when you reach Newport Dunes. 1) You can continue exactly the way they came, and head back to the Pedego Corona del Mar retail store. Or, 2) You can enter Newport Dunes, go across a bridge to PCH.  (If doing option #2, you would go through the main gate, turn RIGHT, and head toward the water—- through the parking lot. There are picnic tables with wooden structures above them, and a large white bridge that crosses the lagoon).
Please Note: Below here….these are things we enjoyed on our Bike Ride, but this was prior to the COVID Pandemic. So for now it is best to pack your own lunch/beverages and hopefully we can return to doing all these activities again very soon… including the music!!!  I have retained all this information below just so you know what is in the area. Hopefully soon we will be able to enjoy these items. In the meantime being out on my bike is a great escape and seeing the water and wildlife is a wonderful respite from what is really going on! Stay Safe!!
-On our Bike Tour, we stopped at Back Bay Bistro to enjoy a delicious lunch and a quick visit on the patio. We watched boats being launched into the water and all kinds of activity. This is a great spot for lunch, happy hour, dinner or a "slow it down" Sunday brunch. And on Thursday evenings they have LIVE JAZZ MUSIC from 6-9PM.
Here are the items we enjoyed at Back Bay Bistro, and photos are below as well. The lunch and dinner menus are quite expansive—so many choices!
-Bistro Burger $14- Brandt Ranch Sirloin (8oz) with sautéed Onions, sliced Tomato, chiffonade of lettuce, Cheddar Cheese on a Brioche Bun and served with fries.
-Back Bay Bistro Clams $12- Steamed Little Neck Clams in a White Wine Butter Sauce
-Taco Salad $14- Tortilla cup, Iceberg Lettuce, Chicken, Avocado, Sour Cream, Chives, Pico de Gallo
-Grilled Baja Fish Tacos $15- Grilled White Fish, Corn Tortillas, Cabbage, Avocado, Lime, Cilantro Slaw
-Returning to the bridge, you will notice (to the right) Pirate's Coast Paddle Company. They do kayak and paddleboard rentals. On the other side of the bridge continue straight and this street turns into Bayside Drive and gently curves around to the left, with a Guard Shack along the way. Continue on this road, which is not too busy, down to PCH. At the intersection of PCH and Bayside Drive, you will cross PCH at the light there, and make a LEFT turn to then head back up the hill on the sidewalk.
-Once you reach Jamboree, you will recognize this as the intersection where you previously had crossed over, and down the hill to Back Bay Drive.
-You will continue along PCH on the sidewalk, and return to the retail store utilizing the reverse order. This means going through the business parking lot, across Avocado Street, and down Fourth Street to Carnation. With a LEFT turn at Carnation, and a quick RIGHT on PCH, you will find yourself right back at the Pedego Corona del Mar retail store.
Dining & Entertainment Information- [Please refer to areas on the map.]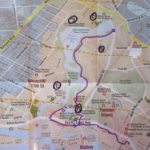 Section "A" On The Map
Back Bay Science Center-
This facility provides year-round educational programs emphasizing estuarine and marine ecology; connecting these concepts to the greater watershed. It is not open to the public on a regular basis. They conduct structured programs & tours with school age children and guests.  With over 750,000 people (approximately the total population of Alaska) living in this watershed (which incorporates nine densely populated and urbanized cities) pollutants from these urban areas funnel down through the Back Bay estuary and out to the Pacific Ocean. The Back Bay Science Center strives towards educating local citizens, particularly future generations, on the critical role they play in their watershed. Their goal is for people to understand what specific activities they should, or should not, do at home that will help protect the Back Bay. http://backbaysciencecenter.org/
-Dining- Back Bay Bistro
Lovely views and outside patio near the launch ramp with lots of boating activity and a great dining experience from appetizers and salads and complete entrees. The wrap-around bar offers the perfect viewing spot for stellar sunsets.
Summer Hours: Open Tuesday thru Sunday for Lunch, Dinner and Sunday brunch. (after Labor Day will be Wed. thru Sunday)
Happy Hour: 4:00-7:00pm Tuesday thru Sunday (after Labor Day will be Wed. – Sunday)
Jazz Music Thursday evenings 6-9 PM even in Fall!!!
http://www.newportdunes.com/back-bay-bistro/
-Dining and Resort Accommodations- Hyatt Regency
The Hyatt Regency Newport Beach is located just one block east of Newport Dunes on Jamboree. This resort offers a garden setting with three swimming pools, bike rentals, a 9-hole executive golf course, and a restaurant SHOR American Seafood and Grill, serving breakfast, lunch and dinner.  http://www.newportbeach.hyatt.com/en/hotel/home.html
-Entertainment- Newport Dunes Waterpark, RV & Marina
Offers water activities and boat rentals of all types for a fee, with a beach, water slide, floating platforms for diving and large RV Park for overnight stays.  http://newportaquaticcenter.com/
-Paddleboard Rentals- Pirate's Coast Paddle Company-
This company does rentals however check their web site for hours. They also just added Eco-Tours out in the open ocean. During the summer months, on the weekends they do a fun Glow Paddle Board Night Tour. This is conducted on Friday and Saturday evenings from 7:30 to 9:00pm.  It is a guided tour for $40 per person, and includes: the board, instruction, glow stick to illuminate the water, etc. (Sunday –Wednesday, for a group of 10 or more people, they will arrange a private tour.)  http://piratecoastpaddle.com
Section "B" On The Map
Dining & Shopping at Eastbluff Shopping Center
-At the Eastbluff Shopping Center, there is a Ralphs supermarket, a CVS drugstore, a yogurt shop, Zpizza, and two sit-down restaurants:
-Bistro Le Crillon – French Cuisine  www.bistrolecrillon.com
-Provenance- Napa-Style Cuisine with an on-site vegetable garden
http://www.provenanceoc.com/
Section "C" On The Map
Dining & Hotel Accommodations- Marriott Bayview
-The Marriott Bayview has just undergone a renovation of their terrace and restaurant, creating lovely fire pits and conversation areas overlooking the Back Bay. The restaurant, The View Restaurant serves breakfast, lunch, dinner and offers a great selection of appetizers— just perfect for sharing.
www.marriott.com/hotels/travel/npbst-newport-beach-marriott-bayview/
Section "D" On The Map
Peter & Mary Muth Interpretive Center
This Interpretive Center features an impressive 10,000 square foot educational facility that was built into the side of one of the bluffs on the north side of the Bay. It offers panoramic views of the Bay, yet is nestled quite unobtrusively. Many local residents are still unaware that it is even there.  They offer classes, family programs, guided walking tours, and have a series of exhibits and interactive displays that make the Bay come alive. Visitors learn about life in and around an estuary and why Upper Newport Bay is such an important estuary. The center is open from 10:00am until 4:00pm Tuesday through Sunday. Admission and parking are free. For more information, visit the web site, or call (949) 923-2290.
http://newportbay.org/facilities/muth-interpretive-center/the-ic/
Also the Newport Bay Conservancy has a web site with a wealth of information.  Please visit:  http://newportbay.org/
Section "E" On The Map
The Newport Aquatic Center-
The Newport Aquatic Center was founded in 1982 and built in 1987 as a non-profit corporation offering the public unique opportunities in the Olympic water sports of rowing, canoeing, kayaking and outrigger canoe competition. They have a membership program of athletes that use this as a practice facility for training in the water, as well as weight lifting, and storage of outriggers and kayaks.  It is also a rental facility that is open to the public for kayak and paddleboard rentals. They lead naturalist guided kayak tours into the Back Bay, so check the web site for details.  http://newportaquaticcenter.com/
~~~~~~~~~~~~~~~~~~~~~~~~~~~~~
About Pedego Corona del Mar
Pedego Corona del Mar has a great selection of bikes for sale, and do all kinds of repairs, add accessories and upgrades too. They also rent bikes for $14.00 per hour, or $50.00 per day. They conduct private tours for groups of 2-8 guests for $69 per person, for 2.5 hours. On our recent visit they were leading a tour of 45 guests in groups of 8 or so, on a four hour custom tour from one of the local hotels. So the possibilities are endless and this team is so wonderful to work with.
Pedego Corona Del Mar- 2515 East Coast Highway – Corona del Mar, CA 92625
(949) 612-7989 ~ www.pedegocdm.com
PEDAL FOR 2
ALL-DAY ELECTRIC BIKE RENTALS FOR TWO AT
PEDEGO ELECTRIC BIKES CORONA DEL MAR
PLUS … #1 ENTRÉE'S AT WAHOO'S FOR TWO!
All for just $85 (a $26 savings)
Take an all-day spin on a Pedego Electric Bike and re-charge
with a delicious meal at Wahoo's Fish Tacos.
Why not take the day off and spend a FUNTABULOUS time?
Valid thru 9/7/15. Offer is subject to availability of bike rentals.
Please call (949) 612-7989 to make reservations.
All About Pedego Electric Bikes-
For all the geeks in the room… Pedego is an electric bike with a flat black box of a battery that is locked in place just above the rear wheel. The best part of all is that it rides just like my regular beach cruiser. The bikes are available in a plethora of bright, fun colors—I count about 20 of them. Riders swap out fenders of different colors and just have fun with designing their custom bikes. It is really a kick to see all the creative ideas.
I have a link for specs and particulars below but as a lady who just likes to "keep it simple"—- here is how I have simplified the many options and styles. Style-wise, there is the "Comfort Cruiser" (a step-thru bike with a lower bar in the middle). We used to call that a girl's bike, but the benefit has now expanded to those with limited mobility, the "Interceptor" (both step thru and with bar), "City Commuters" and "Trail Trackers" with the wider, super-fat tires.
From a FUNCTION standpoint, here are three of the most popular options: 1) there is the basic Comfort Cruiser that you pedal like a normal bike, with various speeds, and can use an easy throttle on the right, to kick-in the power of the battery;  2) the sleek City Commuter, a Dutch street-style model with "Pedal Assist" (which automatically kicks in the motor). The electronic data box readout indicates: mph, battery charge level, etc.; and 3) the Interceptor which is the ultimate cruiser-style model—-providing the data readout and that awesome "Pedal Assist" feature, (which automatically kicks in and there is no need to use the throttle at all). [Prices range from $2,200 to $3,700, depending on model and features.]
And everyone wants to know about the bikes range. That really depends on a few factors—your weight (the drag) and the grade of the surface you are riding, as well as the head wind. If it is flat terrain, and you are about 180 pounds, riders can expect approximately 20-30 miles of range with little wind resistance from a 10 amp-hour battery.  A 15 amp-hour battery will deliver about 10 more miles per charge. The battery is available in 36 volt and 48 volt, with the latter providing more thrust to carry you up the really big hills.
What about noise? A specially designed motor is on-hand.  All Cruisers come with a throttle-activated motor, putting the rider in complete command. The rider can pedal, or twist the throttle to use the motor and not pedal at all (or any combination of throttle and pedaling). It's the rider's choice how hard to work on any ride, and no matter how much you throttle the motor remains whisper quiet. I use both.
Pedego's 500-watt silent hub motor provides the power to ride comfortably up hills and through heavy headwinds. The newer motors are geared, which offers more thrust with no noticeable drag. This allows for a rear disc brake for extra-powerful stopping capability. Plus, Pedego electric bikes are completely free-wheeling when powered off — so there is no additional resistance from the motor if a rider chooses to pedal. This all ensures a quiet ride. Even the motor's location is purposeful. With safety a top priority, Pedego's rear hub motor is an improvement from front-hub designs. Placing the motor beneath the rider's weight helps to keep the bike moving smoothly — with good traction.
Pedego has just thought of everything, haven't they? There are two saddle bags which are add-ons, for those wanting to carry light packages home on their bike.
Owners can add lights, rear-view mirrors, phone holders, speakers to play music, water bottle holders, and the list goes on. And for those wanting to tug things, they offer a custom trailer for surfboards and even for carrying children in tow. (And for towing super-heavy items, there are even bigger tires.)  They even have a tandem bike! Visit  www.pedego.com  for more information.
Important Caveat For Bike Riders Reading Or Using This Article:
Please note that this Bike Route is offered as a "suggested route" to avoid traffic, explore the area, and enjoy a marvelous daytime ride on Pedego electric bikes. This is in no way an endorsement, or any guarantee to safety while riding. Each bike rider needs to wear a helmet, obey all signs and guidelines for riding, know their own capabilities, and watch for all cars and traffic. Watch for cars that drive right up past the cross-walk before they stop. We notice more and more doing this. If traveling on the sidewalk, it is important to make eye contact and be sure drivers see you coming. You, the rider, are responsible for your own safety. Basically, don't do anything stupid.