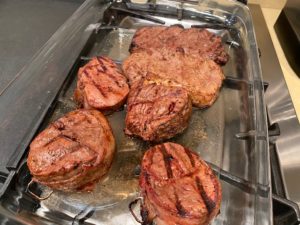 What fun to have Omaha Steaks delivered right to my home! This was a special treat and I quickly got to work. I referred to my notes from the local Omaha Chefs we had met virtually. I dug out my beloved iron skillet to cook in, just as they had recommended! I am no chef, but I am a very active "home cook" and being in the kitchen is truly my "happy place".
[A big thank you goes out to Omaha Steaks who provided me with a gift card so that I could go on-line to select steaks and cook them at home. They were shipped to me, and here in this article & videos, I am now sharing this fun adventure with all of you!]
I made plans to cook steaks three ways: 1) in an iron skillet and finished in the oven; 2) on my Stephen's BBQ stove-top grill (which is an incredible gadget for me to use when grilling outside is just not the best option); and 3) on my outside grill. Yup, I am a girl who likes to play with fire. I am the one in our home who enjoys doing all the grilling. My husband just gets me the grill I want and keeps the propane tank full. From proteins, to vegetables and yes, even nectarines for dessert with ice cream.
UNPACKING THE GOODIES
Some of you readers may be thinking, as I did, how is it that they ship the meats all over the country? How do they keep the order cold on the route from Omaha, Nebraska all the way to my doorstep in Southern California? So I thought I would do a brief video to show you how it arrives and I think you too will be impressed!
COOKING UP SOME FUN
As you will see in this short video below, I share with you, the fun of cooking up Filet Mignon wrapped in bacon in my super hot iron skillet. And just as the Chefs had guided us on our virtual tour in their restaurant kitchens, I followed their tips to a tee.
-Take the steaks out at least an hour before cooking them up.
-Salt and Pepper both sides just before cooking.
-Turn the oven on.
-A blistering hot iron skillet.
-Add oil and sear steaks on both sides and around the rim (if thick or have bacon wrapped around the edge).
-Place the pan into the oven to complete the cooking process.
-Using an instant thermometer, confirm the desired temp (and can refer to this chart provided by Omaha Steaks too).
The steaks were delicious and I think my favorite was the Filet Tenderloin. Perfectly marbled and trying the various sauces was alot of fun. I typically serve steaks with fresh vegetables and rice or potatoes.
GETTING SAUCY IS WORTH IT!
I reached out to my followers on Facebook and asked my wonderful audience to please share with me their favorite sauces for steaks. I wanted to step it up beyond A-1 Steak Sauce, which I adore. But between my foodie friends and beloved chef buddies, I received over 70 suggestions. I am going to share with you below a list of many suggestions that came my way, and I know they will inspire you to consider trying something new as well!
I am also going to share my favorite recipe for a traditional Béarnaise Sauce adapted from Bon Appetit. The tarragon is such a perfect complement to the flavor of the steaks.
READERS WEIGH IN ON THEIR FAVORITE SAUCE FOR STEAKS!
-Green Peppercorn Cream Sauce
-Blue Cheese Crumble
-Chimichurri
-Horseradish Aioli
-Brandy Peppercorn
-No sauce! Just salt and pepper
-Housemade Kechup
-Housemade Salsa
-Cognac, Peppercorn & Cream Sauce
-Au Poive
-Sautéed Mushroom, Bacon, Onions & Balsamic Vinegar
-Crab with a Gorgonzola Cream Sauce
-Whisky Pepper Sauce
-A-1 Sauce mixed with Brianna's Blue Cheese Dressing
-Mango Salsa
-Port Porcini Wine Sauce
-Compound Herb-Seasoned Butter & Chives
-Shallots, Thyme & Peppercorn with pan reduction
-Soy Sauce, Dijon Mustard, Honey & Siracha
-Creamed Horseradish Sauce
-Creamed Spinach with hint of Garlic and Nutmeg
-Red wine reduction with Rosemary
-Choron Sauce (a tomato spiked Béarnaise Sauce with touch of honey)
-Romesco Sauce
-Garlic and Butter
RECIPES
Roasted Garlic Compound Butter
-2 heads of garlic
-2 tsp. olive oil
-1/2 tsp. kosher salt
-1 stick unsalted butter-room temp
Preheat oven to 350 degrees. Peel garlic cloves, drizzle with oil and wrap in foil. Roast for 40-60 minutes until soft. Remove the outer shells, squeeze and mash garlic cloves. Mix with soft butter and salt. Roll compound butter into a log inside a sheet of parchment paper and refrigerate. This can later be sliced and placed on top of the steaks.
Béarnaise Sauce
(recipe adapted from Bon Appetit Magazine)
YIELD: Makes about 1 cup
Ingredients:
-1 tablespoon plus 1 cup (2 sticks) unsalted butter, cut into 1/2″ cubes
-3 tablespoons minced shallots
-Kosher salt and freshly ground black pepper
-2 tablespoons Champagne vinegar or white wine vinegar
-2 large egg yolks
-1 tablespoon (or more) fresh lemon juice
-1 tablespoon finely chopped tarragon
Preparation:
-Melt 1 tablespoon butter in a small saucepan over medium heat.
-Add shallots and a pinch of salt and pepper; stir to coat.
-Stir in vinegar, reduce heat to medium-low, and cook until vinegar is evaporated, 3-4 minutes.
-Reduce heat to low and continue cooking shallots, stirring frequently, until tender and translucent, about 5 minutes longer.
-Transfer shallot reduction to a small bowl and let cool completely.
-Meanwhile, fill a blender with hot water to warm it; set aside.
-Melt remaining 1 cup butter in a small saucepan over medium heat until butter is foamy.
-Transfer butter to a measuring cup.
-Drain blender and dry well.
-Combine egg yolks, lemon juice, and 1 tablespoon water in warm, dry blender.
-Purée mixture until smooth.
-Remove lid insert and with blender running, slowly pour in hot butter in a thin stream of droplets, discarding milk solids at bottom of measuring cup.
-Continue blending until a smooth, creamy sauce forms, 2-3 minutes.
-Pour sauce into a (warmed) medium bowl.
-Stir in shallot reduction and tarragon and season to taste with salt, pepper, and more lemon juice, if desired.
Chef Note for Do Ahead: Can be made 1 hour ahead. Cover and let stand at room temperature.
WHY OMAHA STEAKS?
-Easy To Order- It is so easy to place an order on-line and wait just a few days for your delivery to your home!
-Cut of Meat- Every cut of beef has a unique flavor, texture, size and shape. Some like a tender filet, others like a rib eye with a marble to the eye, and filet tenderloin…
-Marbling- This melts as a steak cooks, creating a rich flavor and juiciness.
-Aging- Aging beef naturally maximizes the tenderness. That is why Omaha Steaks beef is aged a minimum of 21 days and their Private Reserve collection that is aged at least 28 days.
-Flavor- Steak flavor is complex, like a fine wine and depending on the cut, marbling and age a steak might be rich, mild, savory, bold and so much more!
RESOURCES:
-To Order Steaks and Other Items Please Visit: https://www.omahasteaks.com/shop/
-To view my stove-top grill Visit: https://stephensstovetopbbq.com/store
-To view my previous article on the Virtual Visit with three iconic Chefs of Omaha and learning their tricks and tips on cooking steaks
Visit: https://tastesandtravel.com/omaha-chefs-offer-tips-for-stellar-steaks/