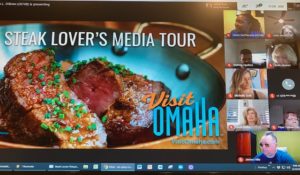 I had the pleasure of participating with other foodie writers in a "Virtual Steak Lovers Media Tour" with three chefs in the heart of Omaha, Nebraska. What fun for us to see them working in their restaurant kitchen environments, as we scribed notes on their "tips and tricks" to making the perfect steak.  We also gained some insights as to what they like to plate with a good steak in their restaurants—and even at home too. We even garnered a recipe!  The event was orchestrated by Tracie McPherson, Director of Communications for the Omaha Conference & Visitor Bureau (OCVB). She did a wonderful job as we virtually leaped from one restaurant to another! It was coordination and technology at its finest.
It has been said that there are more cattle than people in Nebraska— by a ratio of about a 4:1. And according to www.nebeef.org the state has many natural resources that explain this phenomenon, such as:
-Nebraska's farms and ranches utilize about 91% of the state's total land area. They grow corn, of which 40% is used to feed the livestock.
-Nebraska is fortunate to have aquifers below it. If poured over the surface of the state, the water in those aquifers would have a depth of 37.9 feet.
-The state has 96,509 registered, active irrigation wells supplying water to 8.3 million acres of harvested cropland and pasture, as well as rivers and streams.
Omaha grew in the late 1880's as a cattle town, and also a great stop long the railways for cattle heading eastward. We also have Gustavas Swift to thank for his brilliant idea. In the late 1880's he had the thought of refrigerating the rail cars and in doing that ranchers could then transport the cut meat safely, instead of transporting the live cattle. He realized that it would be far cheaper to ship by rail the cut meat vs. live steer to the East Coast. The trick was inventing a refrigerated rail car and then building ice stations along the route to maintain ice harvested from the Great Lakes each winter. Chicago was the mecca for livestock and auctions, but later Omaha became the center of slaughterhouses and meatpacking. But that is a story for another day.
Omaha Restaurants Showcase Fine Steaks-
With that kind of history and lore, one can only image how proud the restaurants in this area are to showcase their steaks. There are many restaurants that have made a mark in this town as incredible "steakhouses". This includes, but is not limited to: Crescent Moon (in the Blackstone District), Anthony's (an old-school steakhouse with an in-house butcher that arrives at 4am every morning), Grorat's (one of Warren Buffett's favorites),  Spencer's Steaks & Chops, The Drover (famous for their Whiskey Steak), Monarch Prime (who dry-age their steak for 21 days), Dante, V. Mertz and Kitchen Table.  The latter three were on-deck for our media tour and we had the pleasure of meeting "virtually" with these chefs and watching them prepare the perfect steak.  This included:
– Owner & Chef Nick Strawhecker
Dante' Pizzeria Napoletana – www.dantepizzeria.com
-Chef Jake Newton
V. Mertz Restaurant- www.vmertz.com
-Owner & Chef Colin Duggan
Kitchen Table – www.kitchentableomaha.com
Dante- Owner/Chef Nick Strawhecker
His Steak Cut: A 20oz. Bone-in Ribeye from Omaha Steaks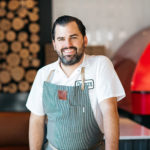 Chef Nick Strawhecker was trained in Europe and this restaurant is located in the Shops of Legacy which is in western Omaha (about 20 min. from the Old Market District). The Shops have over 40 restaurants and boutiques and offer a walk-able setting. The restaurant is known for their Italian wine list, and is recognized in Italy as the only restaurant in the area for such a coveted list. Nick and his team make just about everything from scratch— from salad dressings, to pasta, fresh mozzarella and he knows all the farmers he purchases from locally. His is the only restaurant in Omaha with an authentic wood burning pizza oven. He can cook a pizza in 90 seconds!
Chef Nick selected his favorite steak to prepare for us as we all watched with envy. Here we go…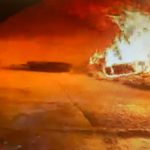 Chef Nick's Steak Preparation & Cooking Method:
Temper the steak for about 2 hours to bring to room temperature
Season with fresh cracked black pepper and Diamond Crystal salt (a Kosher salt produced by Cargill that has delicate flakes and is harvested from the shores of the Pacific Ocean)
Prepare in a hot cast iron pan with olive oil
Place steak in wood-fired oven (using oak and walnut woods)
Once the internal temperature of steak read 115 degrees to 120 degrees (rare to medium rare) remove it carefully from the wood-fired oven—takes just a few minutes!
Finish with a hint of minced garlic and butter
Let the steak rest for five minutes and then cut across the grain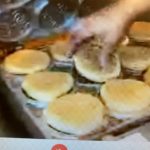 He shared with us his Tigelle Bread (also called Crescentine) it is a popular street food in Emilia-Romagna & Modena, Italy. It is formed in a press and is a cross between an English Muffin and pita bread. It is round and he cuts it in half to be used as a bun of sorts. His Steak Sandwiches are served with a variety of condiments like fresh mushrooms, pickled vegetables and his specialty sauces. At home a 20 oz. steak is very versatile and if sliced it can feed about four guests.
Chef Nick's Tip:
At home, the key is to use a good cast iron skillet that you preheat on a stove, oven or grill.
A nice reduction with a splash of bourbon creates a great sauce.
Here is Nick's recipe for a very popular sauce for his Steak Sandwich, a Chili & Honey Aioli.
Recipe: Chili and Honey Aioli
Ingredients:
2 Egg Yolks
¼ cup Red Wine Vinegar
¼ cup Honey
1/8th cup Chili Paste
1/8th cup fresh Oregano
2 cups Canola Oil
Salt to taste
Directions:
-In a food processor or Vida Mix add first five ingredients
-With machine running, very slowly add the oil to create a liaison/thickening, and by continuing to add the oil (ever so slowly) it will emulsify.
-When the aioli is to a desired consistency taste it and season with salt and add acid if necessary.
V. Mertz – Chef Jake Newton
His Steak: Boneless Ribeye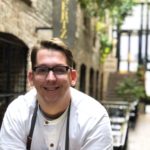 The name of this restaurant intrigued me, so I had to call and spoke to Jill Panzer who was so kind to give me the skinny just before they started dinner service for the evening. In the 1970's Omaha was a cattle town for sure and had a vibrant industrial area. Mark and Vera Mercer hailed from France. They bought up some of the warehouses and for those that were side by side, they wanted to recreate the "old market" vibe like they had in France. So they dug out the floor, put in a ceiling that was somewhat see-through to the sky, and created a pedestrian pathway. Soon stores, boutiques, a wine bar, restaurants and coffee houses appeared and thus the Old Market District was born. It is a charming area to wander about and being indoor and outdoor it reminded them of being in France. The V. stands for Vera, of course, and Mertz was Vera's maiden name. It is an upscale dinner house and they are proud to have a third level Sommelier. They have been awarded many Wine Spectator accolades, including this past year 2019. Their menu changes daily, but here are a few examples. Recent appetizers included: cheese and charcuterie plates, cucumber carpaccio, shrimp, and salads. Entrees included: NY Strip Tartare, Poached Salmon, Braised Short Ribs, Roasted Duck Breast, NY Strip Steak, Tenderloin and even Tomahawk's.
Chef Jake's Steak Preparation & Cooking Method:
Start with a very dry steak by removing all of the moisture
Season with a liberal amount of salt and cracked black pepper
Place in a cast iron pan with oil
Sear steak on the hottest surface possible to create that crust and caramelization on the steak. About 3 ½ min. on each side for a ½ inch steak.
Once steak has the nice exterior crust, let it rest for 5-7 minutes, the goal is to cool the external temperature to be less than what you desire the internal temperature to be.
Finish steak in a hot oven (400 degrees) for about 5 minutes (depending on your oven) until you reach desired internal temperature 120-125 degrees for medium rare. (Use an instant read thermometer to check.)
Final resting period is around 15 minutes
Chef Jake's Tips: 
Use canola oil in the pan as it heats nicely and has a high heat-point
Move pan to another hot spot to keep the temperature of the pan high
One of his favorite preparations is with a classic peppercorn sauce
When cutting the steak he suggests to cut across the grain and to use long strokes.
You do not want to saw back and forth. That is a no-no.
A great steak and a salad is a wonderful, yet simple meal.

Kitchen Table – Owner/Chef Colin Duggan
His Steak Cut: Teres Major (also called the Shoulder Tender)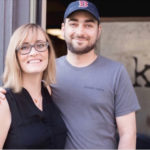 Kitchen Table serves breakfast, lunch, afternoon snacks and dinner with a casual wood & brick décor vibe to the restaurant. They say we do "slow food fast" and that is their key message. They offer seasonal cuisine with virtually everything made from scratch—and that is a lot of stuff! A few examples from their menu include: buttermilk biscuit with bacon, eggs and cheese, asparagus frittata, grilled cheese with asparagus, guacamole and cheddar, chicken sandwich, meatloaf sammy and curry laksa with tofu.
For the Teres Major, this cut comes from the shoulder or chuck of the steer. When most people think of chuck they think of a chuck roast or a chuck steak which if a fairly tough cut that has a lot of connective tissue in it. As a result it is usually relegated to pot roast duty, but in the hands of a skilled butcher there are some individual muscles in the chuck that are very tender and flavorful on their own.

Chef Colin's Steak Preparation & Cooking Method:
For this cut, first he trimmed the silver-skin of the steak but left some of the fat
Prepared the pan with butter and herbs
Seasoned the steak with in-house seasonings
Used a very hot cast iron pan to create a sear and set a crust on the steak
Steak is good for any time of day… and here are a few of Chef Colin's suggestions:

For Breakfast– Serve steak with cooked eggs and vegetables on grill.
Seasons with oil after cooking to absorb flavor
For Lunch– Lunch- Steak salad with housemade Greek Goddess dressing and Kitchen Table seasoning from their General Store such as Dukkah (an Egyptian nut and spice blend with walnuts, almonds, sesame seeds, coriander, cumin, and so forth). With excess steak, one could make a soup or burrito.
For Dinner– Jerk Spiced steak with marinated tomatoes and asparagus and use reductions and a splash of Cognac to create a special sauce for the steak
Chef Colin's Tips: 
Season steak up to 12 hours prior to cooking to infuse maximum flavor
Use spices from their General Store for incredible flavor (which they do sell)
A big thank you to Omaha Steaks for sponsoring this tour today! And I have a big surprise…Omaha Steaks is giving each of the writers who attended this Virtual Media Tour a gift card! We are each going to place an order, prepare them, enjoy them and write about it! We can then share with you our readers the entire experience! I ordered mine and of course had to add to my order. They will arrive next week. Meanwhile, I reached out to my Facebook fans and local chefs who shared with me their favorite preparations and sauces too.  So I have lots of fun things in store! Stay tuned!!!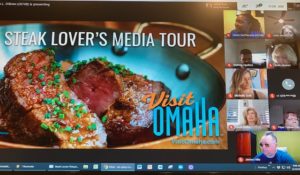 Here is  a brief history about how Omaha Steaks came to be….
Sources for the following include: GreaterOmaha.com, Wikipedia and Omaha Steaks.
-In 1884, a small group of investors established Omaha's Union Stockyard with a few animal pens and an old farmhouse. The first herd to stop in Omaha totaled 531 Long Horn cattle.
-Omaha's cow know-how is legendary thanks to premiere steakhouses and beef heavy hitters such as Greater Omaha Packing and Omaha Steaks. Both companies and their beautiful cuts of meat, have helped make Omaha the steak capital of the world.
-By 1890, Omaha Union Stockyards were ranked third in the United States for production. By 1910, the operations had 20,000 animals arriving daily. It was more than feeding and watering the cattle on their way to east coast markets, Omaha had become the market.
-In 1947, Omaha was second in the world to Chicago in the meat production industry. Omaha overtook Chicago as the nation's largest livestock market and meatpacking center in 1955.
-One of those butcher shops belonged to J.J. and B.A. Simon, a father-son team, who immigrated from Ree-ga, Latvia in the late 1890's. The Simon's opened their butcher shop, Table Supply Meat Company, in 1917 in Downtown Omaha. It quickly become a local favorite and would later be known as Omaha Steaks International.
-In 1929, the Simon's expanded their business through cross-country partnerships. This put their steaks on the menu of railroad dining cars and troop transport trains, which helped to expand their exposure beyond Omaha. In the early 50's the company started their first mail order venture and by 1966, had reached global proportions.
-Today, Omaha Steaks is still family operated by the 5th generation Simon Family. The company employs more than 1,800 people.
##