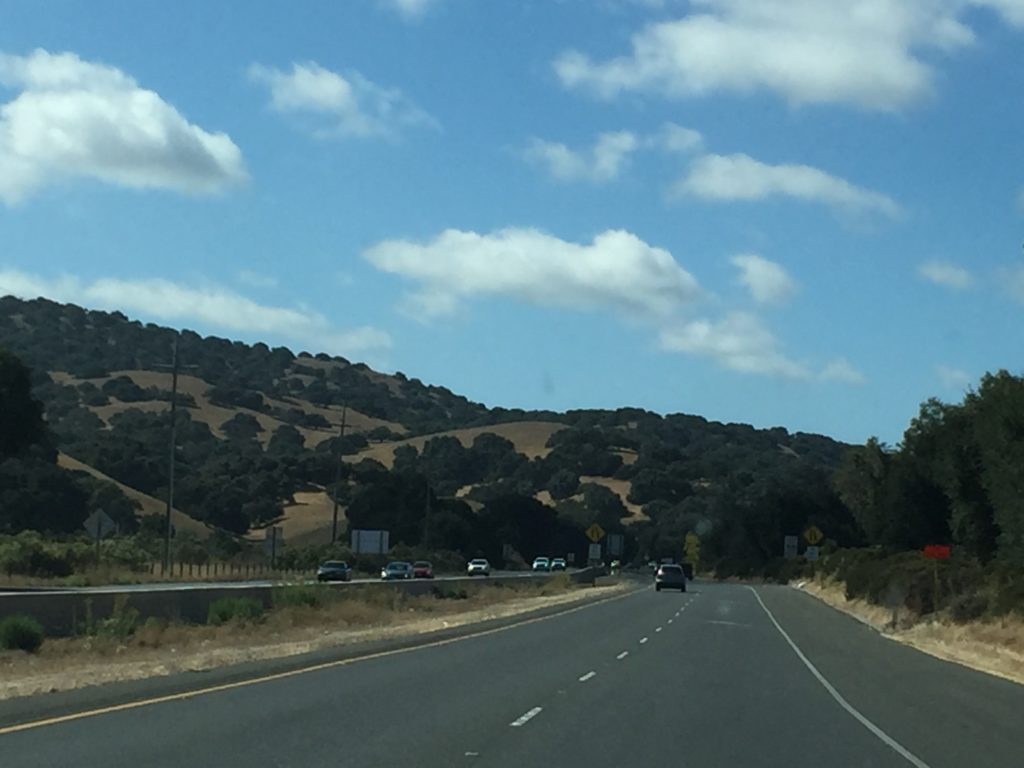 Here We Come Fun! We have not found a better way to relax than to just "press pause" for a few days. We find three days is the perfect number. We can easily book Riley at the dog-sitter for a short stay, we don't have to make a hundred phone calls or reservations and our refrigerator does not need to be emptied. We just lock up the house and go! And best of all, this seems to get us out of our routine. We do not have all the distractions, errands and projects that everyday life throws our way. We are on an instant mini-vacation!
For those of you who are reading this, and perhaps reside in Southern California, I am going to take you on a little journey that you too can easily replicate and be the hero. Our end point on this trek is Carmel, with a side trip to Monterey. That is a long drive for us to make all in one day, so we prefer to break it up. What better place to do that than the wine country? So we make one stop at a favorite spot just north of Santa Barbara and then spend one night in Paso Robles. On the way back we tend to make a straight shot home, but it's easy enough to leave it open and perhaps stop one night along the way. This is three days of bliss and relaxation, so buckle up….and here we go! Solvang, Los Olivos, Paso Robles, Carmel and Monterey!
Orange County to Paso Robles-
Driving from Orange County, CA to Paso is about 4.5 hours, or 245 miles. We make an effort to get out of Los Angeles as quickly as we can, and head straight up Highway 101 towards Santa Barbara.
The first stop is Solvang which is located approximately 45 miles north of Santa Barbara and on Highway 246 (just about 10 minutes from Highway 101). Solvang is a kitchy, quaint little town adorned with Scandinavian architecture. I enjoy the delicious Danish pastries, warm pretzels and Aebleskiver (a puff pastry cooked in round shapes in a special pan and sprinkled with powdered sugar). There are a number of lovey Wine Tasting Rooms as this town sits in the heart of the Santa Ynez Wine Country. There are also many shops and boutiques. It is the perfect strolling town. Nojoqui Falls Park has a seasonal waterfall with 85 acres and an 80 foot waterfall (at some times of the year)! There is also a dude ranch with cabins and is called Alisal Guest Ranch & Resort. There is a golf course, horses, a lovely pool and a spa and it is quite popular with families.
History break…I am always curious about the "early settlers" and this town is steeped in history. Solvang was founded in 1911. It began as a dream of three Danish immigrants: Reverend Benedict Nordentoft, Reverend J. M. Gregersen, and Professor P. P. Hornsyld. They planned to raise money to buy a large tract of land on the West Coast and subdivide it into plots for farms, homes, as school and a town for Danish immigrants heading out west. As the Danish-American Colony Corporation they bought almost 10,000 acres of prime land in the Santa Ynez Valley, California. The new colony was named "Solvang" (meaning sunny field) and ads were placed in Danish-language newspapers. Early buyers, almost all Danish, came from California, the Midwest, and even Denmark. Settlers soon arrived and began establishing various businesses. The Solvang Hotel opened in July of 1911. A general merchandise store soon followed, as did a creamery, a bakery, a bank, and a butcher shop, among others. Irrigation systems were started in 1912 and a variety of crops were grown year-round. Dairy farming was a traditional business in Denmark, and it flourished here.
A visit to Elverhoj Museum of Danish History & Art is lovely way to learn more about the early settlers of Solvang. The museum offers a thoughtful history lesson of the town and spectacular photos as well. Other museums nearby include the Wildling Museum and the Amber Museum.
Driving Note: On your return home, if you plan to take Highway 154 all the way back thru to Santa Barbara and up, along the mountain range— Cold Springs Tavern is a fun spot to stop. It used to be a Stagecoach Stop and it is just charming to see—all tucked in a crook in the road. Dating back to the 1870s it has a bar, restaurant and is famous for their tri-tip BBQ sandwiches.
Our next stop is Los Olivos. Just 6 miles north of Solvang, by way of Alamo Pintado Road, and a slight jog right to Grand Avenue, is another small town with big plans. I have watched this little town grow up with the addition of numerous Wine Tasting Rooms sprinkled along the main street. The area is surrounded by wonderful wineries, and they are smart to showcase their best-of-the-best right here in the center of town. Fess Parker owns the large hotel here (which used to be called The Grand Hotel).
Just outside of town to the west on Highway 154, is Mattei's Tavern. This was an old Stagecoach Stop. We used to view the Registration Book that sat proudly in a glass case. It had a saloon-style bar and an elegant dinner menu. Upstairs were a few rooms for overnight guests "back in the day". We heard they just recently closed to do a total renovation and new project on this site. That is sad, but you can probably still stop and at least see the building through mid-2017.
One of my favorite restaurants (and I do not use that phrase lightly) is The Los Olivos Wine Merchant and Cafe. (Yes, it was featured in the movie Sideways and the locals are still grumbling about that. I suggest you not bring it up!) Serving lunch and dinner it is always packed— so arrive early, or in the off hours of service. Some guests sit at the bar and have a glass of wine while they wait. Excellent cuisine! They also have a wine shop and fun boutique to stroll through. If you enjoy white wine, pick up a bottle of the local Lincourt. This is a great chardonnay, but may not be worth the drive out to their winery. A bit out of town and although it looks close on a map, there are super windy roads and hilly terrain. Trust me, I did it. There are approximately 120 wineries in the Santa Ynez Valley however many are small boutique wineries. A map can guide you to those with their own tasting rooms.
Speaking of wineries, one of my favorites, with a huge ranch-style tasting room is Fess Parker Winery. They offer a very nice selection of red and white wines and a delicious port too. To get there, just off Highway 154 (almost to the freeway heading westbound) turn right onto Zaca Station Road, which turns into Foxen Station Road and the winery is on the right. Then you can pop right back on the freeway and continue north.
Next stop is Paso Robles. This is about 1.5 hours and 90-odd miles on Highway 101. Now this is a confusing little town if you have not been here before. I suggest you grab a map and get a birds-eye view. There is a charming Plaza in the center of town and Highway 46 is dotted with wineries to the east and west. However, the two are not connected. Highway 46West (heading out toward the coast, Cambria and Hearst Castle) is to the left of Highway 101, and is south of the main town. Then about 8 miles north (just north of the downtown area) is Highway 46 East.
For the history buffs in the room….El Paso de Robles "The Pass of the Oaks" is located on the Salinas River and the city was known for its hot springs. The Salinan Indians lived in the area thousands of years even before the mission era. Paso Robles is located on the Rancho Paso de Robles Mexican land grant that was purchased by James and Daniel Blackburn in 1857. The land was a rest-stop for travelers of the Camino Real trail, and was known for its mineral hot springs. In fact, Franciscan priests from neighboring Mission San Miguel constructed the first mineral baths in the area. During this period, Paso Robles began to attract the pioneer settlers who would become the founding members of the community. They would later establish cattle ranches, apple and almond orchards, dairy farms, and vineyards. In 1864, the first El Paso de Robles Hotel was constructed and featured a hot mineral springs bathhouse. Today, only three locations (Paso Robles Inn, River Oaks Hot Springs and Franklin Hot Springs) that offer the healing mineral bath hot springs experience.
Like most visitors, we have our favorite wineries that we enjoy visiting when we are in town. On Highway 46 East we visit Eberle (one of the few that still offers free wine tastings and has frequent tours) and Tobin James which has a cowboy vibe that we find quite appealing. Don't miss their "Liquid Gold" if you enjoy dessert wines. Along Highway 46 West there are so many! We very much like Castoro Cellars. We can bring a menu we are planning and they will help us pair the wines for each course. Not only are the wines suburb, but the tasting room is inviting, they have a lovely elevated patio and the shop has some unique wine-related gift items. I always find great gift items to bring back home!
This time we decided to try something different and we visiting Hope Family Wines (just off Highway 46 West). They have five different brands and our favorite is Treana. This is a red blend and has the perfect balance we look for in a red wine—full bodied with a light fruit forward finish. They have another brand called Troublemaker. I bought it just because I loved the name! The tasting room is very inviting. To the right is a lounge area that resembles a living room and they do tastings right there on the couches using the coffee tables to cradle each tasting. Guests can also enjoy more traditional seating or standing at the various wine bars.
We also visited Robert Hall (on Highway 46 East) and that was excellent as well. We have been purchasing their wines at home for some time, so it was nice to finally visit. I was not impressed with the rather austere fountain in front of the winery. However once inside the tasting room it is lovely with lots of wood accents, high ceilings and a friendly staff. With just over 200 wineries here in Paso there is bound to be something for everyone to enjoy.
The Main Plaza in downtown Paso Robles is one of my favorites (just behind Healdsburg and Sonoma). It is just down-home, old-town fun. You can just picture the horses tied up all those years ago. There are plenty of restaurants and quaint boutiques to stroll past, and if you happen to be there on a Saturday morning don't miss the Farmer's Market. From honey to farm-fresh produce, the local farmers and artisans are here and eager to chat.
As for hotels, we enjoy being right in town and often stay at the Paso Robles Inn. They have a restaurant and upstairs on the weekends they have a live band and country western dancing. Newer and more high-end in the downtown area is the Hotel Cheval. Further south we also enjoy the La Bellasera Hotel, and there are many others to choose from. The dining is incredible in this little town. Artisan Restaurant is one of the best in town and the Executive Chef and co-owner hails from San Francisco and one of my favorite restaurants in Napa, Brix. Locally sourced ingredients take center stage with this menu and certainly elevated the culinary scene in Paso. We used to always go to Bistro Laurent, a lovely French bistro, but the attitude was too much. Hatch was great for small plates at the bar. If it is Italian that you fancy, Il Cortile Ristorante is very good. We dined this time at The Hatch, as we had been hearing good things. It is great with an eclectic menu and great for sharing. The staff is engaging as well.
Did someone say shopping? Just off the square, on Park Street I always make it a point to stop into We Olive. They must have 100 different olive oils & balsamic vinegars and all kinds of gift items, tapenades, salts. It is a candy store for foodies! And speaking of food, another favorite spot (and great if planning a picnic) is Di Raimondo's Italian Market. Their cheese counter is just incredible and overflowing with all kinds of imported cheeses. They also have many other items and are located on 13th Street just behind the main square. There is a second cheese shop that I had on my list but did not have time to go in and visit. It is called Vivant Fine Cheese and it is located on Pine Street just south of the square.
Up early we grab some coffee and head north for our short jaunt to Carmel. It is only 2 hours (120 miles) and the time passes quickly. We head up the highway thru a rather boring stretch of 101, then into Salinas. We marvel at all the crops. Did you know that 59% of the country's lettuces and 53% of the broccoli are grown here? It is also the birthplace of author John Steinbeck who is an icon in these parts and was born in 1902! Veering left, we head onto Highway 68 toward the coast, through Monterey and then south to Carmel. (Driving Note: We have tried a short-cut through the back roads and ending up on G16 to Carmel, but it was not worth the effort on the rural backroads.)
We Arrive At Carmel-by-the Sea
I have been coming to Carmel for forty years and I am embarrassed to say that I never really understood the difference between Carmel and Carmel-by-the-Sea. Maybe since they are so proudly touting the celebration of their 100th Anniversary, it is just now that I clue in on the nuance. Carmel-by-the-Sea refers to a one mile radius around the downtown area. The homes do not have actual street addresses, they are noted more by descriptor or location, and everyone walks to the post office to retrieve their mail. Beyond the one mile radius street numbers are used and referred to as Carmel.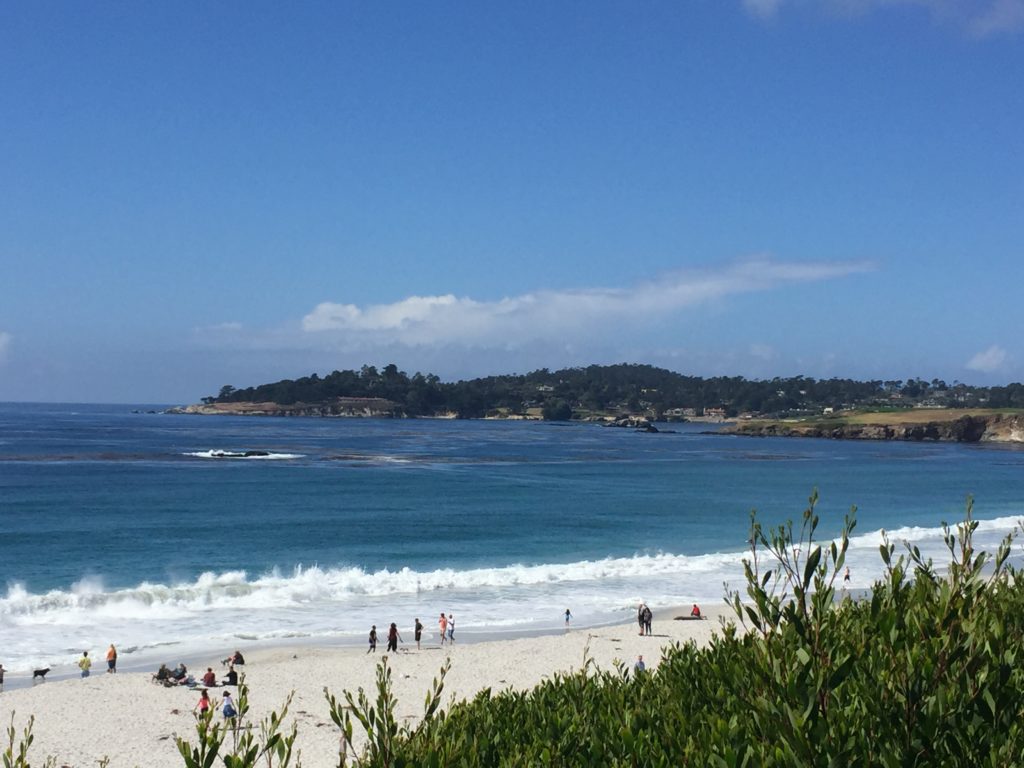 The downtown is bustling with storybook wooden structures and even the new builds try hard to reflect the enduring architecture found here—all nestled among the pine trees. It is a charming and safe spot to wander, stroll and enjoy an incredible array of boutiques, restaurants and hotels. Ocean Avenue is the main street and as you head west it descends down a gentle hill to the wonders of a serene beach below. Once there, guests are greeted by a pristine spot—the Carmel Sunset Beach. Pebble Beach is to the right and the Highlands are to the left, perched on both hillsides. On any day, this is a postcard picture to be sure.
Hofsas House Hotel is a family run business that has been here for 70 years. In the 1940s, Donna Hofsas and her husband Fred moved from LA to Carmel. They began with three cottages (just south of the swimming pool). And in 2000 Donna's granddaughter, Carrie Theis became the General Manager. (She also sits on the City Council and is so proud of the town's 100th year celebration.) Hospitality is in her DNA and she is the most thoughtful and kind GM's I have ever met! She and her team will ensure your stay is extra-special.
The magic of Germany is showcased in this European-styled hotel and you know it is something special when you pull up and see the intricate painted "welcome mural" on the wall depicting a German scene from long ago. The mural was painted by fine arts painter Maxine Albro. The 38 spacious, one-of-a-kind rooms boast comfort and lovely views and within easy walking distance to the town and all the happenings! Amenities include fireplaces, private balconies, wet bars, kitchens and patios. Every guestroom has a Dutch door to welcome in the ocean air, and free wi-fi too. The pool is heated and there are dry saunas and off-street parking. (Tip: If room 47 is available, perhaps you can see the mural Ms. Albro painted on the headboard in this guest room.) They also have large suites for extended stays, and a large meeting room next to the pool that is perfect for a private gathering. I think this would be the perfect spot for a business group, wedding or family reunion to take over all or part of the hotel to be together and have some space for meeting together on-site. This dog-friendly hotel also offers a Doggie Welcome Package that includes a Frisbee, bowl, bed and treats. The entire village is dog-friendly, so you'll pass multiple water bowls on your stroll through town.
We were with a group of travel writers who are members of IFWTWA (International Food Wine & Travel Writers Association) and the hotel had kindly helped by arranging for us to enjoy upon our arrival a bottle of wine, a display of gourmet cheeses & crackers and fruit. It was a lovely way to start our time here in Carmel. The staff will gladly help you with recommendations. There are so many things to do in Carmel! Here are some details on what we enjoyed during our stay…
-Wine Tasting– One of the most well-known things to do is to enjoy wine tasting! These wine tasting rooms are somewhat new. I do not recall seeing this in years past. We used to have to head out to Carmel Valley to taste wine but now they have brought the tasting experience to us. Carmel offers a "Wine Walk Passport" program allowing guests to visit the local tasting rooms and try flights of their favorite wines. For $65 guests can enjoy one $10 flight at each of nine tasting rooms (a $90 value). It can be used in one day or spread out over a weekend, several weeks, or even months. The Wine Tasting Passport is available for purchase at the Carmel Visitor Center located in Carmel Plaza on Ocean Ave. between Junipero & Mission. The Wine Walk by-the-Sea is a self-guided stroll to the various tasting rooms which are all within a few blocks of each other on the both sides of Ocean Avenue. The wineries include: Blair Estate Artisan Wines, Caraccioli Cellars, De Tierra Vineyards, Figge Cellars, Galante Vineyards, Manzoni Cellars, Scheid Vineyards, Shale Canyon Wines, Vino Napoli and Wrath Wines.
We enjoyed visits to a few of the wine tasting rooms. Most produce about 3,500 cases. At Caraccioli Cellars (on Delores just south of Ocean) we enjoyed a great selection of wines and the only Sparkling wine in Monterey County. From Sparkling, to Chardonnay, and Pinot Noir with a fruit-forward finish we were in heaven. Next we were on to Figge Cellars where we enjoyed the River Road and Pelio Chardonnay's. The River Road was a bit more oaky and that tends to be my preference. We also enjoyed two Pinots and one Sycamore Flat Syrah. This was perfect as we did not have to think about driving, parking, or even dinner plans. Each tasting room on the Wine Walk will offer recommendations for dinner or call to make reservations. (Tip: As an added bonus, corkage is waived for bottles purchased at a Carmel Wine Walk by-the-Sea tasting room at participating restaurants for one bottle per visit, per party. Score!)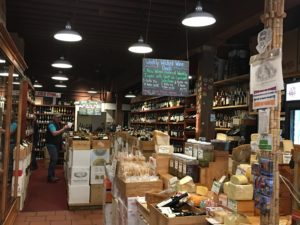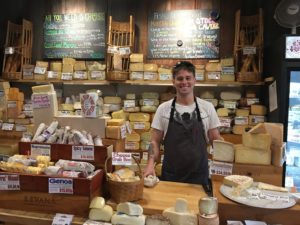 If you're a cheese fan like me, you will want to visit The Cheese Shop. It is located in the Carmel Plaza (at Ocean & Junipero). The moment you walk in the door you will awashed with the scents and smells of delicious cheeses from around the globe. It is almost overwhelming, but I noticed I had an instant smile on my face. They have so many varieties and encourage tasting. They encourage the education and exploration of everything from cheese making to the history and even share recipes with their customers. They have been doing this for over 30 years in Carmel and are a local treasure. Ask about their Cheese of the Month Club, as that can be shipped to you as well and try different cheeses each month! For those who might want to head out for a picnic, they have that covered too. To make things easy they have a Kit for $79.95. The kit includes: The Cheese Shop Tote (gift enclosed in this bag), a Picnic Tote with cutting board, knife, wine opener, and napkins, a box of Carr's Crackers, 3 oz. Jar Savannah Bee Honey, a 4 oz. Jar Inglehoffer Mustard , 12 oz Molinari Salami, 3 pieces of cheese (approx. 1/3 pound each) and Taza Chocolate. Guests can add a bottle of your favorite wine from their fine selection and receive 10% off wine purchase.
For lunch we popped into the Carmel Belle Café which is open for breakfast, lunch and early dinner. There is a lovely open-market area for seating, and guests order at the window. This is a comfort food menu and covers the gamut from: breakfast fare and egg sammies, to creative salads, cold and warm sandwiches, meatloaf, Mary's chicken, Quinoa Mac 'N Cheese, Charcuterie boards, Pate and a daily soup made from scratch. We ordered a number of items and shared many of them. Everything was delicious. It was fast, fresh, fun and offered a great deal of options.
It was finally time for dinner and we headed up to The Whaling Station Steakhouse in Monterey which is perched just above Steinbeck's Cannery Row. Named Monterey County's #1 Steak House for over 40 years, The Whaling Station takes the term "Steak House" seriously. Prior to cooking, guests select their USDA Prime cut of aged beef from a silver tray. For those ordering Prime or Prime Rib that is sliced from an antique 1930's silver carving trolley. They are also very well known for their delicious seafood, and are only one of three restaurants in the area that serves wild abalone. The Cioppino is very popular as are the Sand Dabs Almondine and the Sesame-Crusted Ahi Tuna. It is hard for me to resist the Wild Pacific King Salmon. The bar was very busy on the Sunday evening we happened to be there. They are proud of their wine list and craft cocktails, although I was ready for a beer.
Back in Carmel there are so many choices for dining that it is difficult to decide. Portabella Restaurant is one of my favorites. It is a quaint eatery in a thatched bungalow featuring Spanish, French & Italian fare. They also have outdoor seating. Everything is delicious. Another fave is Dametra Café on the corner of Ocean and Lincoln. This Mediterranean café features menu items such as gyros, hummus and baklava. Don't be surprised if the Chef stands in the center of the restaurant belting out a few tunes while accompanied by a mandolin. For a taste of local California cuisine, Basil on San Carlos between Ocean and 7th offers a seasonal menu utilizing organic ingredients.
Other Activities in Carmel Here are some others activities that you may want to consider while here in Carmel, depending on your interests… –Golf- Hofsas House has partnered with the historic (and recently renovated) Quail Lodge Golf Club to create a Golfer's Delight package and can arrange play.
-Carmel Art Tours- offers a 90 minute tour discovering world class art galleries featuring: painting, photography, sculpture and art glass. Guests will visit 6-8 galleries and is led by local expert Rohana LoSchiavo, who offers customized walks based on her 25 years in the fine art world.
–Carmel Walks – A two-hour guided walking tours through the pathways and gardens with lots of stories of the history of the town. There is also a "food walking tour".
–17 Mile Drive– Along the coast this is a lovely drive, and be sure to stop at the turn outs to see the sea life on the rocks.
–Spa Day at The Refuge– A co-ed day-spa with various thermal & plunge pools, massages, eucalyptus steam room, sauna and water falls in the Carmel Valley.
–Hiking– One spot is Point Lobos State Park- just three miles south of town.
–The Art of Dr. Seuss- Right in town The Secret Art shows a side of the artist that most readers, familiar with him through his classic children's books, have never seen. These fantastical images are in an intimate gallery setting.
–The Carmel Hat Company– It is so hard to find a hat store that caters to both men and women, covering from silk flowers and fancy pants to casual shade makers. This is one of my all-time favorite shops and I come here every time I am in town. It is the best. One year when going to Pebble Beach I found the perfect hat, and even my husband found a great hat to shade him from the hot sun.
More Action-Oriented Things to Do Are In Monterey
Now for those traveling with children, teens or just a couple that likes to do more invigorating activities, I suggest heading north to Monterey—for at least part of one day. Here is a quick list… The Monterey Bay Aquarium is an incredible place for lovers of the sea. It is perched on the cliffs just above the bay and is a wealth of educational interactive exhibits and dramatic pools of sea life. This is located right in Cannery Row which is rich in history as this was THE place for canning all types of fish beginning in the very early 1900s. There is a fabulous self-guided Cannery Row Walking Tour and so much history still remains in the form of buildings and statues and interpretive signage. An open space called the Presidio of Monterey separates this area from the Fisherman's Wharf and the Custom House and Maritime Museum which are just a half mile north and adjacent to the downtown area (just to the East). This wharf is chock-full with restaurant and really fun spots to enjoy a sit down lunch/dinner or a quick cup of soup or glass of wine. Come hungry as these establishments are top-notch. There are also boat rentals, fishing boats and whale watching vessels (March & April are the most popular times for seeing whales).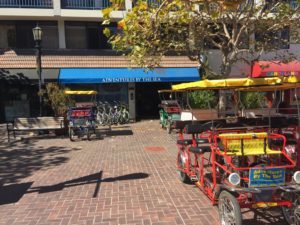 There are some very nice pathways and bike rentals are readily available in the Cannery Row and downtown areas. Monterey Bay Kayaks does guided tours and rentals for the more adventuresome. I suggest doing the guided tour first. The water is freezing cold and although a natural bay, it is quite different than being in Southern California. Adventures By The Sea is located right at the Portola Hotel in downtown and they offer both kayak and bike rentals. They also rent Surreys (seat up to four), paddleboards, snorkel equipment and so forth. This is a perfect way to jump right in and enjoy the elements. About 15 minutes north of Monterey, is the Monterey Bay Equestrian Center, and here you can arrange to ride horses on the beach, and along a trail. What fun that would be!
So there you have it. A wonderful trip in three short days! Next time we head north we hope to visit Hearst Castle which is along the coast and just north of Cambria. A list of resources is listed below to make your trip planning an easy one. Enjoy and safe travels!
Paso Robles
-Paso Robles Inn https://www.pasoroblesinn.com/
-La Bellasera Hotel https://www.labellasera.com/
-Artisan Restaurant http://artisanpasorobles.com/
-We Olive http://weolive.com/paso-robles/
-Hearst Castle (on the coast north of Cambria) http://hearstcastle.org/
Carmel
-Hofsas House Hotel San Carlos Street, north of Fourth Avenue Carmel-by-the- Sea – (831) 624-2745 www.hofsashouse.com
-Carmel Wine Walk https://www.carmelcalifornia.com/wine_tasting-carmel_wine_walk_by_the_sea_645.htm
-The Cheese Shop www.thecheeseshopinc.com
-Carmel Belle Cafe www.carmelbelle.com
-Carmel Art Tours http://carmelarttours.com/
-The Carmel Hat Company It is located on Ocean Ave. in the Doud Arcade courtyard. http://www.thecarmelhatcompany.com/
Monterey
-The Whaling Station Steakhouse http://www.whalingstation.net/thesteakhouse.html
-Monterey Bay Kayaks www.montereybaykayaks.com
-Adventures By The Sea www.adventuresbythesea.com
-Monterey Bay Equestrian Center www.montereybayequestrian.com