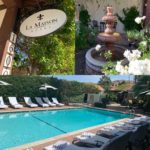 Many of the charming boutique hotels in Palm Springs are re-opening on June 12th! These hotels are the perfect place to vacation right now, since they are small and intimate. They are all following very specific sanitizing and distancing protocols and that will make travelers feel safer for sure. Do consider a stay-cation and relax in serene poolside luxury, while still escaping from home. Now is the time to make your reservation.
Complete Update On Re-Opening of Hotels-
Please click on this link to see the article here that provides an update for travelers as we emerge from the COVID-19 craziness in 2020.
https://www.palmspringspreferredsmallhotels.com/retreats/vacation-in-safety-and-luxury-at-a-palm-springs-boutique-hotel/
Reliving My Wonderful Trip To Palm Springs Last Year-
Also, below here, I am RE-POSTING an article I originally wrote in June of 2019. We were in Palm Springs and hosted by the amazing Palm Springs Preferred Small Hotels group. This is a collection of over 70 unique and charming small hotels that take "hospitality" to a whole new level.  And don't miss the recipe at the end of the article. One of the Owners of La Maison where I stayed (Cornelia Schuster) was kind enough to share it with me and I am sharing with you too!
This Article Originally Ran June, 2019:
Tucked behind a beautiful green, garden hedge and a wooden black door, was a refuge awaiting my discovery. THIS is La Maison—-one of the charming boutique Inns found right here in Palm Springs.
(Caveat: I was here as part of a media press trip, and was hosted by this fine Inn. However all of the writings, experiences and thoughts shared here are my own.)
This 13 room French-inspired Inn is a gem, with engaging and attentive management, lovely rooms, a garden courtyard with three fountains and a very large sparkling pool. Now this is relaxation at its finest! In the morning a continental breakfast is all set up early—with Richard Slosky, one of the owners serving up "made to order" cappuccinos. There is yogurt, fresh grapefruit, juices and delicious pastries. On our first morning, Cornelia Schuster, one of the owners, had made her famous lavender and lemon scones. They were delicious but so sorry… the recipe is a family secret. She did share another popular recipe, her Pink Grapefruit Rosemary Cake, which can be found below. It was delicious….Thank you Cornelia!
In the courtyard guest will find a late afternoon wine soirée and a fire pit to gather with friends and catch up on the day. Others dip their toes in the pool and splash about while reflecting on the day.
The guestroom suites are so nicely appointed. There was a king size bed with lovely bedding, soft lighting, a big screen television, sitting area, refrigerator, and the bathroom was expansive with blow dryers and toiletries for anyone who packed light. (That never seems to be my problem, however.) In the evening there is turn-down service with a bedside treat to end the day with sweetness.
La Maison is quiet. There is no blaring music or dancing on the tables. This is a refined spot allowing guest to think, relax, hear the birds chirping and enjoy the sheer beauty that envelopes them.
The pool area is center stage, and beckons me to just sit down and relax in one of the many lounge chairs. The rooms wrap-around the pool area and guests nuzzle into cozy sitting areas near the fountains to visit, read and relax.
However, if getting "out and about" is on your agenda, this Inn is perfectly positioned to do just that. This is a perfect spot to explore all the wonders of the area—from nature hikes to a waterfall, museums, bike rides, celebrity home tours and fine dining too! Where do I begin?
The property proudly displays a plethora of Trip Advisor Awards over the years—including being one of the Best Small Hotels, Most Romantic, and Best Value!
Special Rates- Come play and enjoy life at La Maison Palm Springs…
Summer Rates (Book Direct-Now through October 9, 2019)
-King Guest Room Summer Rates $169.00 (regular rates $229)
-Queen Guest Room Summer Rates $159 (regular rates $219)
Escape To The Cool (Book Direct- Now through August 30, 2019)
In addition to their reduced summer rates, book and stay 2 nights, Sunday-Thursday and receive 2 Palm Springs Aerial Tram Tickets (value $51).
Fall Romance Package (Book Direct- October 1-Dec. 15, 2019)
Book and stay 3 nights, Sunday through Thursday and receive a chilled bottle of Prosecco and $25 gift certificate to Spencer's Restaurant.
La Maison Inn is one of approximately 70 small hotels that are part of a collection, known as "The Preferred Small Hotel Group" here in Palm Springs. This group organized our trip and activities. It was our extreme pleasure as writers to experience all that they and Palm Springs have to offer.  https://www.palmspringspreferredsmallhotels.com/
Recipe: Pink Grapefruit Rosemary Cake
A favorite of La Maison Hotel Guests
By: Cornelia Schuster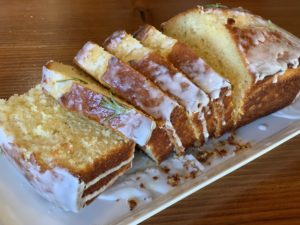 Ingredients For The Cake:
1½ cups all-purpose flour
2 teaspoons baking powder
½ teaspoon kosher salt
1 tablespoon fresh rosemary finely chopped
6-8 small fresh rosemary sprig tips
1 cup plain whole-milk yogurt
1 cup plus 1 tablespoon sugar
3 large eggs
1 tablespoon grated grapefruit zest (approximately one large pink grapefruit)
½ teaspoon pure vanilla extract
½ cup vegetable oil
⅓ cup freshly squeezed grapefruit juice (save to pour on warm cake)
Ingredients For The Glaze:
1 cup confectioners' sugar
2 tablespoons freshly squeezed juice
Directions:
-Preheat oven to 350 F.  Grease an 8 ½ by 4 ¼ by 2 ½ loaf pan. Line the bottom with parchment paper.  Grease and flour the pan.
-Sift together flour, baking powder, salt, and chopped rosemary in 1 bowl.  In another bowl, whisk together the yogurt, 1 cup sugar, eggs, grapefruit zest, and vanilla.  Slowly whisk the dry ingredients into the wet ingredients. With a rubber spatula, fold the vegetable oil into the batter, making sure it's all incorporated.  Pour into prepared pan and bake for about 50 minutes, or until cake tester comes out clean.
-Meanwhile, cook the ⅓ cup grapefruit juice and remaining 1 tablespoon sugar in a small saucepan until sugar dissolves and the mixture is clear.  Set aside.
-When the cake is done, allow it to cool in the pan for 10 minutes.  Remove from pan, and carefully place on a baking rack over a cookie sheet.  While the cake is still warm, pour the grapefruit-sugar mixture over the cake and allow it to soak in. Cool.
-For the glaze, combine the confectioners' sugar and grapefruit juice, carefully add rosemary sprigs and pour over the cake.
Please enjoy! La Maison Hotel Palm Springs