Meet Guest Writer Linda Milks– I am so pleased to have Linda contribute this great article about her recent wine tasting experience. The timing is perfect for readers to make some on-point summer selections. Linda is a writer and is a board member of the International Food Wine & Travel Association. She is also an active member in the Wine Review Council, which meets regularly to taste wines from all over the world and pair them with creative cuisine. You can see more of Linda's work by visiting her Facebook page which is: https://www.facebook.com/linda.milks.92                            Cheers, Deirdre
Article and Photos By Linda Milks-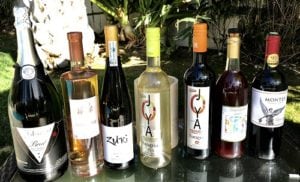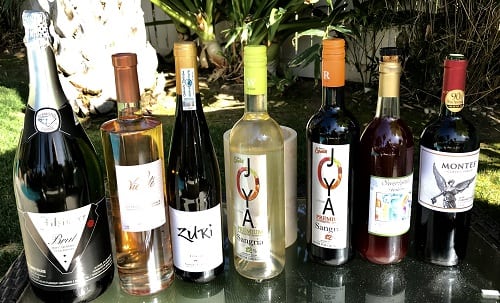 Summertime is fast approaching and the Wine Review Council, a group of wine aficionados that occasionally meets to taste wines with food pairings, decided we should sample what we might be serving this summer. Outdoors on a warm day was the setting to get us in the mood.  Summertime evokes lazy, warm days with lighter food and wines set on a picnic blanket with friends who enjoy the company of each other. Those wines can be sparkling, rosé, lighter reds, sangria, or even a robust red if the food calls for some boldness. Many times since these are more casual wines, drinkers are looking for good price points when they decide what to bring. These are what we tried and loved.
It's always fun to find an old treasure in your wine cellar, and that's what one of our wine club participants brought for our tasting. We sampled a Filsinger Brut Sparkling from a former Temecula winery from 2004. The sparkling wine was shared as a tribute to Dr. Filsinger who contributed much to the Temecula Valley wine region. The color was very golden due to the age of the wine. It paired beautifully with a Roasted Cherry and Goat Cheese Crostini.
The next wine for our group to sample was VieVité Côtes de Provence ($20), a Rhone red blend of Cinsault, Grenache, Syrah, and Carnignan. What we noticed first was the beautiful pink hue of a nice rosé. This is summer in a glass with aromas of cherries and strawberries. Our pairing was Smoked Salmon & Lemon Crème Fraîche Finger Sandwiches. This wine is perfect with seafood, and the smoked salmon didn't overwhelm this fruity but not overly sweet wine. The group chose the VieVité Côtes de Provence as their favorite of the group.
We were off to a Spanish wine for our next selection. We sampled Zuri Getariako Txakolina 2016 ($20). Getariako Txakolina is the wine zone in northern Spain (part of the Basque Country), near the Pyrenees. Wines from this region are dry, with a searing acidity; they are the perfect accompaniment to the local fish and seafood. The Smoked Salmon & Lemon Crème Fraîche Finger Sandwiches also paired well with this wine. Txakolis wines are also slightly sparkling, giving them a tingly feel on the finish which surprised all of us. A pleasant bitterness will often linger, too.
Joya White Sangria ($12.95) reminded us that summer was just around the corner, the perfect time for sangria. Sangria originated in the Rioja region of Spain. This Spanish sangria was made using the Airén grape and showed off the addition of natural essences of Mediterranean citrus fruits. This wine tastes best with ice added and perhaps a squirt of raspberry or watermelon juice.
 Joya Red Sangria ($12.95) was our preference of the two sangrias. The red sangria was made up of Tempranillo, Granacha, and Bobal. Once poured in a glass, the Tempranillo pops out as the dominant wine. The Granacha adds a fruitiness to this blend. Again, this wine has essences of Mediterranean fruits. Both of these sangrias were paired with Thai Green Curry over white rice. This is a good match for these sweeter summer wines. A recommendation was to pour 70 percent white sangria with 30 percent red sangria to make a rosé. This was a fun suggestion, and we enjoyed it.
When I think summer, I think of the array of fruits available. Just for the fun of it, we tried the Sweetgrass Winery Cranberry Apple Wine ($12) from Maine. The tartness from the cranberries has a nice balance of flavor with the apple. We also noticed a subtle cherry flavor. It was paired with creamy Brie and crackers, the perfect contrast to the tartness of the wine.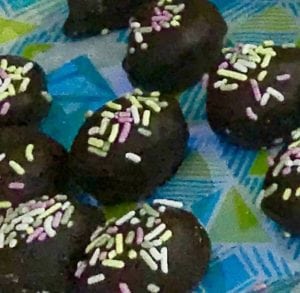 Lastly, we sampled the Montes 2014 Cabernet Sauvignon from Chile. The price of this wine for a Cabernet is notable at $12 a bottle. When we tried it, we noticed some minerality along with flavors of plum, blackberry and cherry with a little bit of pepper. We learned that it will be drinkable until 2020 and was #42 on the Top 100 Wines of 2016 by Wine Spectator. This wine is impressive for its value and consistency. Chocolates made a wonderful pairing with this Cabernet.
Find your perfect summer wines so that you will be ready when guests arrive. These wines are great ones to start you out on that conquest.