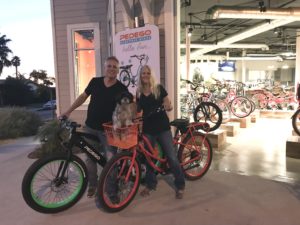 La Jolla welcomes the newest Pedego dealership to Southern California. There are a total of 25 stores in California (113 stores worldwide). This newest Pedego® Electric Bikes location features the largest retail space on the West Coast and, quite possibly, in the United States. This impressive mega-store store is located in the charming residential community of Bird Rock, which is just north of Pacific Beach and south of the bustling village of La Jolla (folks… it is pronounced La-Hoy-Ya). The store is a hub on the corner of Bird Rock Avenue and La Jolla Boulevard. In fact, this La Jolla community is named for a coastal rock that has the shape of a bird and is often photographed with brown pelicans or other birds perched on top.

Hello Fun at The Super Friendly Pedego La Jolla- This shop is a very welcome addition to this tight-knit community. They offer:
-Pedego Electric Bike Sales
-Pedego Electric Bike Rentals
-Service for All Bicycles and New Bike Builds
-Accessories & Clothing
-Custom Regional Bike Tours
Yes, they offer a number of custom tours which are a great way to discover some of the special spots along the San Diego coast. The store will gladly set-up tours designed specifically for a celebration, business group event, private function or a corporate teambuilding endeavor.
The building is brand new and the architecture has that craftsman-style vibe with large windows and wood siding. The exterior color palette is a crisp tan and cream. There are two oversized glass doors on both sides of the corner lot. The ingenious design rolls up to unveil an expansive inventory of bikes which are proudly on display for patrons to tinker with and sit upon. The shop showcases all 12 of the Pedego models, including a brand new Trail Tracker Gorilla Edition that was unveiled at last month's Annual Dealer Meeting.
Once inside there is a wall of accessories from helmets to bike gloves, racks, water bottles and so many items that avid bike enthusiasts are looking for. There is also a bike-wear apparel section. One of the owners was previously in the sports and lifestyle apparel business and that focus on "active attire" shows in the selection found right here. There are two service bays for bikes to be assembled, modified, repaired, or just to add after-market accessories mounted (such as Bluetooth speakers, mobile phone holders and baskets). There is also a comfy lounge area—with seating for friends and neighbors to visit, a kitchenette and a big screen television hovers above. The walk-in traffic was quite impressive on the day I was visiting, and I can see why. It is such a friendly and welcoming setting that everyone just loves to pop in and chat about electric bikes and the latest bike route they just discovered.
Let's Meet The Owners- Tracy Sheffer and Terry Galka are a long-time couple who reside in a nearby beach town. Tracy and Terry got the Pedego "bug" when they went on a ride on Coronado Island with some friends. They just fell in love with the electric bikes and the flexibility they offered them. They were hooked. And when I asked Tracy why she wanted to open this store, she said something I was not at all expecting. She said, "We want to change people's lives for the better. We want to get them outside enjoying nature and enjoying a healthy lifestyle. What better way to do that than on a bicycle?" Bravo to that Tracy, and what better place to do this than in La Jolla!
Wide Selection of Bikes Are Found Right Here- Pedego La Jolla carries all 12 models of bikes, and can promptly order any color or configuration that a customer may dream of owning. Pedego has a great selection of models for a rider's myriad of needs. From cruisers to city commuters and even mountain bikes for all the trail-blazers in the room. There is even a three-wheel tricycle with cargo space to haul packages, cargo or to make deliveries. The newest bike that was just announced at their dealer conference is the Trail Tracker Gorilla Edition. It is all the fun of the regular Trail Tracker but with a more comfortable saddle and wide cruiser style handlebars.
The 12 models (with various editions for some) offered by Pedego include: Interceptor, Platinum, City Commuter (includes all editions), Ridge Rider, Trail Tracker (includes smaller versions and Gorilla edition), Boomerang & Boomerang Plus, Trike, Stretch, Latch, Tandem, Comfort Cruiser and Ford Super Cruiser. For more detailed information on all the various styles of bikes, please visit their web site: https://pedegoelectricbikes.com/products/ .
Specialty Sports & Bike Apparel- Tracy hails from a thirty year career in the sports apparel, footwear and accessories retail industry, so she really has elevated that part of the showroom among the Pedego stores. There are many sports-oriented clothing and accessory items that you would actually want to wear and utilize. They are hip and also functional. My favorite item is the ArroWhere Plus Jacket. This is my favorite new thing! It is a bright yellow (HiViz) windbreaker jacket with a gigantic, reflective "go left" arrow on the back (to alert drivers to share the road) and an LED strip of lights that can flash and be turned on and off as you wish. Super for day riding or if you happen to get caught riding at dusk.
How To Get Started? Take A Tour! I am a big believer that you have to try it out for yourself. It is such fun. You can rent a bike on your own and follow along the Bike Trail along the coast (the signage is fairly easy to follow). Depending on the bike selected, the cost per hour is $20-$35. Or for an 8 hour day bikes can be rented for $75-$120. However, my suggestion would be to sign up for a guided tour. It includes the bike, helmet and a personal guide to help show you the ropes and make it all very approachable. You can call the store for more details on the costs and booking a reservation. Guests can also create their own custom tour. Here are some highlights for the tours currently being offered:
* La Jolla Coastline Tour and Picnic- This ride takes guests along coastline and up into the tawny village of La Jolla. The coastline just below downtown offers spectacular views and tree lined grass areas which are perfect for a romantic picnic!
* Torrey Pines State Park Bike & Hike Tour- This ride continues past La Jolla and up into the Torrey Pines State Park. The Torrey pine tree (Pinus torreyana) is a rare pine species in the United States. It is an endangered species growing only in the Torrey Pines State Natural Reserve, and is the perfect backdrop along the coast.
* Torrey Pines Gliderport- Hang-gliders are a treat to watch take off from the cliffs. A perfect perch to observe the local gliders and enjoy the ride up and back too.
* Mount Soledad Veterans Memorial Cross- At the tippy, top of La Jolla Scenic Drive is a prominent landmark. The present cross structure was erected in 1954, and the monument is dedicated as a tribute to all branches of the armed forces of American servicemen and women. The original cross was put up in 1913. It offers spectacular panoramic views. The way up is via a bike lane located on the right side of the "San Diego renowned" Nautilus Street, famous for its steep hills, on which you will gain more than 827 feet of elevation. Pedego bikes let riders power up the steep hill almost without effort.
* Customize Your Own Tour- Guests can get creative and work with the store to design a custom tour for parties with friends, out of town guests, or corporate meetings & teambuilding.
Our Recent Bike Tour Along The Coast- The two hour ride along the coast felt like I had melted into a vacation far, far away. We pedaled from the store and flew down the hill toward the ocean. Bird Rock was our first stop, and although not a bright and sunny day, it was fun to see the rock just off the coast. We headed north and meandered through some very exclusive communities. The homes are large estates and each one features a unique style—- from super modern, to English Tudor, to Nantucket style and everything in between. The homes are breathtaking, and the signs helped to direct us along the way. We soon found ourselves on Neptune Place which runs parallel to the beach. The beach is called WindanSea, a shortened version of "Wind-and-Sea". It is named after a hotel at this spot named Windansea that burned down in the 1940's. From here we continued north with the crisp, sea air in our faces. We visited a secluded cove where seals were napping on the beach and we traversed our way along Coast Blvd. and to Scripps Park overlooking La Jolla Cove. Just above us on Prospect Avenue is the bustling downtown area with lots of quaint boutiques, restaurants and art galleries. This was the perfect spot to grab a quick lunch before we reversed our path and returned to the store.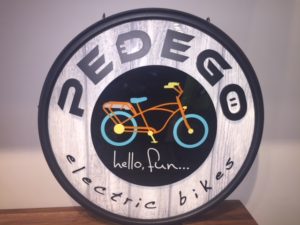 Pedego Electric Bikes La Jolla
5702 La Jolla Blvd Suite 101A
La Jolla, CA 92037 (858) 291-8845
https://pedegoelectricbikes.com/dealers/la-jolla/
Business Hours: Monday – Friday 10:00am – 7:00pm Saturday from 9:00am – 6:00pm Sunday from 10:00am – 6:00pm
Some of The Owner's Favorite Dining Spots-
Brockton Villa Restaurant (above La Jolla Cove) www.brocktonvilla.com This restaurant dates back to 1894 and was originally built as a home for a San Diego physician. It has an outside patio and is shaded by a large tree, but don't miss the wooden interior with a fireplace made of albacore shells (this had been added in the 1920's). The owners of Pannikin Coffee and Tea used to have a coffee-roasting plant in a garage near the Cave Store. They purchased this property and named it after their hometown of Brockton in Massachusetts.
George's at the Cove (La Jolla) www.georgesatthecove.com The lower level is the fine-dining room for the dinner crowd. Level 2 features light woods, cool bar serving craft cocktails, happy hour and light fare for lunch and dinner. Upstairs is the Ocean Terrace with captivating views of the ocean for lunch and dinner. On a nice day the Terrace is the spot to be!
Nine Ten Restaurant & Bar (La Jolla) www.nine-ten.com Located inside the Grande Colonial Hotel this farm to table restaurant serves breakfast, lunch and dinner with daily happy hours, Sunday brunch and all in a casual, yet elegant setting.
El Pescador Fish Market (La Jolla) www.elpescadorfishmarket.com On Pearl Street this market has been here since 1974 and is open for lunch and dinner daily. In addition to fresh fish, guests can enjoy sandwiches, tacos and salads. They also prepare "to go" orders for picnics.
Piatti La Jolla (North La Jolla) www.lajolla.piatti.com North of the downtown area is an Italian restaurant that is open daily for lunch and dinner. This traditional-style trattoria has an open kitchen and pizzas from a stone-hearth oven.
The Cottage La Jolla (Breakfast and Lunch) www.cottagelajolla.com California cuisine served on the patio with a white picket fence or inside this vintage home on Fay Street. Daily open from 7:30am to 3:00pm in the afternoon.
Cody's La Jolla (Breakfast and Lunch) www.codyslj.com This breakfast and lunch spot offers clever comfort food with ocean views and a lovely patio. Open daily from 8:00am to 3:00pm.
The French Gourmet (Just East of Bird Rock) www.thefrenchgourmet.com Along Turquoise Street is a charming restaurant, bakery and wine boutique. One would think you are in France with the colors, fabrics and design of the building. Guests can dine in, order items to go, visit the bakery, grab a bottle of wine and they also have an entire catering department for events and parties. They are open daily for breakfast fare, lunch and early dinner.
Beaumont's Eatery (Bird Rock) www.beaumontseatery.com This is the second outpost for the Pannikin family, with their main restaurant being the Brockton Villa mentioned above. Serves lunch, dinner and breakfast on the weekends. Thursday, Friday and Saturday they have live music in the evenings.
LJ Crafted Wines (Bird Rock) www.ljcraftedwines.com Open late afternoon and into the evening, this is just down the street from the Pedego store and could be a nice "after-ride" spot to toast a great day. LJ offers creative and delicious Charcuterie boards and their wine is rather unique. They serve directly from the barrels to the glass. Ask about their re-usable growler program too!
The Real Reason I Ride A Pedego Bike-
I live in a very hilly area. I can get down the hill on my bike, but I cannot get back up. So what has happened is I just don't ride and my regular bike just sits on the hooks in the garage collecting dust. With 50 miles of trails within a 10 mile radius of my house that is just a shame. But with the Pedego, I can head out and know I will get back safely with the assistance of the motor and I do not have to worry the whole time I am out on the bike trails. It makes bike riding an adventure instead of torture. I love to get on Google Maps and research new routes. I click on "bicycle" vs. car to plot my next adventure. It is an event I look forward to and great exercise as well!
Often Asked Questions About Pedego Electric Bikes-
Pedego is an electric bike with the battery located above the rear wheel or mounted in the center bar (downtube) just behind the front wheel. It rides just like my regular beach cruiser, only with the electric power, and is available in a long list of bright, fun colors. New owners can swap out fenders in different colors, add music speakers and basically design a custom bike. But the best part is threefold: there are lots of dealerships, the bikes go up to 20 miles per hour, and for me, getting the assistance up big hills means I can get out there on my bike and get back home too!
From a "function" standpoint, there are numerous models—so depending on what a rider wants to do with their bike and what terrain they will be traversing—they have choices. Here is the link to the Pedego web site with details on all available models. Visit: https://pedegoelectricbikes.com/products/
And everyone wants to know about range. That really depends on a few factors—your weight (the drag) and the grade of the surface you are riding on, as well as the wind factor. If it is flat terrain, and you are approximately 180 pounds, riders can expect a range of approximately 20-30 miles with little wind resistance from a 10 amp-hour battery. A 15 amp-hour battery will deliver about 10 more miles per charge. The battery is available in 36 volt and 48 volt, with the latter providing more thrust to carry you up steep hills.
What about noise and throttle? A specially designed motor is on-hand. All Pedego bikes come with a throttle-activated motor, putting the rider in complete command. The rider can pedal, or twist the throttle to use the motor and not pedal at all (or any combination of throttle and pedaling). It's the rider's choice how much to petal on any ride, and no matter how much you throttle, the motor remains whisper quiet. There is also a Pedal Assist feature on most models and this kicks the motor in gear when the rider pedals, in five speeds, from easy 6-8 miles per hour, up to the bike's top speed of 20 miles per hour. With the throttle or Pedal Assist, the rider sets the pace. I like to use both.
Pedego's 500-watt silent hub motor provides the power to ride comfortably up hills and through heavy headwinds. The newer motors are geared, which offers more thrust with no noticeable drag. This allows for a rear disc brake for extra-powerful stopping capability. Plus, Pedego electric bikes are completely free-wheeling when powered off — so there is no additional resistance from the motor if a rider chooses to pedal. This all ensures a quiet ride. Even the motor's location is purposeful. With safety a top priority, Pedego's rear hub motor is an improvement from front-hub designs. Placing the motor beneath the rider's weight helps to keep the bike moving smoothly — with good traction.
They have just thought of everything, haven't they? There are two saddle bags which are add-ons, for carrying light packages. For those wanting to tug things, they offer a custom trailer for surfboards and even child safety seats for carting children. (And for towing super-heavy items, there are even bigger tires and a tricycle-style for those with balance issues and for towing.) They even have the only available electric tandem bike, which I cannot even fathom. Unless I'm the one in front – and in control of the ride!
So get out there and you will be saying… "Hello Fun!"