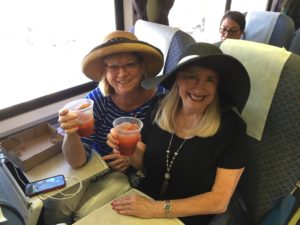 July 18th thru September 3rd, 2018  and The Bing Meet will run November 9-25th, 2018!
It's a tough job, but somebody's got to do it. So I raised my hand and said, "Heck yeah! I would love to follow my friend Patty, a pro at the pony track, down to Del Mar." And lucky you, my faithful readers, you get to take advantage of learning some tips and tricks that will make this easy-peasy for you to replicate from Orange County, CA. This article offers you the "inside track" on how to book your train ticket, where to dine, betting, and enjoying a splendid day at Del Mar Racetrack. You will feel as though you have been on vacation for the day! So here is how our adventure goes…
The Upcoming Summer Meet this year Will run from July 18th and closed Labor Day September 3rd. Then the Bing Meet will begin November 9-25th, on certain days of the week so check the web site.  (During the racing season the ticket office hours are: 9:00am to 5:00pm Thursday through Sunday and until 1:00pm on Tuesday & Wednesday. Closed Monday's. (858) 792-4242.
Booking a Reservation On The Amtrak "Pacific Surfliner" Train
If possible, we try to book our reservations a few weeks out so we can get the times and class of service we prefer. Book the Amtrak Pacific Surfliner. Since we enjoy having lunch down there, we like to take the 10:50am train out of the Irvine Station. We typically book the Coach Service ($20 one way) on the way down and Premium Service ($30 one way) on the return. However if you are traveling with a group larger than two, might be worthwhile to do Premium both ways. (See Below for Link and Step-By-Step instructions for booking your tickets online. Their App is very good but the web site is not great. This will save you some time. I promise you.)
Parking At the Train Station
The Irvine Station has a great parking structure that provides very easy parking. However do not use Google Maps driving instructions as it sends you to the north end of the old Marine Base. Check a regular map and it is pretty easy to find once you see it on the map. The San Juan Station has more limited parking, with strict signage, so arrive early if departing from this location. The town and historic Los Rios Street near the tracks are fun for window shopping if you happen to be super early. Note: Plan to arrive about 20 min early and be on the platform (train heading south).
Jumping On The Train
Keep in mind there are lots of passengers that got on earlier along the line, so it will be quite busy. Typically south-bound the Premier Class is the first car at the front, and just to the left of that is the Cafe Car and then a number of Coach Cars. So be alert when the train rolls into town!
Bloody Mary Please!
Right after the importance of "getting on the train" the priority quickly turns to "securing a drink". Can I get an Amen? Tag team. If you are traveling with two or more people, what we like to do is assign one person to go directly upstairs to secure seats and one person to go right to the Cafe Car and order the drinks. Patty was second in line this time! It becomes a game. And for us, we are winners and we haven't even got to San Juan Capo yet!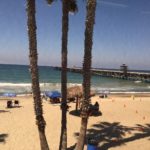 Enjoy the Ride
The views are incredible and don't miss the Pacific Ocean as the Pacific Surfliner rounds the bend out of San Juan… San Clemente is next…. with a great Pier and beach activities just steps from the train. There are phone charging stations too so charge your devices up while on the train!
Solana Beach Is Our Destination
As the train pulls into Solana Beach a large portion of the train will dis-embark to the left. Follow the crowd up the three flights of stairs or take the elevator. A double-decker bus (or two) awaits right at the entrance to the station. Hop on. We stay on the lower level, if available, for easy exit. We do tip the bus driver since they are so nice and we hear that ensures a win at the track. This has a 50/50 chance of working, but we do it anyway!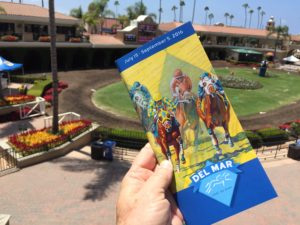 Trek to the Clubhouse
We don't saunter, and you shouldn't either. We hoof it to the Clubhouse. Follow the crowd down the driveway and to the left. There will be a Security Checkpoint. Then look left and there will be one entry gate area, then a welcome area for groups. Keep walking and then the second Clubhouse entry. This is where we turn in. Pay your $10 and receive a small booklet outlining each race. The board on the track will always have the most up to date information, as some horses are scratched for one reason or another prior to post time.
Race Forms Are A Must… Gitty Up
We pick up both of these racing forms as they have different information about so many aspects of the track, the horse the jockey, trainer, history on previous races and so forth. Lucky for me, I have Patty. You need to find your own Patty or get smart on betting and what to base it on. I have learned that the name of the horse and the winners circle have nothing in common. Just a tip. You're welcome.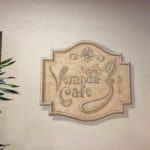 Dining and Viewing the Horses
You can stop at the Club "Reserved Seat Sales" window (just to the left before entering the building) and see if any boxes have opened up, but rarely do we find that happens. So we take the escalator upstairs and make a left into the Veranda Cafe. This is a lovely café and we head straight for the patio where we can overlook the Paddock. What better thing than to enjoy lunch, sip a cocktail and watch the pony's parade around for our viewing pleasure?. We start to research each race and here is where Patty gets real quiet. She is concentrating. And I am drinking and staring at the beautiful horses. And as each race comes up, we pick our favorites. Then she runs to the window to place our bets. Some we win and some we lose. Then after a few races, we head into the Clubhouse so we can watch it all from a totally different perspective—on the track. Both are great fun. One is up close and the other is the thrill of seeing the whole track in all its glory, as the horses race their best and everyone is shouting for their favorite horse.
After the Races
After the last race…And once we have gathered our winnings, or licked our wounds, we head back to the bus stand. We hop on board and ask the driver to please drop us off at the corner where the Brigantine Seafood Restaurant is located. It overlooks the track and is a lovely spot.
It has a casual, clubby vibe offering seafood and serving up surf 'n' turf, oysters on the half shell, fish tacos & has a great happy hour. It is always packed when we arrive about 5:30pm. We enjoy the happy hour and keep an eye on the time so we can get back to the station for our return train at 7:30pm. The Lyft driver arrives quickly and in five minutes we are back at the station for a fare of $5.75. Not bad at all. Brigantine Seafood Restaurant- 3263 Camino Del Mar – (858) 481-1166 www.brigantine.com/
Returning on the Train
We have to go over the bridge, and down the stairs, to be on the Northbound side of the track. Don't worry you will have plenty of company. Watch for the Premium Car and hop on-board. I am home and settled by 9:00pm. It is along day indeed, but great fun. Now, they do have a 4:30pm train, but you miss the last few races and it feels like you just arrived and have to depart. So we don't do that and longer— it just feels like one big rush all day long.
A big "thank you" to Patty for showing me the ropes here. I am not sure I would have been brave enough on my own, but now I am totally confident. And you can be too with these Tips and Tricks of how to do it. Make it a Del Mar Day and hope you get the chance to do it this summer and when they return in November!
See YOU at the races!
LINK AND HOW TO BEST BOOK YOUR TRAIN TICKETS ON THEIR WEB SITE:
Link to the Pacific Surfliner For Booking Train Tickets:
http://www.pacificsurfliner.com/?gclid=EAIaIQobChMIvoWwtsHE2wIV0sDACh1CLgdSEAAYASAAEgJicPD_BwE
Instructions:
-Click on the top right button to BOOK TICKETS
-Click on Round Trip
-Departure and Destination- When you start to fill in the city you will be departing from and to what destination, just type a few letters…. Like SAN for San Juan Cap and it should pop up. Then destination is Solana Beach but just type SOL And it should pop up. (I was entering the whole city name and their Find a Station button really does not work. So after 15 min. of trying that this worked best.)
-Add date and how many traveling and then it will give you times for Departure and then Return.
-It will prompt you with time options for both the Departure and then your Return.
-Select Business Class (or coach if you prefer) and how many tickets and then look for ADD TO CART. It is a green button to the left and above the time you are selecting.
-Add contact information and credit card information and they will email you the tickets to bring to station on day of travel.
-Note on Discounts: The web site indicates that as of February, 2018 they have discontinued the AAA discount but are trying to reinstate that— so watch for that. Also Senior Rates are for 65 years of age and older.