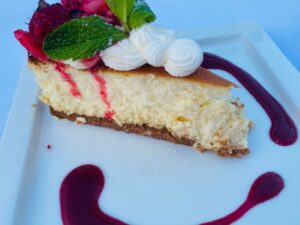 The 15th Annual Newport Beach Restaurant Week is here—now through May 2, 2021.  The most delicious time of the year returns, and yes we want to "Dine Local. Support Local".   This time round, restaurants are offering guests more ways to dine— from prix-fixe menus and specialty dishes to exclusive offers and take-out meals. Whether you prefer to dine at a restaurant's patio, inside, or take it home, let's support our local restaurants and perhaps try something new!
If you want to see all the menus and special offerings, you need to sign up for the NBRW PASS. They will send you a link and then you can easily see it on your mobile phone! A one-stop digital dining directory to Newport Beach Restaurant Week is right at your fingertips!  Browse the list of participating restaurants, prix fixe menus, specialty offers and it is free. www.DineNB.com
Here are just a few examples of some of the many offerings….followed by a complete list of participating restaurants. You're welcome!
Avila's Corona del Mar- Lunch and Dinner Prix Fixe
Prix Fixe lunch with soup and choice of three entrees for $15 and for dinner soup and a choice of three entrees for $30.
Billy's At The Beach- Lunch And Dinner Specials
Experience a tropical evening at Billy's at the Beach with waterfront dining, Hawaiian-inspired cuisine and aloha spirit. For Lunch: The iconic aloha eatery is offering a $25 Mai Tai and Burger special and For Dinner: An 8oz Filet and Pinot Noir for $45 for dine-in only.
Buddha's Favorite- Bento Box
Creative collection of yummies in this Bento Box. It contains edamame, sushi and choice of a full roll for $25.
Café Jardin at Sherman Library and Gardens- Lunch Special
Chef Pascal Olhats and Jessica Roy are serving up a delicious special lunch set in the garden. For $26 guests can enjoy a garden salad or soup d'jour and a choice of two of my favorite options—Smoked Salmon Quiche or Savory Chicken and Mushroom Crepes.
Coliseum Pool & Grill at Pelican Hill- Lunch and Dinner Special
The view is spectacular overlooking their circular pool, the golf course and ocean beyond. At lunchtime they are featuring a Swordfish Sandwich with Bay Fries for $23, and for dinner a Grilled Pacific Swordfish for $36. Other menu options are of course also available.
Farmhouse At Roger's Gardens- 3-Course Dinner for $50
Spotlighting the freshest flavors of the season and locally sourced ingredients, the menu presents two entree options: Seared Wild Grouper with asparagus, sugar snap peas, fava beans, cipollini onions and green garlic, sweet pea risotto, and tangerine beurre blanc; and Roast Autonomy Farms Lamb Shoulder with griddled Tehachapi Heritage Grain Project parmesan polenta cakes, swiss chard, shiitake mushrooms and cipollini onions, red wine lamb jus and mint chimichurri.
Five Crowns- 3-Course Dinner $50
The first course includes a choice of their famous Pride of the Crowns Salad, or a Caesar Salad. The Entrée includes a choice of one of three delicious choices: Roasted Prime Ribs of Beef (CA Cut) with sides, Roasted Half Jidori Chicken with sides or Herbed Salmon with asparagus and mushrooms. For dessert, guests can select from C.C. Brown's Hot Fudge Sundae, or English Trifle.
Stag Bar + Kitchen- Daily Specials for Food and Cocktails
Each day they have posted various specials for food and cocktails, including during happy hour. On Saturday and Sunday mornings they are featuring Breakfast Burritos for $6 and Bottomless Mimosas for $15! Great spot right near the Newport Beach Pier.
Sushi Ii- Complimentary Glass of Wine With Dinner
Upstairs at PCH and Dover is a wonderful sushi spot to enjoy your favorites!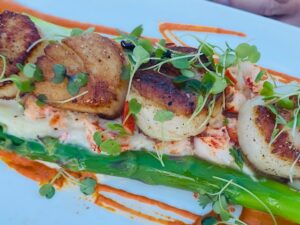 PARTICIPATING RESTAURANTS
PRIX-FIXE MENUS
21 Oceanfront
59th & Lex Café At Bloomingdale's
A+O Restaurant | Bar
Avila's El Ranchito – Corona Del Mar
Avila's El Ranchito – Newport Beach
Bayside Restaurant
Bluewater Grill
Cafe Jardin
Canaletto Ristorante Veneto
Cappy's Cafe
CUCINA Enoteca Newport Beach
Farmhouse At Roger's Gardens
Five Crowns
Fleming's Prime Steakhouse & Wine Bar
Foretti's Corona Del Mar
Gracias Madre Newport Beach
Harborside Restaurant
Lighthouse Cafe
Louie's By The Bay
Newport Landing Restaurant
Olea, Cellar. Craft. Cook.
Pescadou Bistro
Rockin' Baja Lobster
Tackle Box
The Beachcomber Café
The Bungalow Restaurant
The Mayor's Table Pacific Pub + Kitchen
The Winery Newport Beach
True Food Kitchen
Woody's Wharf
Zinqué
EXCLUSIVE TAKE-OUT OFFER
Atomic Creamery
Canaletto Ristorante Veneto
Thrive Juice Lab
Vista.Kitchen.Bar
SPECIALTY MENU ITEM
Arc Butcher & Baker
Billy's At The Beach
Buddha's Favorite
Chihuahua Cerveza
Coliseum Pool & Grill
Dory Deli
Flower Child
Great Maple
Hook And Anchor Fish & Lobster House
Hopdoddy Burger Bar
JuiceMi
Mayur Cuisine Of India
MOULIN
Sgt. Pepperoni's Pizza Store
Sugar 'n Spice
EXCLUSIVE OFFER
Afters Ice Cream
Atomic Creamery
Bazille
Blaze Pizza
Fable & Spirit
Helmsman Ale House
Lido Bottle Works
Malarky's Irish Pub
Modo Mio Rustic Italian Kitchen
Muldoon's Irish Pub
Pita Pita
RED O Restaurant
SHOR American Seafood Grill
Stag Bar + Kitchen
Sushi Ii