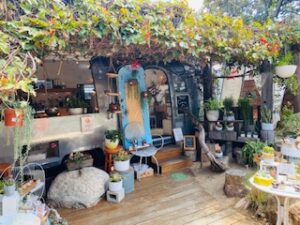 Shopping is really not my jam. I have a list and I am in and out in about ten minutes flat. But not in Costa Mesa! Visiting these fun outposts makes the experience sheer FUN! Just walking the pathways is so relaxing and meandering in and out of the shops I can just feel myself pressing "pause" and enjoying myself as I explore and find new things I didn't even know I needed!!
Beyond the "mega-mall" of our beloved South Coast Plaza, there are three spots not to miss! Let me take you on this journey as I reveal some different spots you need to put on your list of "places to visit soon".  And an added benefit— I feel that I am helping our local community of shopkeepers too. Yup, you're welcome.
The Lab-
This is not called the "Anti-Mall" for nothin'.  It is filled with an eclectic marriage of different types of retail venues. And all are sprinkled with recycled & repurposed materials—from rainbow painted benches, a metal wishing tree with messages, to a fountain made from painted oil cans and a shimmering archway made from recycled CD's. It's magical.
Let me back up…. it was established in 1993 and here are just some of the many establishments found here. For Bootlegger's Brewery, I count 19 beers on tap—from light, to hop-forward, to dark & malty. [Insider Tip: They have their own parking lot tucked in the back where they are located with about 5 spots, and a lovely outdoor patio.]
There is a cool "Cuban-style" restaurant called Habana and they offer indoor seating and a cozy patio. Seabird and Gypsy Den restaurants both offer patio dining and there is a donut shop, boutiques, Urban Outfitters, and the Nook Coffee Bar was very busy.
You can visit their web site for more details @: www.thelab.com
The Camp-
Just a stone's throw across Bristol Street & Baker is another outdoor mall built in early 2000's that is the brain-child of Shaheen Sadeghi who also launched The Lab (and later in 2016 the Anaheim Packing District).
From the parking lot the starting point for me is to start with what makes me smile and that is Blackmarket Bakery! Delicious breads, cookies and bakery fare. As we saunter down the pathway, here we find a flower shop, Patagonia, SEED People's Market, Puure Boutique, East Borough, Vitaly an authentic Italian cafe and coffee bar, the Wine Lab, the Old Vine Kitchen and Bar (with a rooftop deck) and right behind the Vine is the Salty Bear Brewery. They really need some better signage, but if you are persistent you will find it!  Mesa Restaurant is a free standing building up near Baker Street. [Insider's Tip: The Wine Lab opens at 1:00 and is a great spot to meet friends to sample some wines and they also have beers on tap for those who are not into wine.]  Learn more about The Camp on their web site:  https://www.thecampsite.com/
OC Mix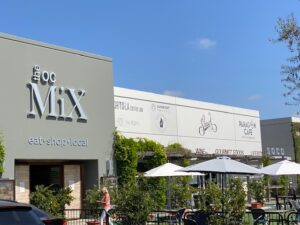 Then we hopped into the car for the short drive to OC Mix (near Harbor Blvd. and the 405 freeway) to visit one on my favorite haunts. Here we have a walkable indoor and outdoor mall with restaurants, specialty food spots and a few of my favorite charming shops. South Coast Collection, also known as SOCO has interior design showrooms and home furnishings, antiques and design services. The OC MIX, is an eclectic collection of boutique shops and specialty food spots.
If you love food, then a visit to The OC MIX is a must. They offer everything from delicious acai bowls at Birdie Bowl & Juicery to award-winning coffee at the heralded Portola Coffee Lab. Taco Maria, whose owner Carlos Salgado is a three-time finalist for the James Beard Award and earned a Michelin Star in 2019. He set up his first brick and mortar restaurant at The OC MIX. It's rated as one of the best restaurants in Southern California by the L.A. Times with its modern, creative take on Californian-Mexican cuisine. ARC is Noah Blom's award-winning restaurant where every single thing on the menu is cooked over an open flame. Greenleaf Chophouse is a healthy restaurant with a nice patio and lots of menu options.
There's also an impressive collection of unique retailers at the OC Mix. They even have an authentic Barber Shop, hat store and clothing boutiques.
The Mixing Glass, for example, Orange County's first specialty cocktail store, has everything you need to create exceptional cocktails at home—from curated cocktail-ware, to booze, aperitifs and even recipes.
The Cheese Shop At The Mix is filled with an broad array of delicious handcrafted cheeses, cutting boards, cheese knives, crackers and so many items to create an impressive Charcuterie plate. And Savory Spice has a storefront filled to the rafters with spices, brines and smoking chips. I get lost in this store every time I come here!  I purchased the brine mixture for my holiday turkey here and it is a great shop for all year round holiday gifts for the BBQ and food-lover in your life.
There is also a We Olive & Wine Bar here. So you can shop for olive oils and balsamic vinegars and grab a glass of wine too! One could easily spend a day shopping, eating and wandering through the SOCO and OC MIX complex!
You can find more information about OC Mix here:
https://www.travelcostamesa.com/shop/costa-mesa-shopping/soco-and-the-oc-mix
YES IT IS HAPPENING!!!!  The OC FAIR with its "Time For Fun" Theme will be running July 16-August 15, 2021. And the Pacific Amphitheatre is also opening on July 29, 2021!
For more information on all the fun things to do and see in Costa Mesa, visit our friends at www.TravelCostaMesa.com 
And stay tuned for more articles on their fabulous Performing Arts and Music Programs and a fantastic "self-guided" Art Walk located right there at South Coast!