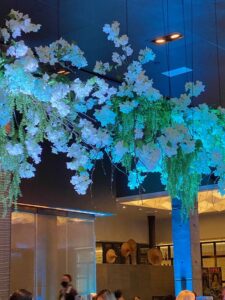 AnQi Bistro is located at South Coast Plaza at the edge of Bloomingdale's. This restaurant makes me feel as though I have entered another country. It features an expansive bar, incredibly dramatic decor and lighting, delicious cuisine and stellar service. They also have elegant private rooms for special dinners. The Noodle Bar is currently closed, but they hope to open it back up early this summer.
AnQi Bistro has an imaginative and creative menu with "Asian-Fusion-Fare".  On our recent visit we enjoyed:
–Hamachi and Albacore Truffle Sashimi with Tobiko (flying fish roe)
The fish was so fresh and flavorful it melted in my mouth.
–Lobster Dumplings with a rich lemongrass saffron nage and crème fraîche
This was a table favorite with the rich sauce stealing the show.
–Shrimp and Lobster Wonton Soup
This arrived in a large bowl and I was told very flavorful.
–Roasted Garlic Noodles with An's secret sauce
This is Elizabeth An's signature dish and I wish I could replicate it!
–Calamari fried with a Thai Basil Aioli sauce
This was another favorite as the calamari was very tender and the sauce was inventive.
–Kimchi Fried Rice and rich in Asian flavors with the perfect hint of spice
This was a tiny bit hot, which I prefer… and uses flavors that were unique to what I cook at home.
I really enjoyed that. It is served with a poached egg on top and that is not my favorite so I had my table mates enjoy that.
–Filet Mignon Pot Stickers with a Cabernet Dijon Mustard sauce
These were delicate and very tasty. We considered ordering more.
-A showcase dessert with the ice cream prepared table side with nitrogen.
It was a dramatic finish to our evening of delicious cuisine.
-Their cocktail program is inventive with lots of options for those who enjoy whiskey, gin, vodka and so many other choices!  On this evening we selected:
-A sparkling wine
–Oh-Mai Lychee Martini made with Japanese Haku Vodka (House of Suntory), soho Lychee, fresh lemon
–Heavenly Pear Martini made with Haku vodka, three olives apples and pears, St Germain, fresh lemon, pears
I was so impressed with our dinner that I brought my husband back three nights later. It was another wonderful experience and between the robust flavors and the ambiance, we were transported to another place and time. It was truly magical, as our travel has been on pause for some time. We look forward to returning again very soon. Thank you AnQi for such a lovely experience!
They also have a Fashion Catwalk and host many Fashion Shows from the iconic fashion houses at South Coast Plaza. It is a perfect spot to showcase stunning clothing and jewelry. It is currently not in use, but like the Noodle Bar they hope to reopen that very soon.  They also do a big "to-go" business as well.
The family owns the House of An restaurant group, which started in Northern California and now has Crustacean restaurants in San Francisco and Beverly Hills, Tiato in Santa Monica and AnQi in Costa Mesa. An recently opened Da Lat Rose, a restaurant within Crustacean, where Executive Chef Tony Nguyen helps tell their story in cuisine.
You can visit their web site to view the menu, read about their history and see more impressive pictures at:   https://www.anqibistro.com/
And as always, for more information on what is truly going on in Costa Mesa and South Coast Plaza, please visit:  www.TravelCostaMesa.com  .