Summer THIS YEAR is all about exploring local, and some road trips. My next Road Trip will be on Paso Robles and all the fun things there are to do in the Central Coast of CA.   But let's turn to a local haunt….Newport Beach, CA.
Newport Beach is a coastal town that is often described as the "gem" of Orange County, CA.  Nestled at the edge of the Pacific Ocean, Newport is known for stunning beaches, charming towns, boating, water activities, hiking, seven tiny islands dotting the bay, an ecological preserve, golf courses, restaurants galore and ten neighborhoods all offering a unique Southern California vibe.
Having lived in this area for almost 30 years, I have peeled back the beach blanket to share with you a treasure-trove of "must see" adventures that are bound to make your visit extra-special. Whether you are a local, or an out-of-towner, do check these off your list one by one. Did someone say "road trip"? Come on, let's go!
Dining In Lush Garden Settings
We have two restaurants that are located smack-dab in the middle of lush gardens, creating a fabulous setting for celebrations, gal pal dining or romantic dinners.
Cultivar Restaurant is coming to Sherman Library & Gardens. The restaurant that was here, Café Jardin, is where Pascal Olhats reigned for many years with his incredible French cuisine.  Chef Jessica Roy has been with Pascal for two years and has now taken over the helm. She is revamping it and will be opening her new restaurant concept the end of June. It is called Cultivar. By definition, cultivar is a plant that is selected for the best attributes, in terms of flower, fragrance or foliage. Her vision is a Californian-inspired menu utilizing seasonal produce. The gardening staff is indeed really looking forward to creating an edible garden that will be used for the restaurant and enjoyed by us all.
Sherman Library and Gardens is a living oasis of 2.2 acres of gardens in the heart of Corona del Mar. The staff maintains a large koi pond, turtles, succulents, amazing florals, fountains, flowering trees and lush greenery. They will now be adding a working garden for Chef Jessica Roy. Stay tuned for more news. This setting is just perfect for a delicious and relaxing lunch experience and I cannot wait to return.
The Farmhouse Restaurant is located at Roger's Garden— just steps away from Fashion Island. Roger's Garden is a candy store for serious gardeners and interior designers alike. It is a nursery, but so much more. They have plantings, trees, roses and a huge selection of everything imaginable. They also have rooms filled with seasonal home goods, gift items, candles and custom floral arrangements. On the upper level about mid-way through the garden is Chef/Owner Rick Mead's restaurant. In this al fresco space, the tables are literally tucked in among the plantings creating an intimate dining experience. Serving lunch, happy hour and dinner it is a great escape.
Insider's Tips: At Farmhouse, order your Produce Box by Monday at 8:00pm and every Wednesday Rich heads up to the well-known Farmers Market in Santa Monica to create Produce Boxes which can be ordered weekly for pick up on Wednesday afternoons at his restaurant.  https://farmhouse.rogersgardens.com/  .  Also the bar is charming for a glass of wine while shopping there. The back wall of stone always reminds me of a farmhouse in Provence, France.
Exploring The Historic Crystal Cove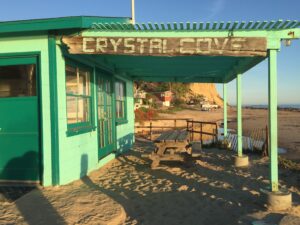 This 12 acre Historic District right on the beach retains its charm from the 1930's and still today is a special place. Each evening at 5:00pm the trumpet sounds the familiar toast to Happy Hour. The Beachcomber Restaurant and Bootlegger Bar serve delicious food and beverages and the Crystal Cove Conservancy is renovating the many cottages (available for rental). Guests can walk, or for a fee per person can take a bus from the parking lot at Los Trancos Creek Road down to the village. There is no parking next to the village except a couple of handicap spots.
Insider's Tip: Since reservations are hard to get, and only through Open Table, we set up camp with our beach chairs right on the sand. They will buzz you when your table is ready! We go at off hours and that seems to work well.
Get Back To Nature
The Back Bay is a magical nature preserve with a wide array of wildlife which can be explored from the pathways around the bay or from the water. The Peter & Mary Muth Interpretive Center has a plethora of exhibits, photographs, interactive displays and docents are there to answer questions as well. (Please call to see if it is open as the pandemic restrictions are lifting as of this writing.)
But, sometimes it is well worth it to get into the water and enjoy nature right up close. The Newport Bay Conservancy leads weekend docent-led tours via kayaks.  It is a very personal experience and perfect for families as well.
Insider's Tip: Reservations are needed and the kayaks are rented through the Newport Aquatic Center. They also rent stand up paddle boards. But it's harder than it looks! Trust me on that one!
Make a Big Splash In This Spectacular Pool
One view I never tire of is the Coliseum Pool at The Resort at Pelican Hill. This pool is one of the most unique I have ever seen. Imagine this—a circular pool measuring an expansive 138 feet across. Perched above the well-maintained green golf course, the azure water shimmers toward the west showcase stunning ocean views.
Insider's Tip: To enjoy sw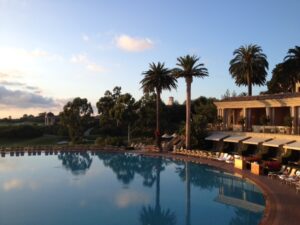 imming here, one needs to be a resort guest staying overnight, or can rent a Cabana (subject to availability, of course). I have rented a Cabana and that is great fun. Typically I enjoy the view of the pool while dining at the Coliseum Pool and Grill. If you time it right, the outdoor patio is a perfect spot to capture stellar sunset photos. This will make your friends at home very jealous. Cheers to that!
Bike Paths Along The Coast
Electric bikes are my favorite mode of transportation and are available for rent at Pedego in Corona Del Mar, and on the Balboa Peninsula at 20th Street Beach and Bikes. There are endless bike paths with views of stunning homes and ocean views.  Bike rental shops are aplenty. At Seaside Bikes and Sparky's Bicycle Rentals you can rent a four-wheeled Surrey which has a canopy and seats up to six.  For beach cruisers, Newport Beach Bike Rentals and Newport Beach Bike & Beach Rentals, as well as others offer hourly rentals.
Jump In…The Water's Warm
Newport Harbor has an incredible array of water activities for active guests to enjoy. There are: stand up paddle boards, kayaks, Sea-Doo's and inflatable small floating boats.  Balboa Water Sports rents Sea-Doo's for single and tandem adventures. These can be ridden beyond the Harbor and riders enjoy getting out in the open ocean to enjoy mo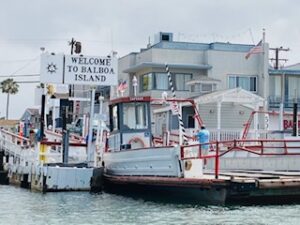 re active water and we often delight in seeing dolphins, sea lions and beautiful boats skipping across the water. Stand up paddle boarding in the Back Bay offer more tranquil waters for newbies. Pirate Coast Paddle Company at Newport Dunes and Newport Aquatic Center are two great choices.
Insider's Tip: Don't miss the opportunity to ride the Ferry. This has been running continuously since 1919. Guests can hop on at Balboa Island (at Agate Ave.) or the Peninsula side (Palms Street). Cars, pedestrians and bicycles are all welcome. And if you find yourself walking down Marine Ave. don't miss the opportunity to enjoy a frozen banana or Balboa Bar!
Play Tourist And Do A Harbor Cruise
This is a wonderful way to entertain out-of-towners, and we even did it so we could be smarter when out on the water entertaining guests. Fun Zone Boat Company has been offering narrated tours since 1948!  They offer three different tours around the bay. 1) Cruises for one hour just outside the harbor to spot sea lions and migrating whales. Departs on the odd hours 11, 1, 3 (and 5 &7 in summer);  2) Tours around the harbor pointing out celebrity homes and yachts. Departs on the even hours 12, 2 (and 4 & 6 in summer). And 3) A 90 min. tour of all of the above and viewing the 7 islands of the Newport Bay too. Departs at 11, 12, 1, 2 (and 3,4,5,6 in summer). One hour tours are $15 adults/seniors and $5 for kids. The 90 min. tour is $25 adult/senior and $5 for kids. www.funzoneboats.com
Insider's Tip: All reservations must be booked on-line.
Skipper Your Own Boat…Or Not
For those who fancy being a boat captain, here are many options here in the largest Harbor on the West Coast. Confident boaters can rent an electric Duffy Boat for a few hours and bring on-board your own food and beverages. There are many options, including: Duffy Boat Rentals along PCH and EB Rentals on Lido Village, Newport Harbor Boat Rentals and Newport Fun Tours.  Boat Rentals of America is located right next to the Ferry on the Peninsula side (just in front of Newport Landing Restaurant and the Ferris Wheel). Balboa Boat Rentals offers electric boats, power boats, pontoons, kayaks, and even hydro-flight packs.  https://boats4rent.com
There are also other types of boat rentals. There is one that reminds me of a floating bar with a canopy of palm fronds swaying in the breeze. Riva de Balboa has sleek wooden and fiberglass boats with a throw-back to the Chris Crafts of the 1950's. These boats can be rented on Balboa Island and just steps south of the Ferry.  http://www.RivaDeBalboa.com
Or, hop aboard Gondola Adventures gondola for a romantic jaunt around the bay with a gondolier navigating the way.
http://newportbeach.gondola.com
And for those who just want to hand over the wheel, Captain Newport offers luxury boat and yacht charters with 3-8 hour cruise options.
Insider's Tip: Pick up fabulous TO GO meals from Champagne's Bistro and Deli. They are open daily from 8:00am to 8:00pm so there are options for breakfast, lunch and dinner too! We picked up their delicious Cobb Salad, BBQ Chicken Salad and Turkey sandwiches for our recent outing.  Super easy to call it in and go pick it up! They also have wine and beer so you can just pick it up right there and head down to the boat!  https://www.champagnesdeli.com/
Whale of a Fishing Tale
Newport Landing Whale Watching offers 2 1/2 hour excursions each day (and privately chartered boats). Imagine seeing giant blue whales, finback whales gray ways, Dolphins, sea lions and endless bird life overhead.  Davey's Locker offers whale watching and is well-known for their deep-sea fishing jaunts for half day, full day and even overnight.
Day Tripping To Catalina Island
Walking along Crescent Avenue (called Front Street by locals), the main boardwalk along the bay is filled with charming restaurants, ice cream shops, boutiques and hotels. It is a lovely spot to meander, and guests can also arrange for tours into the countryside of the island and even zip-lining. Beginning in the 1920's Catalina was developed into a tourist destination by William Wrigley, Jr. (Yup, the chewing gum magnate).  It is hard to believe, but this island is famous for Buffalo. They were brought over to film Zane Grey's 1925 film "The Vanishing America" and the film crew left them behind.
Insider's Tip: Catalina Flyer offers daily departures from Newport at 9:00am and arrives in Avalon at 10:15am. It departs Catalina at 4:30pm and returns to Newport at 5:45pm.
Visit The Iconic Balboa Pavilion—A Beacon For Newport Beach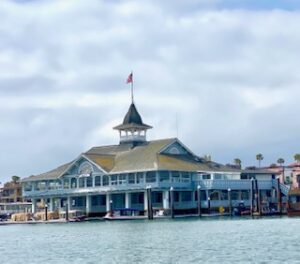 The six minute Ferry ride is a fun one across the bay with boats all around. Once guests are on the Peninsula side there is a Fun Zone with a Ferris wheel, little shops and arcades. The historic Balboa Pavilion is at the southern end and worth seeing. The building was fully completed on July 1, 1906 to coincide with the completion of the Pacific Electric Red Car Line which began near Pasadena, winding down through Los Angeles and Long Beach and ended on the Balboa Peninsula. The Balboa Pavilion is recognized for its long sloping roof line and ornate Victorian cupola at its crown. It now is home to sports fishing boats at the dock, a restaurant and bar downstairs and has a lovely ballroom upstairs. It presides over the Harbor in regal elegance.
For more information on places to stay, things to do, restaurants and upcoming events, please visit our friends at www.VisitNewportBeach.com