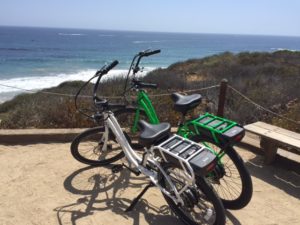 Now that the weather is better, let's get out there and ride!!!   This is one of my favorite bike routes, and on this adventure, we ride approximately 12 miles total. It has the charm of Corona del Mar, a nature trail with look-out points along the bluffs, amazing coastal views of the Pacific, and a few impressive spots to grab a quick drink,  or bite to eat. Best of all, riders are able to stay off most of the busy streets, by following this handy Bike Route as your guide.
We begin this ride at the Pedego Corona del Mar retail store. This is a gem of a store with wonderful owners (Joe and Hal) and their friendly staff.  They sell all the different models of bikes, perform repairs and installation of accessories, and rent bikes. They also offer guided tours for groups and events, and have special packages from time-to-time, so check their web site for the latest news. More information about Pedego Corona del Mar can be found at the end of this article.
Just to give you a quick overview—- we start this route by meandering our way through the residential neighborhood of Corona del Mar, heading south-west toward the cliffs above the Newport Channel, and then head south down toward an idealic nature trail, and Crystal Cove. Then up to Pelican Hill for some ocean and golf course views from and through this Resort, and then back to the Pedego retail store.  We utilize this route to avoid as many of the major roadways as possible. It is just more relaxing that way! And at the end of the article you will find some additional information on dining and beverage suggestions.
Getting Started…
-Before leaving, confirm what time you will be returning to the store, and what time the store actually closes. Get your loaner helmet and slather on some sun screen. You can also ask to borrow a bike lock, however I never let the bike out of my sight.
-A Quick Reminder for your Safety: Always watch for cars, and especially when you are riding on the sidewalks. They may not expect you to be riding along on the sidewalks, let alone at 8-10 mph.  I also notice that they often drive right up past the cross-walk before stopping their car. This can be quite dangerous if you happen to be passing by at that exact moment. Be alert. Make eye contact. Use your bell. Don't just assume they see you and will stop. Just sayin!
-Departing from the Pedego Corona del Mar retail store on PCH, we make a RIGHT turn.
-At the first street Dahlia, we make a RIGHT turn and head toward the water, which is in a Southern/Western direction.  Note: On the left side of Dahlia and PCH is the charming Sherman Gardens and Library. This is indeed worth a visit (at another time). The gardens are lush, they teach classes throughout the year, oversee a lovely private home garden tour in the area in May, have an on-site restaurant Café Jardin, and a gift shop with unique garden-related gift items.
-Turn LEFT on Second Street.
-Turn RIGHT on Goldenrod. We walk the bikes over the Goldenrod Bridge which is elevated above Bayside Drive.
-Continue riding down Goldenrod and the ocean will be ahead. The road dead-ends at Ocean Blvd. and riders will want to bear LEFT. Lookout Point will be found on the grassy viewpoint just ahead. As the name implies, this is a lovely spot to peer down upon the Newport Channel below (to the right). And to the left is Big Corona Beach. You will notice there is a lovely walking path along this stretch of Ocean Blvd. and lots of locals take walks here in the early mornings and late afternoons.
-Continue along Ocean Blvd. heading south to where Ocean Blvd. comes to a dead end. This is a rewarding stop and is aptly named "Inspiration Point".  Below and to the left as you face the ocean, is Little Corona Beach and the Tide Pools (which can be observed at low tide). This is a golden "photo opportunity" as they say. Click. Click.
-We are now going to head east, and back up toward PCH. Turning away from Inspiration Point, we make a LEFT turn on Poppy Street. Just 500 feet ahead, there will be a "one way" arrow to the right at the next tiny street. This street is called Hazel Street, however there is no street sign visible at this particular juncture. Make an immediate RIGHT onto this street. It will curve to the left and then head straight up toward PCH. (Poppy Street is too narrow.)
[Bikers Note: Be careful for any on-coming cars, however this street has little automobile traffic. Hazel is a residential street flanked by houses on both sides.]
-As you approach PCH, the historic Five Crowns Restaurant and their newer Side Door Gastropub, are on the left. (The gastropub is charming and opens at 4:30pm every day and 11:30-3:00 on Sundays, and the restaurant opens at 5:00 daily.) Make a RIGHT turn. There is a bike lane denoted on the street along PCH, however we prefer to ride on the sidewalk. Since there are no retail shops along this stretch, it seems to be a safer alternative for us bike riders. [Bikers Reminder: Always watch for cars, and especially when you are riding on the sidewalks. They may not expect you to be riding along on the sidewalks, let alone at 8-10 mph.  I also notice that they often drive right up past the cross-walk before stopping their car. This can be quite dangerous if you happen to be passing by at that exact moment. Be alert. Make eye contact. Use your bell. Don't just assume they see you and will stop. Just sayin!]
-Continue to Shore Cliffs. This is a lovely neighborhood on the right. The houses are built in a variety of styles. It is fun to ride through this enclave; however you can skip it and continue South, if preferred. If taking this detour, turn RIGHT on Seaward, and RIGHT on Evening Canyon. Continue along and pass Driftwood Street. Turn LEFT on Morning Canyon (however if you do ride up Driftwood they merge into Morning Canyon at the far end). Continue straight back up to PCH.
-Turn RIGHT on PCH and back up onto the sidewalk. Head south bound.
Riding Through Crystal Cove State Park and The Nature Trail-
-Just past the light at Pelican Point, make a RIGHT turning on to the Canyon Trail. This is a light sand-colored gravel road which is perfect for bikes. It meanders along the coastal vegetation of sage and dense brush. It curves down to a lovely Lookout Point above the ocean with access to the beach, jogging to the left. There is a peek of Pelican Hill Golf Course is to the right, and this is another great photo opportunity.
-Reverse back up the bike path to the main bike path and make a RIGHT turn, heading South again. The ocean will be to your right, and along the pathway there is excellent signage for other viewpoints along the bluffs with the ocean below. There are three bathrooms along the pathway prior to reaching Crystal Cove Historic District.
-As you enter Crystal Cove you will see a wooden road sign indicating "Foot Traffic Only Beyond This Point". It might be best to walk your bikes at this point. To the right is an observation deck, the rental office, and further down, there are rental cottages along this pathway. Eventually you will see a 3-tiered steep staircase that takes you down to the Beachcomber Cafe, the bar, restrooms, and the beach. The Pedego bikes are much too heavy to carry down this staircase.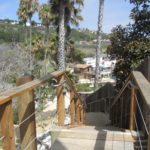 -The best way to get down there is to go back up to the barricade, and turn RIGHT, and then another RIGHT, heading down the driveway. This is where the Beachcomber Bus turns around and transports guests up and down from the parking lot across PCH. (See below for details on this.)
-As you continue down, restrooms will be on the right, then the café's bar and cafe.  The ocean is beyond that and there is a cottage with information on Crystal Cove to the left. To the far left, and up the embankment you can see a staircase leading to the Ruby's Shake Shack up on PCH.
-Unfortunately there are no bike racks here, however guests can lock bikes together along the pathway and within sight.
Exploring The Crystal Cove Historic District –
I call this spot a "toes in the sand" experience, and what can be better than that when you live in sunny, Southern California? This location also has such a rich history, which I will touch on briefly here…If you have not been to this historic spot at Crystal Cove, it is really worth a visit.  The Crystal Cove State Park has 3 ½ miles of pristine coastline. The Historic District was first developed as a South Seas movie set in the 1920's. The community thrived and loved its relaxed, friendly atmosphere and picturesque landscape. Over the years, 16 iconic movies were filmed here. In 1979, the Crystal Cove State Park Historic District was placed on the National Register of Historic Places.  Built as a seaside colony in the 1930s and 1940s, Crystal Cove endured over the years as a magical escape for visitors. Thanks to the efforts of the Crystal Cove Alliance, all of the original cottages are still standing today – spared from the hands of developers. Sixteen cottages have already been authentically restored to reflect the era between 1935 and 1955, when the Cove evolved as a community. And most can be rented overnight.
Crystal Cove Alliance and Cottage Rentals-
This group has played an integral role in the preservation and restoration of the vintage beach cottages in Crystal Cove State Park's Historic District. A total of 29 of the original 46 cottages have been restored, preserved to capture the lifestyles between 1935-1955.  As previously mentioned, sixteen of these historic cottages have been turned into overnight rentals for the public, managed by Crystal Cove Beach Cottages under the CCA umbrella.  Each year, over 25,000 guests take a trip back in time to stay in California's last surviving intact beach community.
To reserve a Cottage for overnight stays, please visit the California State Parks camping reservation website at: www.reserveamerica.com.    The remaining restored cottages have been put into public service providing food (Beachcomber Café and Shake Shack), educational venues (Education Commons, Visitor Center, Cultural Center, Rotating Exhibition Cottage, Beaches Film & Media Center, and the Park & Marine Research Facility), and supporting Park Operations (Guest Services). www.crystalcovealliance.org
Riding Up To The Resort at Pelican Hill-
-Return northbound on the Bike Trail with the ocean now on your left.
-A Crystal Cove State Parking Lot will be on the right. Heading toward PCH you will want to make a RIGHT turn, cross the street (heading east) at Newport Coast Drive. It is a large intersection and is flanked by two huge archways with palm trees.  Riding on the bike path or the sidewalk you will only be traveling on this street for one city block. AT the next light you will be turning LEFT to enter the resort. The street name is Pelican Hill Road North.  (To the right is Marriott's Newport Coast Villas with a nice a timeshare facility.)
-Head up the hill, through the archway (which is really the bridge for the golf carts above). Make a RIGHT turn at Pelican Grill and another RIGHT to reach the entry. Here you will be greeted by the valets who can assist you with parking and locking your bikes. There are no bike racks; however, the valets said they are very happy to watch the locked bikes and will assist you.
-As you face the building, to the left is the Golf Pro Shop, and to the Right is the Restaurant and Bar area.  It is a great spot to stop for a quick drink.
-Another option is to continue further up the hill to the Coliseum, which overlooks the resort swimming pool.  This spot includes a restaurant, sports bar and outside patio with commanding views. At the light you make a LEFT turn which takes you into the Resort grounds. As this curves to the right, the Resort is straight ahead, and the Spa is to the left at the far end. There are bike racks at the Spa, and one could park bikes there.
-If going to the Coliseum, turn LEFT to the Guard Shack and let the person know where you are going. You can enter thru the automobile gate, or the arched walkway to the right if you are comfortable fitting thru tight spaces. There are no bike racks here as well, however the valets said they are very happy to watch the locked bikes and will assist you.
-At the Resort Lobby, they have a delicious gelato ice cream store, a lounge, elegant Andreas Restaurant open for dinner, and a Bar overlooking the golf course.
-Returning to Pelican Hill Road North you can make a LEFT at the light and head further up the hill for some beautiful views of the ocean below.
Returning Back To the Pedego Corona del Mar Retail Store-
-Reverse back down the hill to PCH and return to the bike path, making a right turn to head north bound.
-Watch for Pelican Point (a cross street along PCH and there is a light there) and you will turn LEFT to get back onto the sidewalk with PCH to your right, and return in the reverse order all the way back to the Pedego Corona del Mar retail store.
Dining Information-
Ruby's Shake Shack- This is a burger and shake spot perched up on the cliff on PCH. Seating is very limited and it is accessed from Crystal Cove Historic District up a steep flight of stairs. The restaurant is operated by Ruby's and they certainly know how to do these menu items very well. (Open daily from 7:00am to 8:00pm daily and until 9:00 on Friday and Saturday's.) 7703 East Coast Hwy, Newport Coast ~ (949) 464-0100
The Beachcomber Café at Crystal Cove – There are no bike racks here, which is a shame. However bikes can be grouped together and locked up just outside of the restaurant. Ask the hostess for directions. This restaurant provides ocean front dining in the Historic District of the Crystal Cove State Park with breath-taking views of the Newport Coastline and Catalina Island. Just steps from the sandy beach, and while guests are waiting to be seated, a stroll on the beach is the perfect way to idle the time away. The restaurant provides patient guests with a pager to ensure a speedy return. Now, how brilliant is that! Reservations are suggested and can be obtained on their web site or on Open Table, and not over the phone. 949.376.6900 or www.thebeachcombercafe.com .
The Beachcomber was remodeled as a restaurant from an existing cottage in the park. It used to be called the Whistle Stop. The Bootlegger Bar is a full bar, offering all types of cocktails, wine, beer, and appetizers. Guests used to enjoy joining the crew every evening at 5:00pm, or at sunset, as they would raise the martini flag and salute the Crystal Cove Historic District, which was a tradition here on the beach. The Beachcomber re-opened on August 2, 2006.
The Beachcomber offers one of those "something for everyone" type of menus— and each meal time has an excellent selection. For breakfast, there are the usual suspects of egg dishes, however they also have a selection of:  Benedicts (from Ham to Crab Cake & Florentine), Turkey Chorizo, Salmon Latkes, and sweet offerings from Brioche French Toast to Blueberry Buttermilk pancakes and even Beignets. The lunch menu includes nine different appetizers, sandwiches, soups & salads, entrees, and a stable of signature cocktails, martinis, Bloody Mary's, beer and wine. Dinner includes burgers, steaks and so many options, guests are ensured of something delicious!
The Historic District has some specific requirements that guests driving arriving by car might want to be aware of, so here are the details, just in case you return by vehicle. Parking – Parking for the entire Historic District is located across the street at the Los Trancos Parking Lot (on the east side of Pacific Coast Highway). Guests pick up The Beachcomber Shuttle, or walk through the footpath and tunnel from the Los Trancos Parking Lot. It takes approximately 10 minutes to walk from the parking lot to the restaurant. (Please visit their web site for details on parking and shuttle fees.) You must get your ticket validated at the restaurant to have the fee reduced in the lot.  Dining Reservations– They have a limited number of reservations through Opentable.com .  They do not make reservations over the phone, or directly at the restaurant.  The majority of the restaurant seating is available on a walk-in "first come, first serve" basis.  Cottages Rentals– The best way is to visit www.crystalcovebeachcottages.org to see photos and descriptions of the cottages. All cottages are rented through Reserve America at www.reserveamerica.com which is the California State Parks camping reservation website.
Pelican Grill-
This restaurant and lounge is located at the Pelican Hill Golf Course and serves as an elegant dining establishment, sports bar and also the 19th hole for golfers. The views out to the ocean are spectacular and the wrap around bar and huge tv screens ensure everyone has the perfect view of sports.  There are no bike racks, however the Valets assure us they will watch guests bikes and they will show you where to lock them up. (Open daily 11:30am to 2:30 and 5:00-10:00pm) The Resort At Pelican Hill, 22800 S Pelican Hill Rd, Newport Coast
Phone:(949) 467-6800 ~ www.pelicangrillnb.com
The Coliseum Grill-
This is probably one of my favorite spots in Newport. With commanding views, the gymormous 140 foot circular pool overlooks the golf course with the ocean beyond. The restaurant is elevated above the pool and features two dining rooms, a sports bar with a big screen television, and a lovely outside patio. You really feel that you have gotten away here, and the menu offers so many choices, it is the perfect spot to sit and relax. There is valet parking here, however no bike racks. The Valet's inform us they have a spot to lock up the bikes and will watch them for you.  (Open daily 7:00am to 10:00pm) 22701 S Pelican Hill Rd, Newport Coast, CA 92657 (949) 467-6800 ~  www.coliseumnb.com/
Side Door Gastropub (opens at 4:30)
3801 East Coast Hwy, Corona Del Mar
(949) 717-4322 ~ www.sidedoorcdm.com
Five Crowns (Opens at 5:00 for dinner but not in bike attire!)
Specializing in Prime Rib & Seafood in a historic and charming Tudor-Style building.
3801 East Coast Hwy, Corona Del Mar
(949) 760-0331  http://www.lawrysonline.com/five-crowns
About Pedego Corona del Mar
Pedego Corona del Mar has a great selection of bikes for sale, and do all kinds of repairs, add accessories and upgrades too. They also rent bikes for $14.00 per hour, or $50.00 per day. They conduct private tours for groups of 2-8 guests for $69 per person, for 2.5 hours. On our recent visit they were leading a tour of 45 guests in groups of 8 or so, on a four hour custom tour from one of the local hotels. So the possibilities are endless and this team is so wonderful to work with.  Pedego Corona Del Mar- 2515 East Coast Highway – Corona del Mar, CA 92625
(949) 612-7989 ~ www.pedegocdm.com
All About Pedego Electric Bikes-
For all the geeks in the room… Pedego is an electric bike with a flat black box of a battery that is locked in place just above the rear wheel.  (There are other brands that have the battery-pack mounted in the center bar just behind the front wheel.) The best part of all is that it rides just like my regular beach cruiser. The bikes are available in a plethora of bright, fun colors—I count about 20 of them. Riders swap out fenders of different colors and just have fun with designing their custom bikes. It is really a kick to see all the creative ideas.
I have a link for specs and particulars below but as a lady who just likes to "keep it simple"—- here is how I have simplified the many options and styles. Style-wise, there is the Comfort Cruiser a Step Thru (with a lower bar in the middle). We used to call that a "girl's bike" but the benefit has now expanded to those with limited mobility, the Interceptor (both step thru and with bar), City Commuters, and Trail Trackers with the wider, super-fat tires.
From a FUNCTION standpoint, here are three of the most popular options: 1) there is the basic Comfort Cruiser that you pedal like a normal bike, with various speeds, and can use an easy throttle at your right hand to kick-in the power of the battery;  2) the sleek City Commuter, a Dutch street-style model with Pedal Assist and an electronic data readout indicating: mph, battery charge level, etc.; and 3) the Inceptor which is the ultimate cruiser-style model—-providing the data readout and that awesome Pedal Assist feature, which automatically kicks in and there is no need to use the throttle. [Prices range from $2,200 to $3,700, depending on model and features.]
And everyone wants to know range. That really depends on a few factors—your weight (the drag) and the grade of the surface you are riding as well as the wind. If it is flat terrain, and you are approximately 180 pounds, riders can expect approximately 20-30 miles of range with little wind resistance from a 10 amp-hour battery.  A 15 amp-hour battery will deliver about 10 more miles per charge. The battery is available in 36 volt and 48 volt, with the latter providing more thrust to carry you up the really big hills.
What about noise? A specially designed motor is on-hand.  All Cruisers come with a throttle-activated motor, putting the rider in complete command. The rider can pedal, or twist the throttle to use the motor and not pedal at all (or any combination of throttle and pedaling). It's the rider's choice how hard to work on any ride, and no matter how much you throttle the motor remains whisper quiet. I use both.
Pedego's 500-watt silent hub motor provides the power to ride comfortably up hills and through heavy headwinds. The newer motors are geared, which offers more thrust with no noticeable drag. This allows for a rear disc brake for extra-powerful stopping capability. Plus, Pedego electric bikes are completely free-wheeling when powered off — so there is no additional resistance from the motor if a rider chooses to pedal. This all ensures a quiet ride. Even the motor's location is purposeful. With safety a top priority, Pedego's rear hub motor is an improvement from front-hub designs. Placing the motor beneath the rider's weight helps to keep the bike moving smoothly — with good traction.
They have just thought of everything, haven't they? There are two saddle bags which are add-ons, for those wanting to carry light packages home on their bike. For those wanting to tug things, they offer a custom trailer for surfboards and even for carting children. (And for towing super-heavy items, there are even bigger tires for towing of larger objects.)  They even have a tandem bike!
Important Caveat For Bike Riders Reading Or Using This Article:
Please note that this Bike Route is offered as a "suggested route" to avoid traffic, explore the area, and enjoy a marvelous daytime ride on Pedego electric bikes. This is in no way an endorsement, or any guarantee to safety while riding. Each bike rider needs to wear a helmet, obey all signs and guidelines for riding, know their own capabilities, and watch for all cars and traffic. Watch for cars that come right up past the cross-walk before stopping. We notice more and more doing this. If traveling on the sidewalk, it is important to make eye contact and be sure drivers see you coming. You, the rider, are responsible for your own safety. Basically, don't do anything stupid.