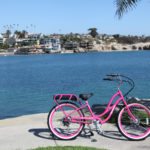 I was recently introduced to  Pedego Electric Bikes in Corona del Mar, and was so pleased to finally feel the joy of riding a bike again, with the help of auxiliary power to assist me up the hills I have so dreaded. I have a number of routes to explore and share with you in the Newport Beach area and beyond. I decided to start with Balboa Island and the Peninsula (mainly because this involves a ferry ride across the main channel).  My friend Teri Sawyer set out to help me with this exploration, and as we jotted down the details—from street names, to twists and turns, noting all the details for you! We had a blast finding our way around town and look forward to sharing it with all of you so you too can explore these areas via bikes. It really is the best way to see all that Newport Beach has to offer!  (Below is a complete bike route that you can use and enjoy too!)
I was surprised to learn that these electric bikes can go as fast as 20 mph (20 is the legal limit, mind you) and at a moment's notice I can get the assistance I need when going up an incline. In other words—it gets me out there riding again. This is my new-found "Vehicle of Fun"!
So we rented bikes from the Pedego Corona del Mar store (located on Pacific Coast Highway near MacArthur). Owners Joe and Hal provided a map with directions so we could be underway rather quickly. You, the reader,  will benefit from our ride, as we share the ins-and-outs along the pathways. Pedego Corona del Mar also arranges Guided Tours, which is a wonderful idea so guests can sit back and just relax en route. (Details on tours and rentals are noted at the end of this article.)
Bike Touring – Complete Directions ~ Balboa Island , The Ferry & Balboa Peninsula
As mentioned, we began our tour at the Corona del Mar store located on Pacific Coast Highway. Here is the route we followed an a map is also below so you can follow along. This is a perfect road map to creating a wonderful day outing!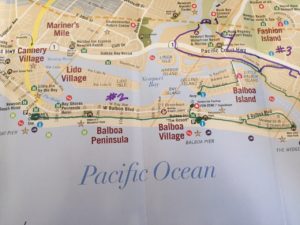 -from the shop, make a left turn and head west on Carnation all the way down the hill, passing charming homes along the way. You will pass Begonia Park on the Right and at Bayside Drive turn RIGHT.
-You will follow Bayside Drive for approximately 2 miles. The first half mile is very narrow, so be careful for cars.
-At the light, Marine Ave. you will turn LEFT and this takes you onto Balboa Island. (To the right, and up that big hill is PCH and Jamboree—- just as a frame of reference. Jamboree becomes Marine Ave. on the bridge approaching Balboa Island.)
-The Bike Path is on the sideway for this short stretch over the bridge. This is a lovely spot to stop for a photo opportunity with the flags flapping in the breeze and the boats docked below.
-Once on the other side, there are two options. There is really no bike path, so you can either:  1) Ride along the street 2-3 abreast and have the cars ride behind you; or 2) walk your bikes down the sidewalk and window shop, or 3) you can take a shortcut and turn right into the alley just after the bridge and head down to Amethyst Ave. and turn LEFT. Many of the streets are one way and the first street is Onyx, however the one way is facing east, so go to Amethyst Ave. where you will be going with the traffic, westward. Head to Park Ave.
-Whichever way you go, once you hit Park Ave. you will turn RIGHT. You will follow this all the way down (basically the length of the island) until you hit Agate Ave.. You will be watching the "Ferry Ahead" signs and just keep heading in that direction. The homes are just charming so be sure to take note, while also watching for car traffic, and car doors opening.
-At Agate, turn LEFT. The Ferry is straight ahead and you can ride right up to the Ferry. They typically have 3 running in rotation. Stay to the right and avoid the cars entering and exiting in the center. The cost is $1.25 per person with bike, one way.
-As the Ferry departs, it is a breath-taking six minute journey to the other side. Another great opportunity to take pictures and often the passengers in cars will get out and be happy to take your group picture. The Balboa Pavilion will be to your left and is still in operation.
[History Lesson: This iconic landmark dates back to 1906. The Pavilion played a prominent role in the development of Newport Beach as a seaside recreation area as it became the southern terminal for the Pacific Electric Railway connecting the beach with downtown Los Angeles.  The Pavilion has since then housed approximately twenty-eight types of activities. Notable examples include a post office, art museum, bowling alley, gambling establishment, speed boat rides and a host of other marine recreational activities.]
-Once the Ferry stops and you exit to the LEFT, you are on Palm Ave. and will find the FUN ZONE before you. To the left is a ferris wheel, and all kinds of water craft activities. Guests can rent jet skis, electric boats, and even do a jet-pack ride into the sky! There are pin-ball machines, and eateries, and the kids ExplorOcean Museum.
-Travel along Palm Ave. westward, passing Balboa Ave. (the main drag). Just a few doors down you will happen upon the Bike Path. This bike path goes for miles and miles to the north. It goes only a mile to the south and dead-ends rather abruptly. To the left is the Balboa Pier. And to the right far in the distance is the Newport Pier.
-We wanted to head north, so we hung a Roscoe (RIGHT) and heading Northbound. The wind is in your face with a bit of a headwind, however this is where the Pedal-Assist came in handy. I just twisted the throttle and away I flew. We were on a roll and commenting on the house along the way. With sand and water to the left, and charming homes to the right, who can go wrong with this view?  On the bike path, we rode for miles and miles enjoying the peaceful scenery along the way, with the wind in our hair.
-Guests do have the option to ride on E. Balboa Blvd. however the access is somewhat limited and lots of car activity, so we prefer the Bike Path.
-Once we reached Newport Pier we were amazed at the plethora of restaurants and bars. Teri and I enjoyed lunch at the Il Farro. As the name implies it is Italian and I enjoyed the best Eggplant Parma I have ever had (and I have enjoy many). We also shared a mozzarella and tomato salad which was divine. Our waiter XX was one of the best waiters I have had the pleasure of having—-so all the way around it was a lovely dining experience. However, having said that there are so many options. If it is 4:30 or later, fancy pants 21 Oceanfront Restaurant is one of our favorites. The dining room is formal, however the bar is very inviting, especially if Ryan is working. They have a great Happy Hour, you can dine comfortably at the bar and they have music starting at 6:30 every night. Who can beat that?
If earlier in the day there are many "dive bars" for lack of a better term— from Baja Sharkeez, to Sol Grill to the Blue Beet (since 1912), and many others. New to the scene in this prime real estate along the coast, is Fly-N-Fish located next door to Mutt Lynch's.  With amazing seafood, this restaurant is making a name for itself and I like the vibe inside.  Across the street in a big red building that you cannot miss, is The Crab Cooker. This is Wing Lam's favorite haunt for Clam Chowder, by the way, so I am going with that. There are also a host of other restaurants and sports bars further down as Balboa Blvd. turns into Newport Blvd. Also to the right in that same area is The Cannery, Bluewater Grill and Sabatino's Sausage Company,  which are hard to find but well worth the effort if you do.
-After our tummies are full, we reverse engineer our trek and head back south. With the wind at or backs it is smooth sailing as we glide along the boardwalk.
-Be on the look-out for E Street because just past this spot the bike path just ends with no fan-fare whatsoever.
-Turn LEFT onto E street and a right tonto East Ocean Blvd. Make a RIGHT. This will take you through a residential area and at the end you will find three things:
1) The Wedge to your right on the ocean side, 2) the West Jetty with views of the boats coming in and exiting the protection of the harbor, and 3) Big Corona beach across the channel.
-Follow this road back around to the left and it turns into East Balboa Blvd. and rejoins West Balboa Blvd. Once you reach Palm Street, turn right and you are back in front of the Ferry for a return trip to Balboa Island.
-Guests can reverse engineer, as we did to return to the retail store.
-What a fun ride that was!!!!!
Pedego Corona del Mar rents bikes for $14.00 per hour, or $50.00 per day. They also do private tours for groups of 2-8 guests for $69 per person, for 2.5 hours. On our recent visit they were leading a tour of 45 guests in groups of 8 or so, on a four hour custom tour. So the possibilities are endless and this team is so wonderful to work with everyone who walks thru the door!
Pedego Corona Del Mar- 2515 East Coast Highway – Corona del Mar, CA 92625
(949) 612-7989 ~ www.pedegocdm.com
All About The Pedego Electric Bikes (For All The Nerds In The Room…..)

Pedego is an electric bike with a flat black box of a battery that is locked in place just above the rear wheel.  (There are other brands that have the battery-pack mounted in the center bar just behind the front wheel.) The best part of all is that it rides just like my regular beach cruiser. The bikes are available in a plethora of bright, fun colors—I count about 20 of them. Riders swap out fenders of different colors and just have fun with designing their custom bikes. It is really a kick to see all the creative ideas. Today I was enjoying riding a bright pink bike.
I have a link for specs and particulars below (for all the geeks in the room), but as a lady who just likes to "keep it simple"—- here is how I have simplified the many options and styles. Style wise, there is the Comfort Cruiser a Step Thru (with a lower bar in the middle). We used to call that a "girl's bike" but the benefit has now expanded to those with limited mobility, the Interceptor (both step thru and with bar), City Commuters, and Trail Trackers with the wider, super-fat tires.
From a FUNCTION standpoint, here are three of the most popular options: 1) there is the basic Comfort Cruiser that you pedal like a normal bike, with various speeds, and can use an easy throttle at your right hand to kick-in the power of the battery;  2) the sleek City Commuter, a Dutch street-style model with Pedal Assist and an electronic data readout indicating: mph, battery charge level, etc.; and 3) the Inceptor which is the ultimate cruiser-style model—-providing the data readout and that awesome Pedal Assist feature, which automatically kicks in and there is no need to use the throttle. [Prices range from $2,200 to $3,700, depending on model and features.]
And everyone wants to know range. That really depends on a few factors—your weight (the drag) and the grade of the surface you are riding as well as the wind. If it is flat terrain, and you are approximately 180 pounds, riders can expect approximately 20-30 miles of range with little wind resistance from a 10 amp-hour battery.  A 15 amp-hour battery will deliver about 10 more miles per charge. The battery is available in 36 volt and 48 volt, with the latter providing more thrust to carry you up the really big hills.
What about noise? A specially designed motor is on-hand.  All Cruisers come with a throttle-activated motor, putting the rider in complete command. The rider can pedal, or twist the throttle to use the motor and not pedal at all (or any combination of throttle and pedaling). It's the rider's choice how hard to work on any ride, and no matter how much you throttle the motor remains whisper quiet. I use both.
Pedego's 500-watt silent hub motor provides the power to ride comfortably up hills and through heavy headwinds. The newer motors are geared, which offers more thrust with no noticeable drag. This allows for a rear disc brake for extra-powerful stopping capability. Plus, Pedego electric bikes are completely free-wheeling when powered off — so there is no additional resistance from the motor if a rider chooses to pedal. This all ensures a quiet ride. Even the motor's location is purposeful. With safety a top priority, Pedego's rear hub motor is an improvement from front-hub designs. Placing the motor beneath the rider's weight helps to keep the bike moving smoothly — with good traction.
They have just thought of everything, haven't they? There are two saddle bags which are add-ons, for those wanting to carry light packages home on their bike. For those wanting to tug things, they offer a custom trailer for surfboards and even for carting children. (And for towing super-heavy items, there are even bigger tires for towing of larger objects.)  They even have a tandem bike, which I cannot even fathom. If you are married, you know you will want to go right and your partner will want to go left. Am I right? Of course I am! Solo for me!