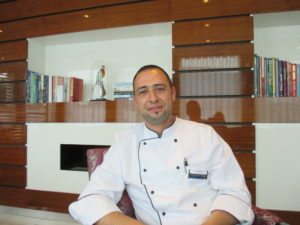 A One-On-One Interview – With The Charming Executive Chef Jozsef Lado
I recently returned from a fabulous trip in Europe. This trip began, as most do, in Paris. Indeed, there will be many more articles on that in the months to come, including visits to the oldest restaurant in Europe and Paris! After Paris, we then flew to Budapest to explore the ancient city, and then join a 7-day AmaWaterways River Cruise on the Danube River. Along the route we visited quaint towns, including: Bratislava, Vienna, Durnstein, Melk, Linz, Passau, and ending in Vilshofen, Germany and then we were transported up to Prague, the capital city of the Czech Republic. What a lovely trip this was.
Many of my readers are fascinated with how things work on a River Cruise. How do they manage to serve delicious meals morning, noon and night? How do they secure their produce and supplies along the river route? Do they make the bread fresh on-board? Do they grill the steaks? What does the staff do in their free time? (Note: You may have read another article I wrote, when I interviewed the chef on-board a south of France River Cruise. For those who are interested, you can click on the "France" Icon to the right on my web site's Home Page and read that article as well.)
But on this fine day, I was on the Danube River, day #4, and it was my pleasure to sit down with Executive Chef Jozsef Lado, to learn more about his journey to become a chef, his cuisine, and life on-board a river cruise ship!
Meet the affable Chef Jozsef Lado who hails from Transylvania, Romania and his family still lives there today. I had always thought of Transylvania as a made up place, where the legendary Dracula resided. But Transylvania is a region in central Romania, known for its medieval towns, mountainous borders and castles, including Gothic Bran Castle, where locals still do keep the legend of Dracula alive. The city of Brașov features Saxon walls and bastions, an expansive Council Square, ringed by colorful baroque buildings, the towering Gothic Black Church and lively cafes. Nearby Poiana Brașov is a popular ski resort. With Hungarian and Romanian roots, he and his two brothers have grown up in a glorious setting. Chef Jozsef describes his mother as "the best cook ever" and the entire family tended to their own garden. Embracing just picked fruits & vegetables, the menus were driven by the bounty of the season. Still today, Chef Jozsef likes to explore the local markets. He enjoys touching the produce, smelling the spices, feeling the breads and making his own selections.
Chef Lado started working in a Austrian restaurant, and eventually met an Italian chef who always would recite that "cooking is like love" and instilled that passion in his cooking. Later attending a professional cooking school for three years, the degreed Chef Jozsef set out to being his career in the world of culinary arts. Chef has been with AmaWaterways for six years now. He began as a Sous Chef, and moved his way up.
Chef Lado is impressive. He speaks four languages, including: Romanian, Hungarian, German and English. I observe him as he strides from the dining room to the lounge, double-checking all the details, his smile can be seen across the room. He is friendly, engaging and one gets the sense that he really loves what he does. He has that passion—that fire in the belly. In chatting with him, he often mentions "team work" and is very thoughtful about his entire staff. They work split shifts and that helps with the work load. There is one person most of the staff never sees and that is the Baker. All the breads are made fresh daily on-board and are really hard to resist. The Baker works from midnight to 7:00am every day. His cabin is at the far end of the corridor downstairs so he can sleep while the others are just starting to stir.
As he starts to explain the cooking stations, it really does operate very similarly to a restaurant. They have a Hot Galley (cooked foods, appetizers, etc.), Cold Galley (salads and cold prepared items), a Pastry Chef, a Chef Garde Manger, and so forth. Someone handles all the side dishes, and vegetables. Another handles the breakfast items and garnishes. The Sous Chef makes the soups and some of the specialty garnishes, and Chef Lado is in charge of the sauces, meat and fish items. In addition, he of course oversees the staffing schedules, ordering and special requests by the guests.
In the Main Dining Room, breakfast, lunch and dinner are all served. The seating is self-selected, with many table options from booths, to long tables and rounds of eight. There is also lighter fare offered for breakfast and lunch in the lounge area. Watching the team climb up and down the stairs endlessly to set up and break down the set up, makes me wish for a dumb-waiter to be hidden in the cabinetry.
(Perhaps in a future version of this ship we may see this.) There has been one addition to the dining options in the evening. They have added a Chef's Table and this is where guests sign up to be one of 24 guests each evening that have a special menu in an intimate dining room at the stern of the ship. The Sous Chef plays an active role in this program and the maître d' is very personable. Lastly there is a Captain's Table, and two evenings during the cruise, Captain Alex hosts some of the guests to his special table to share in interesting conversations about the world, his travels and the ship. It was a great honor to participate in that on the first night of the cruise! The Captain is the nicest Captain I have ever met. He is so pleasant and quick-witted. We really did not want the evening to end.
As we departed Budapest, we dined on Caesar Salad, and a delicious Filet of Beef. They grill the steaks on a skillet as no grilling or open flame is used on the ship. During our first evening the Staff entertained us with dancing and of course Chef Lado and his team showered us with post-dinner delicious treats.
Here are some other delicious meals prepared by Chef and his team.
And then there was the Chef's Selection for the evening…..
Desserts anyone?
And of course the CHEF'S TABLE which was great fun!
When not working, the staff enjoys going into the various towns along the river. They know their way around these cities, whether on foot or traversing on a bicycle. They also have access to the Internet on-board, fresh bottled water, a community room to relax, and a patio up on the deck as well, when the weather permits.
Most of the rivers are quiet from January to early March. The weather tends to be cooler. This is the time when the staff returns home, travel, visit friends, work on developing new recipes, and planning for the next season. The "season" varies by river route. Here on the Danube the "season" is from mid-March to late November. When Chef is on holiday he enjoys traveling to Italy and South America. Earlier this year he spent one month in Brazil.
Chef Lado cooks from the heart and that means creating menus that honor the freshness of the season. For example, on our cruise in mid-May, he had gathered the best of the local asparagus. This was used in numerous different recipes. When in Budapest, he travels to the Great Market Hall (built in 1897) and enjoys seeing his favorite sausage and paprika vendor for his Hungarian Goulash. And I must say, it is the best I have ever had! (I do wonder what his secret is? Maybe he will be so kind as to tell me?)
In some of the towns, I notice specialty purveyors pull up as we dock to re-stock the kitchen—everything from meats to cheeses, dairy goods, and so forth. Most of these orders are placed ahead and arrangements are made to meet the ship. Once a week the Department Heads all get together for a meeting to review all the items they need for re-stocking on-board the ship.
I asked Chef Lado, who is always doing so much for others… have the guests ever surprised him and done something special. He was reminded of a time when he was on the ship and it happened to be his birthday. He does not know how they knew, but a group of the guests bought a cake for him and signed a lovely card. Chef Lado smiled and said, "That was very special, and a total surprise to me!"
Little things mean a lot. Next time you are on-board a river cruise, think about the wonderful staff and so something nice for someone. What I do is when I am in town I buy some little treat for our Room Steward, or our Waiter, or the Chef and just say "thank you" for making my trip so special. Thank you to Chef Lado for taking the time out of his busy day to spend a little time chatting with me.
What can I say, I was honored.