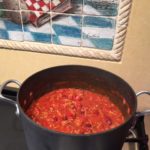 This is one of my favorite "go-to" comfort meals for a day of football or hanging around for a marathon movie day! With just two do-ahead items cooked, this can be assembled in short order. Enjoy! (Serves about 14)
Ingredients for Chili:
-2 Pounds of Ground Turkey Meat
– 1 Package of Spices – Chili Mixture
-2 Medium onions, diced
-1 30 oz. can of diced Tomatoes
-1 30 oz. can of chopped Tomatoes
-1 14.5 oz. can of Fire Roasted Tomatoes (Trader Joes)
-One jar of spicy red pepper spaghetti sauce (or regular Marinara Sauce)
-3 cans 14.5 oz. of beans (Black Beans, White Beans, Kidney Beans, etc. for contrast of color)
-Salt and pepper to taste
-Optional: One 4 oz. can of Tomato Paste if needed for desired thickness, and can add Red Chili Pepper Flakes for heat (use sparingly or it overpowers the dish).
Condiments:
-Sharp Cheddar Cheese- grated
-Sour Cream
-Chopped Green Onions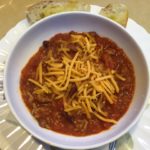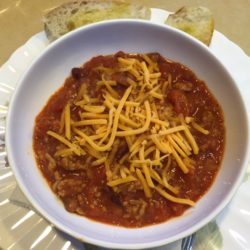 Directions:
-Cook's Note: This can be done in a big Soup Pot, or in the Crock Pot and can simmer for hours. I do ahead the Ground Turkey and the onions, and then it is just a matter of simple assembly and tossing it all in the pot to heat and simmer.
Sautee the Ground Turkey in a skillet. Once almost completely cooked, add the Chili Spice Mixture and add a ½ cup or less of water. Stir and let simmer for 5 minutes, stirring frequently. Remove from heat and place in storage container for later, or into the pot.
Sautee the diced onions and add salt and pepper lightly . When browned, place in a container for later, or into the pot.
Add all the rest of the ingredients on the list and cook in a soup pot or in the crock pot.
Serve with Condiments offered above.
Also freezes very nicely. Can store for up to 3 months.
Friend's Offer Other Suggestions for Chili Too:
I have not tried these but it sounds marvelous and must try these.
-Jennifer Arteaga asked if I had ever had chili spaghetti?
-Fifi Chao chimed in, since she knows everything and of course know the name. It is called Cincinnati Spaghetti, which is Spaghetti with Chili on top!
-Ruth Lee Bedi (Co-Owner of Prego) suggested adding tequila. That is her secret ingredient.
-I have poured half of a dark beer into the brew, and it is quite good too!
© Copyright 2016 www.TastesAndTravel.com and Deirdre Michalski.