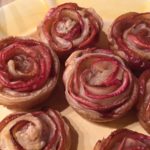 This is a delicious breakfast treat and so easy to make!!
You can even do it ahead and place in the refrigerator to
cook a few hours later.
Ingredients:
-3 Red Apples (baking apples)
-Juice from ½ lemon
-1/4 cup of Preserves/Jam (I used Manassero Farms Strawberry or Orange Marmalade Jam… but any flavor that goes with apple) Note: Add 1-2 tablespoons of water to make it thinner.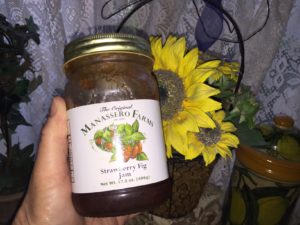 -3 tablespoons of cinnamon
-2- boxes of Puff Pastry (the two packages in each box create 6 strips)
-Powdered Sugar to dust them upon cooling
Note: Need one Muffin Tin, rolling pin.
Instructions:
-Set the Puff Pastry out to defrost (takes about 20 minutes).
-Core the apples, cut in half and slice fairly thin.
-Place in Pyrex bowl of water with juice of ½ a lemon. Cook in microwave on high for total of 5-7 minutes, or until bendable as they will be gently folder and need to be pliable.
-Cut the puff pastry in strips and roll out slightly.
-Use a spoon to place a thin layer of the preserve on the length of the puff pastry on the left side.
-Sprinkle with Cinnamon.
-Along the right side layer the apple slices down the entire length of the puff pastry.
-Fold the puff pastry over from left to right, letting the edges of the apples show.
-Beginning at the end closest to you, start to gently roll the puff pastry, creating a rose design.
-Place in the Muffin Tin one by one. (You can make as many or as few as you desire.)
-Bake at 375 degrees for 35-45 minutes until done and the puff pastry is lightly browned.
-Remove carefully and place on cooling rack.
-Once cooled, dust with powdered sugar, or do this step as you serve them instead.