The Balboa Bay Resort is the only waterfront resort in Newport Beach and features a restaurant that is perched right along the Newport Harbor. With captivating views of the Bay, boats and paddleboarders they have lovely patio seating and indoor dining and a wrap-around inside bar as well.
On the weekends, they reveal a fanciful Tequila Bar along the Boardwalk and offering some of the best views in the house. The menu is overwhelming with over 130 different Tequila and Mezcal brands. There is something for everyone here that is to be sure! Some of the specials they are offering are noted below in the line-up of creative menus, in addition to their "all day dining" options.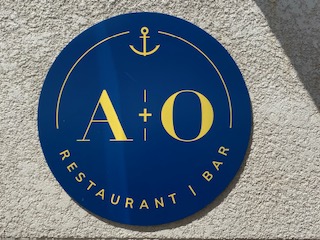 The A&O Restaurant & Bar (stands for Anchors & Oceans) is versatile with so many seating options. It is the perfect spot to gather with friends, or for a date night. Inside there is a wrap-around bar, high top tables and dining tables as well. As you step outside, the waterfront patio is breathtaking. There are cozy sofas surrounding firepits. Along the Boardwalk there are high top tables and lower dining tables as well. This is my favorite spot to set up camp.
The entire property is abuzz with activity as they are celebrating the 75th Anniversary of the Balboa Bay Club. Many years ago this was THE spot for boaters, locals and famous movie stars to hang out. Years ago their bar was called Duke's and named after the famous John Wayne who frequented this Club.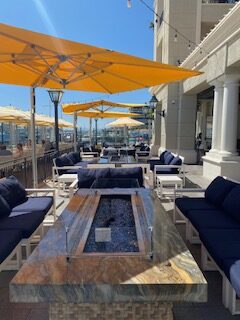 The Tequila Bar-
On Saturday and Sunday from 5;00-9:00pm the Tequila Bar is all set up and so many different bottles are on display. The list of brands seems endless. They offer flights, shots and all kinds of cocktails too! Flights range from $50 to $1,000 (selecting four from their top 10 list). Notables include many rare names, such as: Asombroso: The Collaboration Extra Anejo, Tears of Llorona Extra Anejo and Pescador DeSuenos Pechuga Mezcal.
Happy Hour Specials-
– Tequila Happy Hour- Monday – Thursday 2:00-5:00pm
25% off all tequila, excluding "Specialty Cocktails" on their menu. Please ask your Server to clarity.
-Taco Tuesdays 5:00 – 9:00pm
Crispy Pork Carnitas Tacos- 2 for $20 – Crispy Pork Carnitas, melted pepper jack, pickled red onions, chili adobo broth, lime and flour/corn blend tortilla.
-Western Wednesdays 5:00 – 9:00pm
Texas-style BBQ Spare Ribs $32. Includes: potato salad, collared greens, bread and butter, pickles, jalapeno-cheddar corn muffin and house BBQ sauce.
-Sushi & Sake Saturdays- 5:00 – 9:00pm
Wonderful selection of sushi, hand/cut rolls and sashimi. Examples of the offerings include: Sashimi (4 pieces per order of salmon, tuna or Hamachi for $16), Spicy Tuna Roll ($16), Crunchy Vegetable Roll ($12), Shrimp Crunchy Roll ($16), Rainbow Roll ($22) and California Roll ($12).
As for Sakes, they feature six different bottles—-for example: Heaven's Junmai 12 (9 oz. for $30), Khee Premium 22 (375 ml SOJU $60) or Sake Baby (300 ml Sake $40).
A Stroll Through The "All Day Dining" Menu-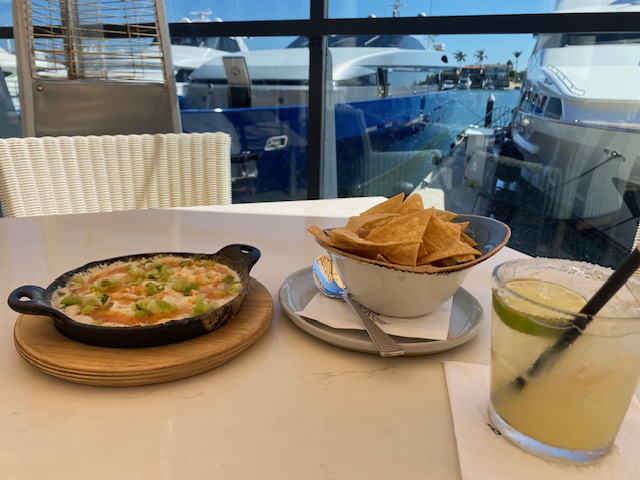 The restaurant has a very diverse menu. And one of my favorites in a menu is offering lots of delicious sharable appetizers. They have many creative choices and I had a hard time selecting. They all sounded so delicious! There are also a plethora of salads, hand-helds, entrees and side dishes too!
Here are the two appetizers we enjoyed and the great news is we would order them again! The third one was a recommendation by our lovely server but we were too full, so next time that is on the top of the list and these three are their most popular.
-Hot Crab Dip $25
Served in a hot cast iron bowl, it had crab dip, smoked mozzarella, parmesan, green onions, chili sauce and a side basket of tortilla chips.
-Elote Bites $19
Roasted corn, rajas (sliced poblano peppers with cream), Oazaca cheese, cotija chili lime, smokey chili spice and cilantro.
-Salt & Pepper Shrimp $23
Six large shrimp are front and center and prepared Sichuan style. This is served with a slaw of apples and Napa cabbage with a banana-chili hot sauce. (The sauce was not too hot.) The shrimp were so flavorful. We had to do paper-scissors for the last one.
Upcoming Special Summer-Time Events at BBR-
-Flecha Azul Happy Hour Hosted By Mark Wahlberg|
Saturday, August 19th from 5:00 -6:00pm
Ever dreamed of cheers-ing with Marky Mark? The celebrity is taking over Balboa Bay Resort's Tequila Bar next Saturday from 5-6pm to showcase Flecha Azul Tequila. Admission is free, but space is limited, so arrive early to join the party! The Tequila Bar is located through our flagship restaurant along the waterfront boardwalk.
-Barbie & Ken-Dall Limited Edition Cocktail- On-going
Available only at Balboa Bay Resort's stationary Tequila Bar, the limited-edition Barbie and Ken-Dall cocktail is equally as delicious as it is Instagrammable. Made with 808 Tequila (hence, Ken-Dall) and glittering pink cotton candy, the Barbie & Ken-Dall cocktail is Newport's pink drink of the summer. ($18)
-Labor Day Hot Dog Cart & Tequila Snow Cones-
Saturday, 9/2 – Monday, 9/4 from 1:00 – 4:00pm (Resort Guests Only)
Over Labor Day Weekend, resort guests can imbibe in innovative hot dogs and JAJA Tequila snow cones by the pool. A DJ will be spinning tunes under the sun—don't miss out on this special holiday weekend!
-The Annual Gentleman's Smoker- This will be held the evening of Sept. 7th
Getting the Low Down on Tequila vs. Mescal-
I did some research on this and you can read in more detail below if interested. You will be a star at your next Triva on Cocktails game!
Balboa Bay Resort
1221 West Coast Highway
Newport Beach, CA
(949) 645-5000
www.balboabayresort.com

A & O Restaurant and Bar Hours:
Sun-TH 8:00am to 10:00pm
Fri & Sat 8:00am to 11:00pm (kitchen closes at 9:45)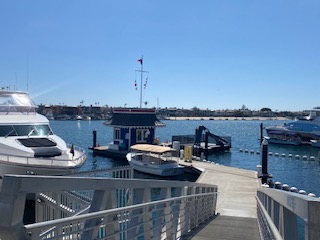 The 411 on Tequila & Mezcal
There are so many terms used in the world of tequila, I find it rather confusing. While attending this recent Tequila Tasting at a new swanky Tequila Bar, it made me want to do a "quick-deep-dive" on the subject. And, you never know when there might be a trivia question on this very topic! You're welcome!
Tequila is made from one agave plant, tequilana weber, or Weber Blue Agave. And even more criteria… here we go… To be classified as a tequila, it must be distilled in the controlled appellation of tequila, basically the state of Jalisco in Mexico. The time it spends aging in barrels is what determines whether it is: Blanco (not aged), Resposado (aged up to 1 year), or Anejo (aged 1-3 years).
Blanco is not aged and great for mixing with cocktails. Reposado is heavier and more complex and perfect for Old Fashions, Mexican Mule and smoked Margaritas. Anejo is premium. Full stop. Perfect for sipping as it is aged 1-3 years. Known also to be a whiskey substitute!
Bonus Round: Cristalino
This is Anejo (aged tequila) that has been filtered (often thru charcoal) to remove the naturally occurring colors it picks up from spending time inside the barrel. The filtration process strips the color and some of the tequila's woodier notes without removing the rich flavors. Some of the popular brands include: Don Julio 70 Anejo Claro, Maestro Dobel Diamanté, Qui Platinum Extra Anejo.
Mezcal is also made from agave, however, it can be made from up to 50 species of the plant. It has a stronger concentration of alcohol than tequila and it is roasted so it has a smoky taste. Some popular brands include: Dona Vega Espadin, Yola, El Buho, Los Siete Misterios Dona Yaj and Erstwhile Espadin.
Tequila has three main classifications and that is probably what has confused me! This includes: Anejo, Blanco and Resposado.