I recently attended an invite to experience the new Tequila Bar at the Balboa Bay Resort in Newport Beach. This swanky custom bar is set up for real weekend fun. It is on the patio of the A + O Restaurant (which stands for anchors and oceans). The bar displays a wide array of hard-to-find tequilas and mezcals. Guests can snuggle up to the bar and watch all the magic happen. There is also lots of seating around fire pits. As I glanced around the space, I could not help notice the stunning views of the harbor, the crystal blue water and boats gliding past. In the evening (Th-Sun) they have fantastic live music. It is a perfect spot for chill time, gathering with friends, or a date night.
I was a hosted guest for this media event, however all the opinions and commentary are of course my own.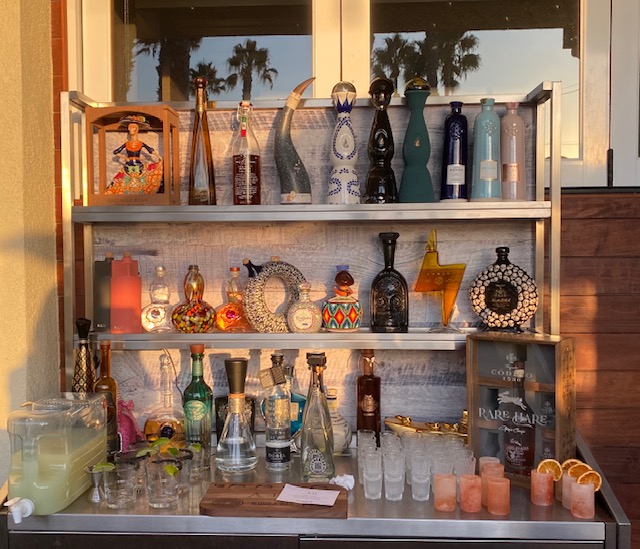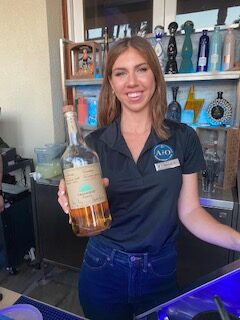 The Bar is home to endless specialty Tequilas and Mezcals. The staff are so knowledgeable and friendly. We so enjoyed our time with them. Hannah is the Tequila Ambassador and such fun! Hannah was behind the bar and is very knowledgeable about the world of Tequila. She has completed the first level. Three more to go to be an official "Catador".
Jason Hsieh is the Director of Food and Beverage and he was making sure everyone was enjoying the beverages and cuisine. Francine Slosser is the Director of Marketing and it was a pleasure to meet her and learn more about the Resort. Executive Chef Prabeen Prathapan was "hands on" with the delicious appetizers he so proudly presented to us all. He does a great job of pairing Tequila with his amazing cuisine and sauces. For our special tasting the Chef paired some amazing options (as you will see in a moment) and yes, guests can enjoy along when they visit too. And there are many other popular items to try—such as the shaved dark chocolate with tandoori masala and caramelized popcorn with peanuts and bacon.
Our Tasting Included:
-Pesto sprinkled with Pistachio, fresh Burrata, delicious Heirloom Tomatoes (from a local San Clemente farmer) and served with house-made focaccia bread.
-Salt and Pepper Grilled Shrimp
-Fish Tacos-with a large piece of fish deep fried
-Crispy Taco Carnitas- With Pepper Jack cheese and a smoked pepper sauce
-Chicken Wings with Cajun chili lime sauce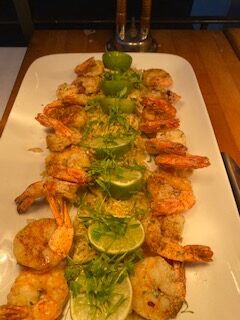 Our Tequila Tasting:
The Tequila Bar offers a host of cocktails made with the guests able to request their preferred style and brand. They have quite a large selection of tequilas and mezcals. There are some that are very rare, top shelf brands, and crowd favorites. Four different flights are offered with four shots, salt, lime and you can even finish with a dried cricket! (Move over worms… now it's crickets that are the thing!) Flights range from $50 to $150 and the staff mentioned that couples often share a flight.)
Hannah prepared a delicious Margarita rimmed with Black Sea salt. The Tequila was Maestro Dobel Diamanté Cristilino. She explained that it is clear (as opposed to golden) because it is filtered in charcoal.
Next Hannah prepared a Cristalino Flight. This sells for $75 and included:
-Gran Centenario
-Gran Coramino
-Maestro Dobel 50 Extra
-Maestro Dobel Diamanté Reposado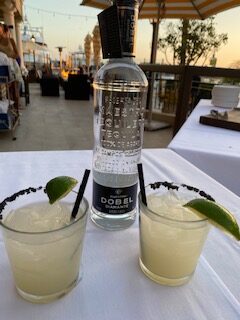 The Tequila Bar is open on the weekends thru the end of the year.
-Friday & Saturday 6:00-10:00pm
-Sunday 2:00-8:00pm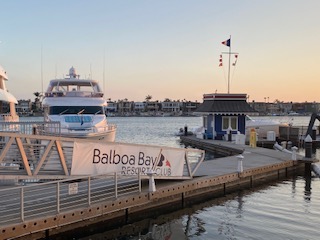 The 411 on Tequila & Mezcal
There are so many terms used in the world of tequila, I find it rather confusing. While attending this recent Tequila Tasting at a new swanky Tequila Bar, it made me want to do a "quick-deep-dive" on the subject. And, you never know when there might be a trivia question on this very topic! You're welcome!
Tequila is made from one agave plant, tequilana weber, or Weber Blue Agave. And even more criteria… here we go… To be classified as a tequila, it must be distilled in the controlled appellation of tequila, basically the state of Jalisco in Mexico. The time it spends aging in barrels is what determines whether it is: Blanco (not aged), Resposado (aged up to 1 year), or Anejo (aged 1-3 years).
Blanco is not aged and great for mixing with cocktails. Reposado is heavier and more complex and perfect for Old Fashions, Mexican Mule and smoked Margaritas. Anejo is premium. Full stop. Perfect for sipping as it is aged 1-3 years. Known also to be a whiskey substitute!
Bonus Round: Cristalino
This is Anejo (aged tequila) that has been filtered (often thru charcoal) to remove the naturally occurring colors it picks up from spending time inside the barrel. The filtration process strips the color and some of the tequila's woodier notes without removing the rich flavors. Some of the popular brands include: Don Julio 70 Anejo Claro, Maestro Dobel Diamanté, Qui Platinum Extra Anejo.
Mezcal is also made from agave, however, it can be made from up to 50 species of the plant. It has a stronger concentration of alcohol than tequila and it is roasted so it has a smoky taste. Some popular brands include: Dona Vega Espadin, Yola, El Buho, Los Siete Misterios Dona Yaj and Erstwhile Espadin.
Tequila has three main classifications and that is probably what has confused me! This includes: Anejo, Blanco and Resposado.