On the lovely patio at Five Crowns Restaurant in Corona del Mar, guests enjoyed a wonderful Wine Dinner featuring Levendi Winery. Executive Chef Matthew Luna paired each of the five wines with a delicious selection of perfectly paired cuisine. He did such a stellar job! It was a five-course menu and each course was just incredible!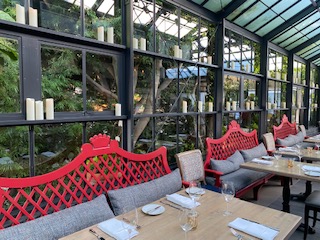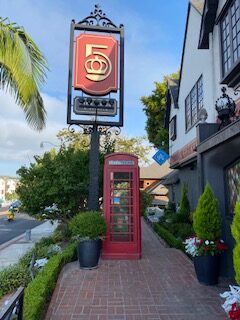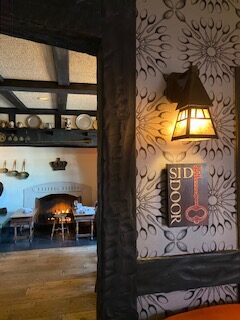 The tablescapes included starch white tablecloths and flowers, with grass at our feet and perfect weather for a glorious evening under the stars. We just knew we were in for something special. At my table, some of the guests were "world travelers" and we so enjoyed hearing about their many adventures around the globe. There were five representatives from Levendi Winery attending the dinner and they were so proud (and rightly so) of their various wines. They introduced each one with pride and explained to us where the vineyards are located for the wines before us. From Napa to Sonoma, Mendocino, and beyond.
Here is a sneak peek at the menu and wine pairings. Reading through this, and seeing the pictures, you will get a sense of why this was such a special Wine Dinner. Following this article, I have included some more detailed information about the winery and their brand new Tasting Room in downtown Napa!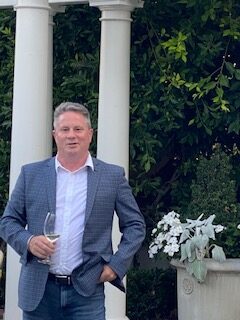 -First Course
Beausoleil Oysters with cucumber & kaluga caviar
Levendi North Coast Sauvignon Blanc- 2021
A perfect start to the evening with oysters that complement the Sauvignon Blanc. Clean, crisp wine and treasures from the sea. A perfect pairing. This Sauvignon Blanc is created from grapes that are multi-sourced in the North Coast.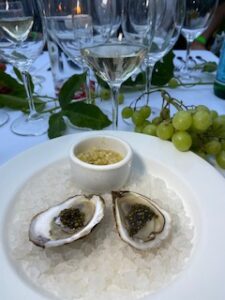 -Second Course
Foie Gras Torchon with fig compote, brioche & fleur de sol
Levendi Chardonnay- 2020
The Foie Gras was creamy and the fig compote gave it a sweet finish. I have not had foie gras in a long time so this was such a special treat and served with toast points. The Chardonnay was aged in French Oak barrels and had hints of tropical fruit and Meyer lemons. A favorite dish and wine pairing for me. The grapes for this (and their Rose Pinot Noir) hail from their vineyards at the Chardonnay Golf Club located at Jameson Canyon located in the southeast corner of Napa.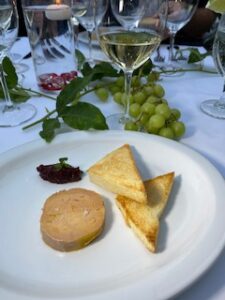 -Third Course
Spanish Octopus with piperade & white beans
Levendi Stagecoach Cabernet Sauvignon- 2019
This grilled Spanish Octopus was perfectly prepared and had a delicate sauce as well. I had to look up to see what "piperade" is and it is named after the classic Basque stew of sizzling peppers, tomatoes and garlic. The white beans were the perfect starchy addition I would not have thought to include those. The Stagecoach Cabernet balances between the Sweetwater Ranch and the Legacy Cab. With hints of cassis and mocha this is an Atlas Peak standout. A slight black cherry jam finish is something I appreciate. Jammy is good! The grapes are from the fabled Stagecoach Vineyards above Atlas Peak. Founded in 1991 by the Krupp Brothers and sold to Gallo in 2017. The Krupp Brothers still have a tasting room in downtown Napa and their winery is on the south end of Silverado Trail on Hardman Avenue.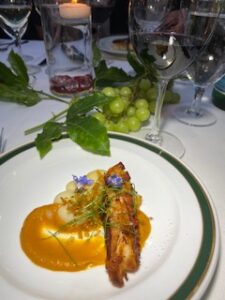 -Fourth Course
Akaushi Prime Rib (American Wagu) with creamed spinach & Idaho mashed potatoes
Levendi Legacy Cabernet Sauvignon-2018
Prime Rib with creamed spinach and mashed potatoes is an iconic offering for Five Crowns. It is what has made them so famous. Well— that and their creamy house made horseradish. The Akaushi Prime Rib is an American Wagu, so we were honored to have this elevated Prime Rib. I had never had this before and it was wonderful. Very flavorful. This course was paired with the robust Legacy Cabernet which is Levendi's flagship Cabernet. The grapes for this wine are from Howell Mountain. It is full of cab flavors and a light finish of berries and cassis.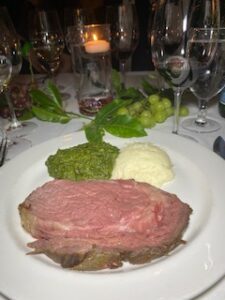 -Fifth Course
Espresso Chocolate Ganache Tart with figs & sea salt
Levendi Sweetwater Ranch Cabernet- 2018
I am not a big dessert person, but I could not resist this Espresso Chocolate Ganache Tart. I enjoyed the whole tart! It was over the top and paired perfectly with the Sweetwater Ranch Cabernet. Chocolate and Cabernet? Yes please! The wine has a violet color and an herbal aroma with flavors of spiced coffee and sweet potatoes. The grapes for this wine hail from Oka Knoll and Coombsville Valley floor fruit.
It was impressive that all of the wines (except the Sauvignion Blanc) have been bestowed 90 to 94 points in the wine industry. That is a big deal people.
Five Crowns Restaurant and SideDoor Gastropub
3801 East Coast Highway- Corona del Mar, CA
www.lawrysonline.com/five-crowns/
www.lawrysonline.com/sidedoor-corona-del-mar/
About Levendi Winery
From their web site I learned about the founders… "The Mediterranean cultures know how to celebrate. A good meal and a good wine seem reason enough to call together the people that matter most. And that's how the Levendi legacy began—around the family table with laughter and a wish to produce something special and unique. They feel that spirit is reflected throughout the vineyards, winery and within each bottle—a testament to their family and founders."
There are three Founders…. The patriarch James Gianulias of Greek decent, his son David Gianulias and close friend Todd Rustman. All bring something different to the table and that is what makes a great partnership indeed.
The Greek toast "Levendi" acknowledges a hard days labor & achievement.
It celebrates the fields, the rain and the sun that nurtures the grapes.
The Winemaker is Alison Doran. She has more than 30 years experience and has been walking the vineyards that produce the finest varietals in this very region. With a focus on "vineyard management" she keeps her eye on every aspect of the vine growth. She completed a degree in winemaking at the infamous UC Davis, spent time in Alsace, France and was mentored by renowned wine expert Andre Tchelistcheff.
Levendi Unveils A Brand New Tasting Room In Downtown Napa-
Levendi recently opened a new Tasting Room in downtown Napa. It is a stunning venue with dramatic lighting, lots of wood accents and many various seating options for groups large and small. Guests can order Charcuterie boards with 24 hours advanced notice. If you are visiting Napa in the near future, this would be the perfect place to go and enjoy a very generous tasting. I have sent many Orange County friends there already and they have all had a wonderful experience. The Manager is Steve Ebol and do tell him Deirdre Michalski from TastesAndTravel.com suggested you visit! Reservations are highly recommended and it is really easy to book from their web site. They use Tock. Here in Orange County, you can enjoy some of the wines at Five Crowns and Sidedoor. I also just noticed all of them are available for purchase and take away at Champagne's Bistro and Deli in Newport Beach (Bison and MacArthur).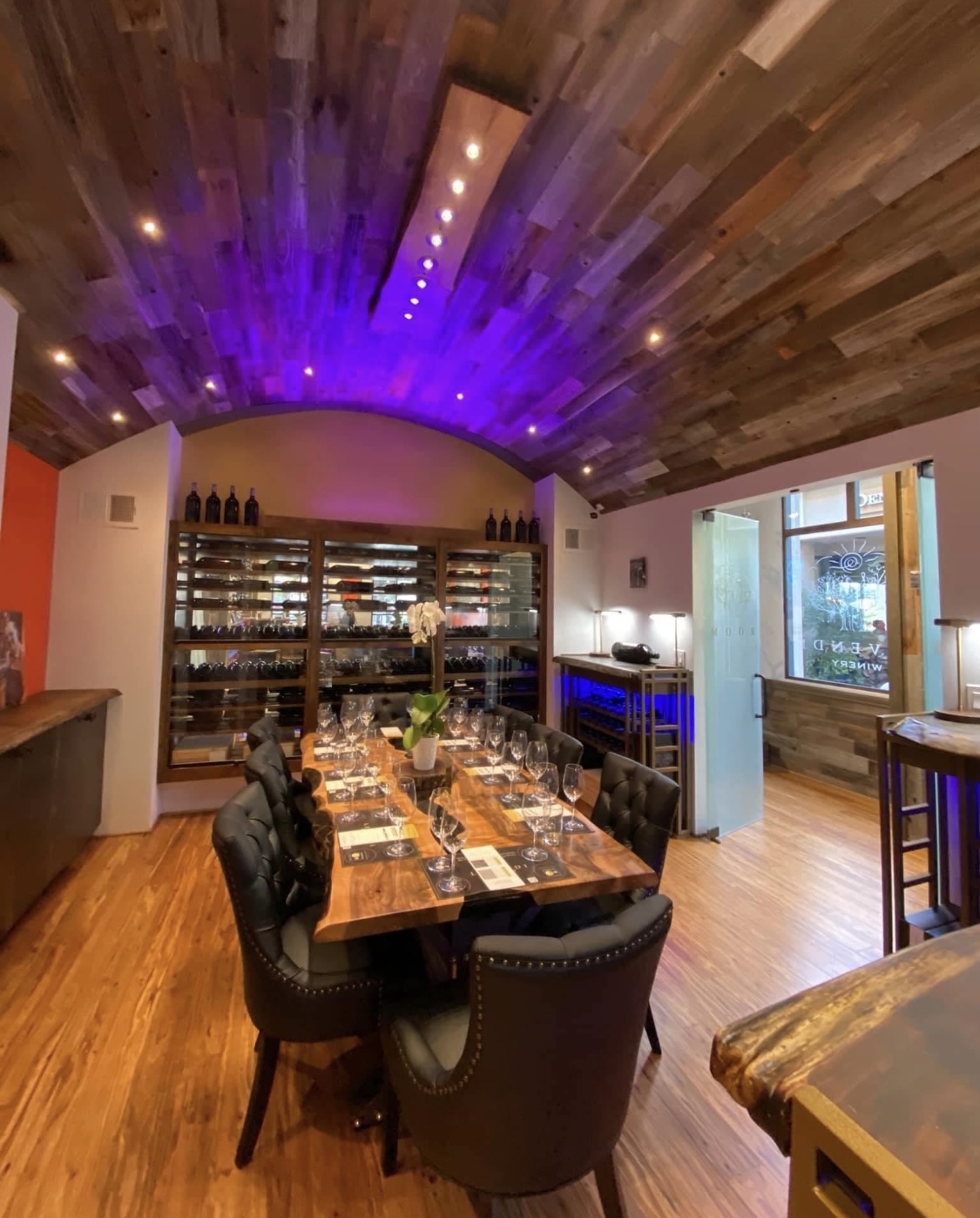 Levendi Tasting Room
1465 1st Street- Napa, CA
(707) 699-2306
Hours:
Monday, Thursday & Sunday 11:00am-7:00pm
Friday, Saturday & Sunday 12:00-8:00pm
Closed Tuesday & Wednesday
https://www.levendiwinery.com/Tasting-Room
Levendi's Wine Club
Their wine club is known as the Levendi Cellar Club. It ahs three different levels of play and they do three shipments a year (March, June and October). The Heritage Level includes 3 bottles, the Legacy Level includes 6 bottles and the Legendary Level includes 12 bottles. There is a long list of perks to Club Members, including complimentary tastings. It is worth a look-see on their web site. https://www.levendiwinery.com/Wine-Club