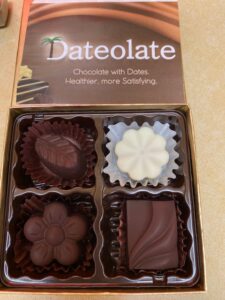 Chocolatier Roya Javaherchi has perfected an ideal sweet treat that is not only delicious, but it is also very healthy! It is called Dateolate. She creatively uses fresh dates to make a date paste and then each bite size treat is covered with dark chocolate or white chocolate. Each piece is only 40 calories and provides antioxidants, vitamins and minerals. This is such a healthy alternative when the need for something sweet is tugging at your sleeve. And for many who need to avoid a sugar rush— this is a perfect alternative.
Roya is Persian and grew up in a loving family where talented bakers were all around her. This inspired her to focus her education first on accounting and then in the area of Food Science Engineering. She obtained a degree and after moving to the United States, she completed a Master's degree as well.
As time went by, Roya's desire to own her own business grew stronger. She wanted to fulfill her dream that she had from a very early age. Eventually she did just that! Her focus was on confections that were natural and complement her family's love of dates. And soon—-Sweet Saffron LLC was born.
And with that Roya proudly launched "Dateolate". It is a scrumptious chocolate treat that is healthy, soft on the inside with delicate finely chopped dates and a creamy date paste. This is drizzled with an outer layer of dark chocolate or white chocolate. The Dateolate chocolates are delicious and I enjoyed tasting both the white chocolate and the dark chocolate. Two pieces is the perfect amount!
To Place Your Order-
To order please visit their web site to place your order! www.dateolate.com