A Foodie Tour – Exploring San Marcos
What fun to enjoy a "foodie tour" in a college town right here in SoCal! I was joined by the gal pals in my writing association (International Food Wine and Travel Writers Association) as we explored a wonderful area in San Marcos called North City. It is located in San Diego's North County and just wait 'til you read about the great finds we uncovered. It was all new to most of us. Trust me—you are going to want to plan a trip there very soon to explore all these great dining spots! www.northcity.com
San Marcos Is Where?
San Marcos is between Carlsbad (to the west) and Escondido is to the East. It is most well-known as being a college town and home to California State University- San Marcos. However, there are many companies and retail businesses there as well. San Marcos was originally a Mexican land grant issued way back in 1840. The name means "little valleys of St. Mark". Today the population is about 84,000.
Here is a short—less than two minute video about our adventure.
Music Credit: InShot App- Music is called "Light".
North City Is Quite Walkable-
Right off Twin Oaks Valley Road is the village of North City. This consists of a number of high rise buildings, grass promenades with Adirondack chairs for lazy afternoons and retail space checking all the boxes for locals and visitors alike. In addition to the Mesa Rim Climbing Center and the Extended Learning Center, there is a 200-acre master-planned development that will eventually have 600 homes & 3,000 residential units for students. Currently there is an outdoor Promenade known as The Paseo next to the Block C apartment buildings which looks to be fully occupied. There are two large parking garages for easy parking. The setup is much like we would find in Europe, with the commercial & office space upstairs and the first floor for most of the buildings are dedicated to retail, restaurants and so forth.
Our Foodie Tour-
Come along, as I share with you our day exploring North City! Our first stop was FRESH HEALTHY CAFÉ.
Fresh Healthy Café–
What a pleasure to meet Owner Nancee Whitson and her husband Dave Wargo who were very hospitable and welcoming. When they both retired they wanted to focus on a business that helped people to make healthier food choices. It can be done people! Eating right at a young age can really help. They wanted to be part of making that happen and are committed to excellence. Nancee explained how they prepare their healthy items with all natural ingredients and they also have vegan and gluten free options too. If someone has food needs for Celiac Disease, or other health issues, Nancee can happily have it prepared with a bit of advanced notice. Nancee also hinted at a "Secret Menu" and some of the locals have their personal favorites to be sure. They use many local products and jams to infuse the sandwiches with the unique flavors. What fun to be pampered in that way!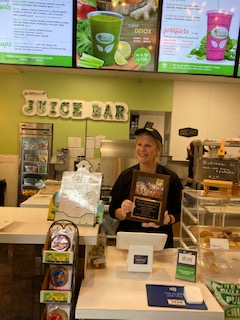 We were so lucky to sample some of their most popular items, as noted…
San Marcos Toast- This was one of my favorites and in fact, I have duplicated it at home! The base is a delicious flatbread that is lightly toasted. Atop this, is mashed avocado, feta cheese, diced fresh tomatoes and lightly drizzled with a balsamic vinegar reduction. A perfect start to any day!
Turkey Pesto Panini- Ciabatta multi-grain bread top and bottom, with fresh sliced turkey breast, mozzarella, tomato pesto and a balsamic vinaigrette. This is then grilled in the panini press and served warm. So delicious!
Turkey Bacon Avocado Panini- This panini included: turkey breast, turkey bacon, cheddar cheese, avocado, tomato, red onion, lite ranch dressing. Perfect for sharing!
Cold Terminator Fresh Squeezed Drink- This is made with oranges, carrots and ginger. Healthy and packed with flavor.
Green Lemonade Drink- Apples, spinach, cucumbers and lemon.
Acai Power Bowl- And more of a dessert really, the organic acai was topped with granola, fresh strawberries, blueberries, bananas, coconut and honey. So refreshing!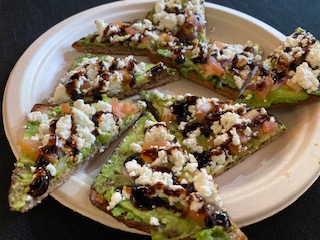 Fresh Healthy Café
250 North City Dr. #5- San Marcos, CA 92078
https://www.freshsanmarcos.com/

Buona Forchetta Restaurant
Just two doors down is a lovely Italian restaurant that reminds me of vacationing in Italy. Manager Marco hails from Italy and impressively has five restaurants. Many of our San Diego writers have visited his other locations. In addition to San Marcos, they are located in: Liberty Station, Coronado, Encinitas, PetCo Park (a kiosk there) and soon to be opening a sixth in San Clemente, Orange County.
The house-made pasta fondly takes me back to Italy—and I am always looking to see if the pizza oven is wood burning. And of course this one is!  The burrata salad was a hit at our table. (Burrata is an Italian cow milk cheese made from mozzarella and cream. The outer casing is solid cheese, while the inside contains stracciatella and cream, giving it an unusual, soft texture.) I enjoyed the Minestrone Soup. It was flavorful and made in-house. This restaurant offers authentic cuisine and has an inviting indoor dining room, and lots of beers on tap. However the patio is the place to be! Accented with hanging potted flowers, intricate ironwork gates, and an awning, it creates the prefect back-drop for spending the afternoon or early evening. We will be back very soon!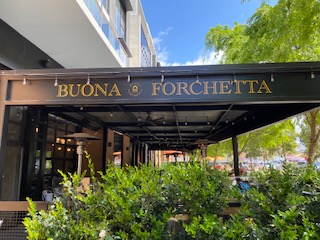 https://buonaforchettasd.com/san-marcos/
FB: #BuonaForchetta-SanMarcos
IG: @buonaforchettasanmarcos
Wynston's Ice Cream
Husband and wife team Sarah and Chris Wynn had an obsession with ice cream. Well, ok,  maybe it was just Chris. But it grew on Sarah and before they knew it they were testing various favors and ice cream textures with all their neighbors.  They opened an Ice Cream Shop right here in North City. It is called Wynston's Ice Cream and they have a darling mascot painted on the wall!  They are currently producing their ice cream off-site and are delivering it daily, but soon they will have a commercial kitchen just across the street. The Developer has been wonderful working with them on that. I have heard so many wonderful things about this Developer team.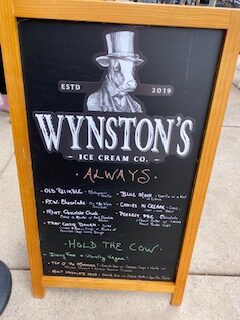 They recently were awarded very special recognition. Their ice cream "For the Wynn Chocolate" was recently awarded the First Place Blue Ribbon from the National Ice Cream Retailers Association. That is a BIG DEAL. We sampled this heavenly ice cream along with many other delicious flavors. Their menu consists of two categories: Always (ice cream that is always available) and Sometimes (ice cream that is occasionally available). A sub-category is the clever Hold the Cow, which offers dairy-free ice cream. Their aim is to appeal to everyone and to meet the "happy" expectations of ice cream lovers. They use only the freshest ingredients and are meticulous about each and every recipe and sourcing the products. For example, the vanilla they use is from Madagascar and the dairy is from a local organic dairy farm in Ramona.
We had the pleasure of tasting many of the flavors and it was incredible exploration. The always popular flavors are Cookies & Cream and Cookie Dough. The seasonal "Sometimes" flavors had my attention. As it was close to St. Patrick's Day and the Irish Coffee was a must try. It was delicious. They also had Lucky Leprachaun with Lucky Charms! The White Chocolate Macadamia and Chocolate Covered Strawberry were packed with yummy flavors. From the "Always" menu I could not resist the Mint Chocolate Chunk. You know it is delicious when you close your eyes and begin humming—right?
Sarah was such a pleasure to meet and so welcoming. Their kids work behind the counter along with other servers and you can just feel the passion for what they are doing.  It was so much fun to visit their shop and taste so many delicious flavors.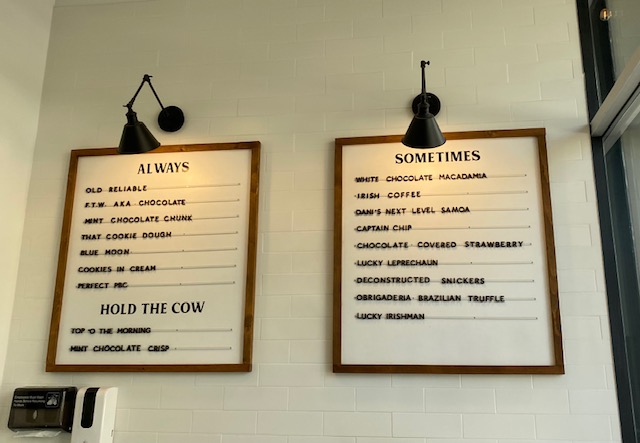 https://www.wynstonsicecream.com/
FB: #wynstonsicecreamCo
IT: @wynstonsicecream

Newtopia Cyder
On the same street, just steps away is Newtopia Cyder. This has a craft brewery vibe with approachable flights and cyder that you can take home in cans too. They have a Cyder Club as well. The cyder is actually produced off-site and brought in. They also have another location at Scripps Ranch.
According to their web site the company was inspired by plant hunters of the Victorian era, and they scour the globe for exotic botanicals to concoct irresistible cyder. Four of their flagship Cyders include:
India Pale Cyder – This dry-hopped cider is produced from an old world process with new world ingredients. A dry cider with an apple forward taste and a hint of hop.
Belgian Cyder- A Belgian Saison cyder made with elderberry, cardamom and pineapple.
Semi-Sweet Cyder- An off-dry cyder with hints of eucalyptus and hibiscus. Semi-Sweet Cyder is typically paired with sausage, cheese and melon.
Wyld Cyder- Our Wyld cider is an off-dry, earthy sweet & sour cider made with marionberry.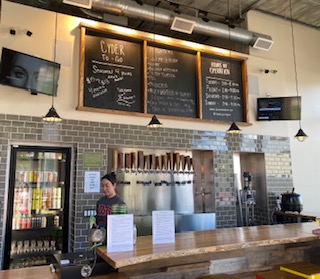 Do check their web site for days and hours of operation.
https://www.drinknewtopia.com/tasting-room/san-marcos/

Draft Republic San Marcos
This is a GIGANTIC Brewery. It was once a large production facility for another brewery and even has a blowing alley inside the building. So, of course, they kept it.  In addition to the bowling alley, there is an arcade, golf simulator and more! They have a lovely outdoor patio with grass and umbrellas and offer live music nightly at the San Marcos location from 5:00-8:00pm. Owned by the famed Cohn Restaurant Group in San Diego, anyone stepping into this brewery is in for a treat! They do things right and some of my favorite restaurants in San Diego are theirs (all with different names).  My two favorites are: Coasterra on Harbor Island with spectacular views of the downtown area over the water, and The Prado at Balboa Park with a cozy patio and delicious cuisine.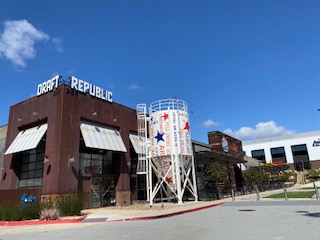 https://www.cohnrestaurants.com/draftrepublic-sanmarcos
255 Redel Road- San Marcos, CA
Free validated parking available in the garage at 201 Campus Way (a three minute walk) Please Note: They do not open until 4:00 in the afternoon and are closed Mon/Tuesday.
FB: DraftRepublic
IG: CohnRestaurantGroup
TW: @dinecrg
Tuesday is Farmers Market Day-
This is held every Tuesday from 3:00 to 7:00 in the QUAD. The locals enjoy an open-air market with local fruits, vegetables, fresh baked breads, seafood, gift items, flowers and even home-made jams! Here is their web site and check in to make sure the times are still correct, as it changes with daylight savings time. https://www.sanmarcosfarmersmarket.org/
The Developers of This Project-
The Developer is Sea Breeze Properties on Carmel Valley Road. The President is Gary Levitt and his son Darren is the Vice President. In all my years of covering new projects, I have never heard so many compliments and true appreciation for the efforts undertaken by the Developers. They really listen and want to make this place feel like it has a personality and a sense of community. Bravo to their efforts and it sure shows in how the Owners of these businesses speak so fondly of this Sea Breeze team.
On My Next Visit—Lake San Marcos Is On The List!
Little did I know there is a lake right here in San Marcos! Their full service marina welcomes sports enthusiasts and nature lovers of all kinds, from anglers and bird watchers, to stand up paddle boarders and pontoon boaters. They offer several options for cruising, group outings, dock leases, boat rentals, kayaks, fishing gear and more. Some additional information and a restaurant called the Lakehouse can be found on their web site. I look forward to checking this out next time we are there!
https://www.lakehousehotelandresort.com/marina/