The "Tourism Ireland" team has creatively brought their very special European island right here to us in Southern California. What an incredible experience for all of us travel agents and travel writers who attended. It was such a pleasure to be there and for us being able to share one-on-one time with the various Travel Partners who had made such a sincere effort to be there after traveling so far. We were honored and very appreciative.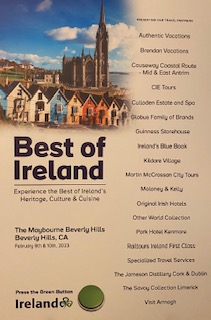 The event was held at the swanky Maybourne Hotel which is rather new and just a block from Rodeo Drive in Beverly Hills, CA. It has a lovely outside garden and patio with a darling coffee house right there to grab a quick beverage and pastry. The staff was exceptional and the cuisine and accommodations for our groups event was a pleasure. Even the valet staff was charming.
Tourism Ireland brought some very special Travel Partners that showcased so many unique aspects of Ireland. There were also some things I had no idea about. It was a learning experience for us all…in terms of culture sites, means of travel, special tours, accommodations and best of all—everyone is SO friendly. We were even serenaded with authentic Irish Music. That was great fun. I felt like I was back at the Temple Bar in Dublin! This event provided us witha wealth of information so we can share with those who want to explore Ireland. www.ireland.com
Tourism Ireland's advertising campaign has been "Press The Green Button" for the past two years. It is so befitting Ireland. On this evening, they unveiled a new campaign that will be hitting the airways very soon. This one focuses on very famous movie-stars talking about their travels to Ireland. Should be very compelling from what I saw in the tease.
Things I Learned And Had No Idea Prior To This Event!!!
-Everyone we met was so incredibly friendly. Now I know where I get my "gift of gab" from! (My grandparents on both sides were from County Cork. When I did my DNA, I discovered I was 93% Irish!)
-All the tour partners embrace the concept of "customizing" any tour to make a group's trip very meaningful. Most of them are quite flexible hosting large and small groups and enjoy curating itineraries for their guest's pleasure.
-They drive on the opposite side of the road, just as they do in Britain. This can be a bit daunting. Please consider that when making your transport selections. I am an excellent driver, but I just cannot master driving on the opposite side of the road. The transportation options include: private coach, self-drive car rental, private drivers and even by rail. I had no idea they have a functioning rail system to traverse the island. That is just great!
-Aer Lingus- offers so many other destinations beyond Ireland and offers a "expedited customs program" for those returning to the States from Dublin or Shannon airports.
-The number of Cultural Sites for travelers to enjoy. It is a long list of exciting things to see and do! Below is a partial list of the many sites I was introduced to on this very special evening. Who knew?
Meet The Wonderful Travel Partners
Here is a summary of the Travel Partners that we were introduced to. They were kind enough to meet with us one-on-one so we could learn more about their companies. I have listed them by "Type of Service" and a brief summary about each of them. I also included their web sites and the contact email for each of the Travel Partners that we met. Please feel free to contact them directly. They would be so pleased. They were so helpful and enthusiastic about designing travel adventures to make each guest's trip extra special.
Hotels, Estates, Collections & Manor Houses
-Culloden Estate & Spa-
A five-star 19th Century residence overlooking Belfast lough. A former bishop's residence they offer 100 individually unique suites and bedrooms and enjoys an on-site pub. Part of Hastings Hotels, it is a family owned collection of unique hotels located in and around Northern Ireland.
www.hastingshotels.com
Patrice Lavery plavery@hastingshotels.com
-Ireland's Blue Book-
A romantic collection of 63 Irish country house hotels, manor houses and castles. Throughout the island these charming and stylish hideaways feature activities from golf, fishing, spas and cooking schools. Karen was so charming and a pleasure to chat with.
www.irelandsbluebook.com
Karen Fleming kfleming@cashelpalacehotel.ie
-Park Hotel Kenmare-
This five star hotel is located in Kerry overlooking Kenmare Bay in South West Ireland. Dating from 1897, this is an elegant property is surrounded by rolling hills and features 46 bedrooms and most with views of the water or a private veranda. There is a dining room, a Champagne Bar, Cocktail bar and The Reel Room—a 12 seat cinema showing some of the great classics nightly. A nearby Spa is very popular and guests enjoy a world-class retreat.
www.ParkKenmare.com
Francis Brennan mryan@parkkenmare.com
-Original Irish Hotels-
A collection of over 50 luxury castles, manor houses and unique boutique hotels all over Ireland. From cosmopolitan cityscapes to wilderness and everything in-between. The Inn Keepers offer local insights and personal recommendations to make everyone's trip a very special one.
www.originalirishhotel.com
Roisin Wallace rwallace@originalirishhotels.com
-The Savoy Collection Limerick-
Two properties with options for everyone. This includes the five-star Savoy Hotel and four-star George Hotel. Both are located in the heart of Limerick City Centre, and just 20 minutes from Shannon International Airport. Guests can enjoy visiting the nearby King Johns Castle and the majestic Cliffs of Moher.
www.thesavoycollection.com
Ruth Vaughan ruth@savoylimerick.com
Tour Companies
-CIE Tours-
Tour operators offering hospitality to Ireland and Britain vacationers since 1932. They enjoy crafting vacations that suit every travel style and taste. From coach tours to custom group travel, to small groups and private driver experiences.
www.cietours.com
Bonnie Garrett b.garett@cietours.com
Dan Dorn d.dorn@cietours.com
-Brendan Vacations-
A premier Ireland and Scotland destination expert, they have been planning authentic Celtic tours for more than 50 years. Their offices are in Dublin and deliver immersion experiences for their guests. They provide five different travel styles, including: fully Guided Tours, fully independent Private Chauffeur, Lux Self-Drive, Self-Drive and locally hosted Rail vacations. www.brendonvacations.com
Ursula Blackburne Ursula.blackburne@brendonvacations.com
-Authentic Vacations-
They pride themselves in providing "authentic" travel experiences for travelers exploring Ireland for over two decades. Offering unique and boutique accommodations and very authentic experiences, their Destinations Experts are happiest when they are curating a perfect vacation for travelers. New in 2023, they have unveiled Guided Group Tours and small Escorted Tours as well. www.authenticvacations.com
Michelle Bartlett Michelle.Bartlett@authenticvacations.com
-Moloney & Kelly-
Founded in 1970 with offices in Dublin and Edinburgh, their focus is on customized luxury travel and specialize in individual travel, groups and incentive programs too. They are proud to offer 24/7 in-destination support and service to their guests.
www.moloneykelly.com
Dermot O'Neill Dermot@moloneykelly.com
-Specialized Travel Services-
Celebrating nearly 50 years in business, they are proud to create first-class, customized experiences throughout Ireland. They want to showcase what Ireland has to offer and to create memorable experiences for the travelers that come to visit.
www.special-ireland.com
Brian Fitzgerald Brian.Fitzgerald@Special-Ireland.com
-Globus Tours-
This travel agency will help travelers explore iconic sights, uncover towns, villages and coasts without all the crowds. From classic tours to passion-filled vacations that guests help plan, they can do it all. They offer independent and private tours with itineraries to match every style and budget.
www.globusfamilypartner.com
T.J. McAvoy tmcavoy@globusfamily.com
Keli Washburn kwashburn@globusfamily.com
Debbie Horrilleno dhorrilleno@globusfamily.com
Charming Villages, Towns & City Tours
-Kildare Village-
Located 50 minutes from Dublin, Kildare Village is a premier luxury shopping destination in Ireland. This Village is home to more than 100 boutiques of the world's and Ireland's most exciting designers. There are fabulous eateries and five-star guests services for shoppers ensures a fun time.
www.kildarevillage.com
Peter Gallogly pgallogly@valueretail.com
-Visit Armogh-
Located in Northern Ireland, Armogh is well known for its apple orchards which are award winning, and they are so proud they even do tours whe guests can meet the owner and take a tour of the orchard, the process and plant and into the tasting room. There are many dining experiences and sites to see as well. The Navan Centre and Fort is a famous archaeological site with many things to see. Life from 2,000 years ago is explained by the guides. And explore. The Brownlow House is a country manor, a castle really, overlooking the Lurgan Park. They do tours, afternoon teas, special events and weddings and there is even a museum to explore the history of Lurgan's war. There is an 18 Century Observatory that is still in operation and Game of Thrones Studio Tours too. They enjoy customizing itineraries for clients so they can enjoy all the special features and experiences that are most important to them. We so enjoyed our visit with Ghilian and learning about her charming village.
www.visitarmagh.com
Ghilian Campbell ghilian.campbell@armaghbanbridgecraigavon.gov.uk

-Causeway Coastal Route-
This route is in Norther Ireland (Belfast to Derry/Londonderry) and is well known for its epic scenery, iconic attractions, golf and Game of Thrones locations. There is a plethora of things to do along the way–from farm tours, to tea at the Castle, as well as a wide selection of unique accommodations including: Lighthouses, Gatehouses, Clamping Pods, Wooden Cabins as well as traditional Guesthouses and luxury Hotels/Resorts.
www.shapedbyseaandstone.com
Jason Powell Jason.powell@midandeastantrim.gov.uk
-Martin McCrossan City Tours-
Operating in the city of Derry-Londonderry in Northern Ireland for almost 30 years. They are the city's only Tourism NI rated five-star tour. They do: walking tours, step-on guides, Derry Girl tours, food tours and genealogy tours. They are noted for being factual, yet very entertaining. They have very high standards and want to make sure each and every guest has a grand time. It was such a pleasure to meet Charlene at this event. She is very proud of her family's business and sure made us want to take a tour! www.derrycitytours.com
Charlene McCrossan Charlenemccrossan@icloud.com
Rail Adventures
-Railtours Ireland First Class-
I had NO idea that there were rail options in Ireland. What a wonderful alternative. Especially since they drive on the opposite side of the road… this would be very helpful to me. They feature one day tours up to 11 day tours. Tours are fully escorted. "Car-free and Care-free" is their montra.
Also, twice a year (this year May 31 and Sept. 3) The Emerald Pullman allows guests to be car free and care free. Four star hotels for 8 days and 7 nights. Sounds heavenly to me.
www.railtoursireland.com
Jim Deegan jim@railtoursireland.com
Airline
-Aer Lingus-
The airline of Ireland also flies to 150 destinations from Dublin & Shannon, including: Madrid, Lyon, Milan, Munich, Stuttgart, Berlin, Copenhagen, Rome, Toronto and so many others!
For those traveling to the United States from the Dublin or Shannon airport, Aer Lingus offers a time-saving service. They offer U.S. "pre-clearance facilities". This means if you are flying to the U.S. you can clear not only U.S. immigration, but also full U.S. customs and agriculture controls. Score for this time saver when returning to the States!
www.aerlingus.com
Jim Bochneak jim.bochneak@aerlingus.com
Distillery & Brewery
-The Jameson Distillery- (Both in Cork and Dublin)-
The original Distillery is located just outside of Cork City and offers a fascinating guided tour all around the distillery. Guests can view the largest pot still in the world and taste their superb whiskeys too. Cork is on the southeast end of Ireland.
A visit to Dublin (about 3 hours drive northeast of Cork) guests can take a guided tour of the Distillery in a charming brick building right there in downtown Dublin. They also offer a cocktail-making class, premium whiskey tasting and guests can learn how to blend their own whiskey. How fun would that be? Inquire about when these special programs are offered.
www.jamesonwhiskey.com
Helen Murphy helen.murphy@pernod-ricard.com

-Guinness Storehouse and Guinness Brewery- –
The Storehouse is located in the heart of the Guinness Brewery at St. James Gate in Dublin. The Brewery is housed in an old fermentation plant. The seven-story visitor experience tells the story of this historic beverage. It brings to life the heritage of Guinness from the early days to growth as a global brand. The name Guinness comes from Arthur Guinness who first brewed this famous stout beer. The story actually began 250 years ago and the tour ends in their Gravity Bar where visitors receive a complimentary pint of Guinness while enjoying the views over Dublin.
www.guinness-storehouse.com
Ashleigh Davidson Ashleigh.davidson@diageo.com

Here is just A Sampling of Some Cultural Sites and Exploration of Ireland:
Here is a partial list of the many very special places we were introduced to.
-Irish Sheep Farm in Galway
-Ceide Fields County Mayo- Stone age Monument 5,000 years old
-Muckross House in Killarney
-Ring of Kerry
-House of Waterford Crystal
-Kylemore Abbey
-Titanic Belfast Experience
-Belfast Castle
-Cliffs of Moher
-Trinity College in Dublin and Book of Kells
-Game of Thrones
-Dunluce Castle
-Carrick-a-Rede Rope Bridge
-King Johns Castle
-Armagh Observatory 18th Century
-The Causeway Coast
-Newgrange- a 5,000 year old monument
-Black Abbey in Kilkenny- 13th Century
-Powerscourt House & Gardens- near Dublin
-Mount Usher Gardens
-Lismore Castle & Gardens
-Rock of Cashel-in Tipperary
-Farm Tours, Teas, endless Golf
-Lively Pubs, amazing landscape, lighthouses, vibrant music and dance
I want to thank Tourism Ireland who brought some very special Travel Partners together that showcased so many unique aspects of Ireland. This event provided us with a wealth of information so we can share with those who want to explore Ireland. Please visit their web site www.ireland.com and consider reaching out to the Travel Partners that may be able to assist you. They would love to hear from you and please mention my article. It was a pleasure.