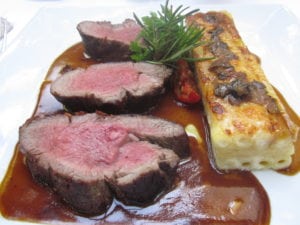 It is hard to get a bad meal in Paris, and we often pop into restaurants based on the menu or the vibe. But here is one of our favorite that we return to each and every time we visit Paris.
La Closerie des Lilas (garden of lilac trees) opened in 1847 as a post station, and by the late 19th Century was frequented by French poet Guillaume Apollinaire, and other poets and notaries. By the early 1920's it was a favorite spot for Ernest Hemingway. You know you have been to a spot often if your name is on a brass plaque at your favorite seat at the bar. His is right there! There is an outdoor café, indoor seating with old-world Parisian red leather booths and soft candlelight. The piano music sets the mood, and I always think they are having way more fun at the bar, than the tables. It is a lively place, to say the least.
The service and the food is beyond reproach. Even the Grande Salade (a house salad in our world) is delicious and full of flavor. They are well known for their Red Turbot Filet, Veal with Truffle sauce, and their Shellfish Platter. Our table of four started with two appetizers—the seasonal vegetables with truffle carpaccio and sesame vinaigrette, and the Duck foie gras with candied fruit. My husband enjoyed the filet mignon of veal with a layered macaroni "au gratin" with truffle juice. But alas, I am rather boring and always enjoy the filet de boeuf Hemingway-style (with a rich red wine reduction). We are not big dessert fiends, but find it hard to resist their homemade Chocolate Profiteroles which we all shared and enjoyed immensely.
Location: 171 Boulevard du Montparnasse- 6th Arrondissement