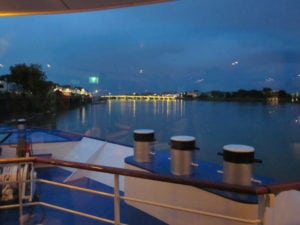 This is the sixth article in this Series on France. Journey with us through one of the most talked about regions in France. The countryside is dreamy, the people are approachable, and the essence of Provence is everywhere—-overflowing with bouquets of lavender, robust olive oils, crusty breads, colorful ceramics, delicious cuisine and charming village towns rich in history.
I decided the best way was to traverse this countryside, and experience the real south of France would be to explore by way of a river cruise. There would be no packing and unpacking, no driving and navigation! Having traveled with Viking River Cruises before, I was indeed looking forward to another great experience. Viking is a great value for the money. The dining room serves delicious meals for breakfast, lunch and dinner. Each day we arrived at a new town, and half day tours are available for all guests. There are optional tours for a very nominal fee along the way as well. The Staff are all very hospitable, and in my next article, you will meet the Executive Chef, Benjamin. I interviewed him on-board the ship and learned so much! Everyone was there to help and make our trip completely enjoyable. Most days, we would enjoy coffee early in the lounge, then a quick breakfast, gather our notebooks and head out for a fun adventure. Typically back by lunch time, we would enjoy lunch, head back out to the town, or participate in activities or lectures on-board the ship. Cocktail hour was a time to share experiences with the other travelers, and then dinner was served. Each evening the piano music and singing performances filled the air. For most of the guests on-board, focus is on the destinations and history—- so casual evenings suited everyone just fine. The ship typically departed after dinner, and the next morning we arrived in the next interesting town!
This particular seven night river cruise included 11 iconic village and site visits—touching on so many highlights this region has to offer. So let's being this exciting adventure….
Setting Sail-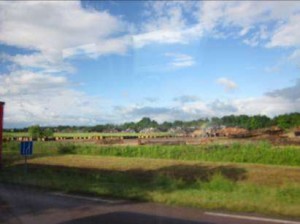 The tour begins in Chalon-Sur-Saône, which is about 3 hours south-east of Paris by train. No matter how well we plan this, between mechanical problems and strikes, transportation by train is always a test of our patience. Especially if you need to be somewhere in a timely fashion. The two just do not go together, so after three trains (vs. the one planned), and many hours on platforms, and dragging our luggage, we arrive to the town of Chalon-Sur-Saône. It is a small town, with apparently one taxi operating on Sunday. With 20 couples parading off the train, luggage in tow, and now in the queue, the back and forth relay to the river was under way. Did I mention it was pouring rain?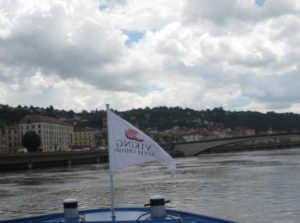 Leaving that all behind us, we boarded the ship and were pleasantly surprised at the accommodations, dining areas, the lounge, and the affable staff. We began to unwind and plan our adventures over the course of the week. As I read through the literature, I learned that King Guntram chose Chalon as the Capital of Burgundy in the 6th century. The Church of Saint Vincent was built in the 14th century, and given its location along the Saône River, it became a distribution point for deliveries up and down the river. In the 19th century it was a well-known shipbuilding town. Chalon is most proud of Nicéphore Niépce who invented photography here, producing the first image in 1822. Using a process called héliographie, this French inventor used bitumen (similar to an asphalt) as a coating and applied that to an image on glass or metal. As it hardened, was exposed to sunlight and washed with oil of lavender, the hardened image area remained. A museum is proudly dedicated to his life and work.
Monday- Beaune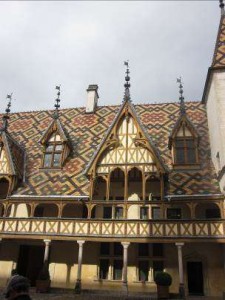 After breakfast, our tour began by taking a bus to the quaint town of Beaune. In the 15th Century Nicolas Rolin built the Hospice of Beaune (L'Hôtel-Dieu). This was founded in 1443 just after the Hundred Year War. This was a haven for the sick and elderly, resting on 2 hectres (5 acres) in the Burgundy region. Local well-to-do families would volunteer a family member to provide nursing care and this ensured the continuance of philanthropic funds from wealthy families to the hospital. The site is well-known for its colorful enamel tile roofs which reduced the fungus and lasted for hundreds of years. The tiles had been seen in Spain, Budapest, Prague, and Belgium. Colors included green, orange, brown and white. No blue was used as that was reserved for royalty. The beds were positioned up and down the side walls of the hospice with red velvet curtains. Back in "the day" they slept two to a bed to keep warm. A lovely Chapel was located at the far end of the structure to offer solace to the ill patients. If they could not get up for the service, they could hear it from their bed.
Tuesday- Lyon & Pérouge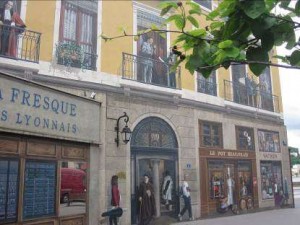 Lyon was the start of the Roman road system, the center for silk trading, cultural institutions such as the Opera House, the Saint Pierre Fine Arts Museum and the Celestins Theatre. The Fourviere Hill features a basilica completed in1880s and was dedicated to the Virgin Mary, who many believed saved the city from devastating plague of 1823. Lyon was historically known as an important area for the production and weaving of silk and has evolved into the "capital of gastronomy" in France. Cinema also took shape here, with brothers Auguste and Louis Lumière also invented the cinematographe right here in Lyon.
This was one of the highlights of our trip. It is the second largest city in France, and is at the juncture of two free-flowing rivers— the Rhône and the Saône rivers. As we toured, there were two iconic features to Lyon that we discovered. The "Traboules" refer to passageways that provide access from one road to another through secret doorways and courtyards. There are still 300 such passageways, and in the past they were used to transport looms and during wars, were used to escape capture. Our tour guide escorted us through secret doors which opened to courtyards and then out to another parallel street. The second interesting finding, was the elaborately painted buildings and murals found around the Vieux Lyon. As explained to us, in the17th Century, taxes were accessed based on the number of windows a building had. So residents boarded up windows and painted murals on the outside of the buildings. There were balconies, window scenes with famous people depicting everyday activities. They are still preserved today and such fun to see!
Pérouge –
This compact medieval town was a treasure to be seen. With quaint streets, center fountain, and buildings of stone, we can just imagine the merchants displaying their goods along the pathways. The merchants had large front windows with shutters in front that would fold down to be used like a tray to display their wares. The town was restored in 1911, and attracts film producers for many French films to this compact little town.
Lyon's Oldest Restaurant- In the evening we walked across the river to the "oldest restaurant in Lyon". When we arrived, Brasserie George was fairly quiet, but within an hour it was bustling with activity and waiters with long white aprons scurried back and forth. Two examples of our adventurous appetizers included: Foie Gras Frais de Canard, Chutney de Fruit (homemade foie gras with chutney of dried fruits and sliced fig bread 15.30euros) and Gateau de Foie de Volaille with Financiere (chicken liver savoury cake with mushroom Madeira sauce 8.50euros).
Wednesday- Lyon & Vienne
Lyon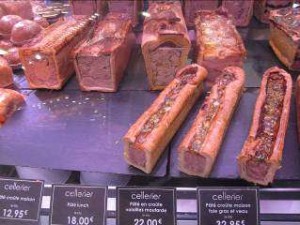 Les Halles Paul Bocuse – Early to rise paid off in this instance. Made famous by Chef Paul Bocuse, and originally founded in 1859, this was the most incredible indoor food market I have ever had the pleasure to visit. Have you ever just whispered, "I don't ever want to leave this place!" Well that was my reaction!
This indoor market was chock full of culinary booths beyond my imagination. From a store with 20 different mustards, to a pate deli-style purveyor, chocolate, fresh cheeses, vegetables, fruits, a beer & wine café, olive oils, fish, this was eye-candy for any foodie. The aisles went on and on, and our guide combed the stations with our Chef's list in-hand for frommage to be featured in our wine & cheese tasting that evening. Our selections included: Chevre goat cheese, Bouton de Culotte, and Bleu de Casse. We returned to the ship, bid Lyon a fond farewell, and pulled up anchor after lunch—-heading to Vienne.
Vienne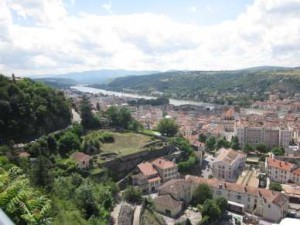 This city was long a Gallo-Roman crossroad of commerce at the junction of the Rhône and Gere Rivers. Once the capital of France, this city became an important strategic outpost for the Roman Empire. It became an intellectual and cultural hub. A 1st century Temple of Emperor Augustus & Livia was a highlight. Many Roman ruins have been uncovered and preserved, and to date this includes: circus grounds, a pyramid, thermal baths, decorated houses, and in 1922 a 13,000-seat Roman theater from the 4th century, was discovered on the slopes of Mt. Pipet.
Climbing by tram, we traversed through the town and up to the top of the mountain. The view was breathtaking, with a snaking river below. We could see for miles and miles. As it was explained to us, there used to be warehouses down by the river for wine, olive oil, and Vienne was a great transport center. The town's Cathedral was built in the 5th century and in the 12th century housed the tombs of most of the bishops of Vienne. The basilica was so expansive we were surprised at how this could have been built in the 5th century.
Thursday- Tournon, Tain L'Hermitage and Viviers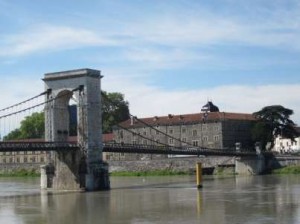 With a pedestrian suspension bridge between them, the towns of Tournon and Tain are separated by the Rhône River. The Seguin Bridge was named after the French inventor Marc Seguin who passed away in 1865. Tournon is known for its red Hermitage and white Larnage and Chante-Alouette wines. The stone walls mark the terraced vineyards nurtured by growers. We visited a small family run winery in Tain L'Hermitage. Wine tasting is quite different in France, with appointments made ahead of time, and often you are speaking to the family who run the winery as they pour and visit with you. The highlight was our stop at the Valrhona Chocolaterie. They are a famous manufacturer and the company was founded in 1922 by a French pastry chef Monsieur Guironnet from the Rhône Valley. The smell of chocolate permeated the room as soon as we stepped in. Most left with a little treat to take back to the ship. I purchased chocolates for the Chef and his team to enjoy.
Friday- Arles and Les Baux
Arles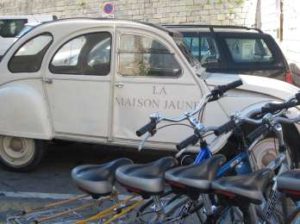 For anyone who is fond of Vincent van Gogh's work, this town is a must see. As we toured the quaint town of Arles, we could identify scenes and buildings where he had painted that very same place. The town does a great job of preserving the same awnings, and other features that make the settings quite recognizable. He arrived in Arles in 1888, and rented a house to paint. He often wrote to his brother Theo, and his friend Paul Gauguin joined him there for a brief time. He became very depressed and was admitted to a sanitarium hospital (Saint Paul de Mausole hospital) in nearby St. Rémy de Provence. We visited this site and it was a very peaceful place, about five miles out of town. As we walked up the long pathway to the building, they had placed large reproductions of his most famous paintings. It was a lovely tribute to this exceptional talent. It was here where he drew and painted an amazing quantity of 300 masterworks during his yearlong stay. As we passed the grove of olive trees, and the gardens in the backyard it was ethereal to see the very composition that he had painted all those years ago. The building had a lovely central courtyard with a fountain and plantings; the backyard was a field of lavender and seasonal flowers. His bedroom is still as it was upstairs and it was a pleasure to be there. It really had a resort feeling and tucked against a hill, it was quiet and serene. Birds were singing a song to welcome us all there.
A note to travelers who may visit Arles in late 2013- An exciting exhibit will soon be on display at The Ancient History Museum in Arles. In 2010 along the Rhône River, a Roman Barge and much of its cargo were raised. It was initially discovered in 1997. The nearly 100 foot-long vessel with more than 3,000 ceramic jugs and artifacts were pulled from the river with a great deal of excitement. The barge dates back 1,800 years and Mr. Andre Van Holk, a maritime archaeologist is heading up the research team. A video of how it was painstakingly extracted from the river and is now being reconstructed for future viewing is available. See below video of this, thanks to Reuters.
Les Baux
This was an optional tour, and was one of our favorite tours. The town is located high atop a hill, and much of it is still in-tact, dating back to the Middle Ages. It derives its name from the "bauxite" mineral which is mined here. The town stands proudly with curved pathways up and down the gentle hills and terraced establishments to catch the amazing views just right. It was a surprise of an enclave and below are elegant homes nestled in tree-lined plots with azure blue pools, far below.
Evening Arrival in Avignon- At the conclusion of the Captain's Farewell Dinner, we arrived in Avignon. It also happened to be my birthday, and the Chef had made a chocolate cake for my table. The Captain was so kind to come over and wish me a happy day, and take pictures. And in this ships tradition, we all scampered up on the top deck for a see the arrival under the beautiful lights of the evening. The famous half-across bridge was our beacon, and we all toasted to the joy of the trip. I felt like the whole ship was celebrating my birthday, and what a wonderful present it was!
Saturday- Avignon and Pont du Gard Aqueduct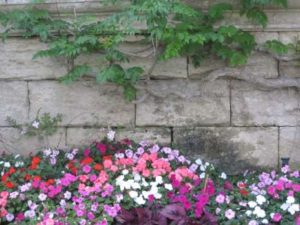 The following day we enjoyed a walking tour with our guide. The city boasts several museums including the Musée Calvet, located in an 18th-centry neoclassical mansion and housing extensive collection of ancient silver, and the Musée Louis-Vouland with a collection of 17th and 18th century porcelain, chandeliers, tapestries and antiquities. The town is a lovely walking town, and the opulent Papal Palaces and grounds were very impressive with views of the river below. Avignon is known as the "City of Popes" and travelers can be assured that the Popes accommodations were luxurious and fortified to assure their safety.
Pont du Gard Aqueduct
About an hour out of town, we were escorted to the famous Pont du Gard Aqueduct. This is the world's largest and best-preserved ancient Roman aqueduct. It was built in just five years by the Romans and its three rows of arches spanned across the Gardon Valley. On our visit, the weekend weather was warm, and the river below was filled with kayaks and swimmers all marveling in the achievements of this amazing structure above. It is mesmerizing to see. There is an excellent Museum of Roman Civilization which walks inquisitive guests through exactly how this was constructed. Using dioramas, video, and models the exhibits are excellent in depicting how it was build and the huge stones were moved into place high above the ground. It was very well done and I highly recommend taking the time to see this Museum.
The following morning our trip did come to an end. We bid all our new friends a fond farewell. We were not the least bit sad, as we scurried to our rental car, and were off to the Luberon Region to explore yet another exciting find in France—the hilltop towns of the south. The next two articles that will round out this Series on France will include: an interview with the Executive Chef, and exploration of the Luberon hilltop towns of the south of France.
A Few Tips For River Cruise Travelers-
-Viking is a great value, and one of the reasons I first selected Viking was because they provide a lovely king size bed, and have a separate sitting area. Other river cruise lines change the sofa into a bed in the evening, and I do not prefer that.
-Viking has just launched 6 new Longships. I cannot wait to experience this luxurious new collection of river cruising wonderments. Next on my list will be a Budapest to Nuremberg route, with a post-trip to Prague!
-Once on-board you have the option to purchase a Beverage Package. This is very much worth it. Even though they provide complimentary wine and beer at lunch and dinner service, this allows you to upgrade to a better selection of wines and spirits and is very cost effective.
-Roll Call Through Cruise Critic- www.CruiseCritic.com has great travel information for those who enjoy cruises. They do not have as many participants on the "river cruises" just yet, but what is great is that once a profile has been created, guests can go on-line and sign up for the Roll Call for an upcoming cruise. Guests will meet others that will be on that same cruise and discuss hotels, and excursions, pre/post adventures and so forth. It is very helpful and fun at the same time. The first day of the cruise we typically all get together —providing instant camaraderie.