This is the first in a Series of adventures in Paris that can provide an easy guide to anyone wanting to explore this City of Lights, the south of France, the Luberon Hill-top towns and everything in-between. From museums, to dining, to hide-aways, watch for weekly articles to add to your planning guide for Paris!
Now Doesn't It All Start In Paris?
Our recent trip to France was two years in the making and is one of our favorite cities—it's a Parisian. Since we have been there many times, we focused here on the 2nd and 3rd tier of "things to do" and also outline some special things to see incase this is your first adventure to this city of romance.
Let The Paris Adventure Begin-
OK, let it be known that I would rather stay in Paris forever, but typically it is a jumping off point for our travels. So I have learned to sleep on the plane, and just hit the ground running with a map and game plan in hand. Once we did stay in London first, as flights were so plentiful, and reasonable from the U.S., and took the Chunnel to Paris. This takes approximately 1.5 hours and is a very quick way to get into Paris. As you probably know, the city center is divided into 14 Quarters, and enjoys an efficient Metro system. Finding the tunnels from the street-level is sometimes the difficult part. So with a good map, one can wander the streets on foot, duck down to the Metro for long passages, hail a taxi, or hop on one of the many buses. [Suggestion: Bring comfortable shoes, a small backpack and money belt. Place a small amount of money in an easy to access pocket so you can quickly pay for transportation and not announce just how much cash you are carrying. There are many pick-pockets—especially on the buses.]
The itinerary we developed on this last trip is for those who have been to Paris once or twice, and want to explore a few of the "less popular" highlights, yet they are indeed equally rewarding. I will also outline a short list of "must sees" in case you might be planning your first trip to Paris. I can assure you it will not be your last!
Day #1- Out And About In The City of Lights
While some start at the Musee du Louvre, and other fantastic museums, I just cannot be cooped up when I first arrive in Paris. I need to feel it. So, after a 12 hour flight, I walk and enjoy the local banter, smell the scents of warm croissants, and relish in the display windows as I whisk past.
Our Beloved Eiffel Tower- This magnificent beast is a sight to behold, and hard to believe it was built in 1889 for the Universal Exhibition. Built to impress, I had tears in my eyes the first time I approached it. It is spectacular, and the views from the top are worth the wait—with a promenade of manicured grass below and a 360 degree view of the city below. It is one of the first things I do when I arrive in Paris.
The Grand Jardin Les Tuileries– At any time of day, the gardens are just such a treat. The gardens take their name from the old tile factories that were there before the 16th Century. The word "tuile" is the French word for "tile". Catherine de Medici replaced the factories with a Palace, which is no longer there.
(Catherine was Queen consort of France as the wife of King Henry II of France [from 1547 to 1559], and was married at the tender age of fourteen. She had three sons who all reigned as King—each succeeding their father. Sadly her husband showered gifts on his chief mistress Diane de Poitiers, and King Henry II largely ignored Catherine.) Later, Francis Andre le Notre transformed the garden site in the magnificent promenade we see today, with grass, ponds and statues from Rodin, Giacometti and Maillol.
On the weekends we enjoy watching the children lay on their tummies and cast their toy boats into the enormous fountain. With restaurants under canopies of trees, gelato stands and comfortable chairs, it is the perfect resting spot for locals and tourists alike.
The Boulevard- Champs-Elysees & Arc de Triomphe– Just steps from The Garden, is one of the most famous avenues of all. The cobblestoned road is so expansive with a canopy of trees framing each side. It always reminds me of days past, when horse-drawn processions paraded up the boulevard, and subjects waved in admiration. That history has been replaced with fast cars, modern shops, restaurants, and people. Lots of people. However it is always a pleasure to walk this street and just people-watch. At the end of this long promenade is the Arc de Triomphe, Napoleon's most notable legacy. This gigantic arch was to commemorate all of his military successes and the names of his generals on the inside of the arch. It stands 164 feet high, and climbing the 284 stairs to the top provides a great view. (There is also an elevator available through an underground passage-way.)
Romantic Sunset River Cruise on the Seine River- There are river cruises available all day and evening, and can be caught just across the street from the Eiffel Tower. The City of Lights (la ville lumiere) is just beautiful at dusk, and I recommend the evening tour. The monuments are illuminated in such a dramatic fashion and Notre Dame never looked so good. [Suggestion: I do not recommend the evening dinner cruises. There are so many wonderful restaurants in town, I would grab a glass of wine, enjoy the sights and then go enjoy dinner elsewhere. Also going a little later you avoid the children.]
Day #2- Museums & Cathedrals
The Notre Dame Cathedral- A Gothic masterpiece of towers and flying buttresses, ornate carvings & towers, this took an impressive 170 years to construct. It lies on a natural island on the Seine River. The lines to enter can be long, and slow moving, so arriving early is the best bet. There are guided tours and if you climb the 387 steps at the North Tower you can see the famous gargoyles and panoramic views of Paris. (Suggestion: The lines are long to enter and move quite slowly, so I suggest getting their early and then moving on to other adventures.)
The Le Petit Palais Musee- Le Petit Palais was built for the 1900 Universal Exhibition, just like its neighbor the Grand Palais across the street. This is located on Avenue Winston Churchill. It was built by Charles Girault and houses a significant collection of decorative murals, paintings, antiquities and sculptures created between 1903 and 1925. The two story museum is grand, with elaborate wrought iron staircases & banisters, rotundas, vaulted ceilings and fresco paintings on many of the surfaces. A wall of glass welcomes the garden inside, with an oval promenade of columns for walking the semi-circle of the structure. The delicate landscaping and greenery is lovely with the sense of style becoming a regal residence.
Musee d'Orsay– Housed in a former railway station, this structure is worth a look. For fans of impressionist paintings and marble sculptures, the museum features collections from the likes of Renoir, Monet, Van Gough, Manet, Degas and on it goes. The interior was recently renovated, and is the perfect venue for French art dating from 1848 to 1915.
The Louvre Musee– It is hard to believe that this museum was first opened in 1793, and they have been expanding it ever since. This museum can be quite overwhelming, so we find it best to have a game plan in mind before we set off. We enter thru the back side of the Louvre (Carrousel entry) which offers shorter lines and a peek at boutiques as we worm our way thru the line. On our last visit we were just behind Karl Langerfeld and his Assistant. He was working his way to the Towers Records at the far end. The entry is actually downstairs, and there are four floors of artwork, housed in three different wings— Sully Wing (where Venus de Milo sculpture stands), the Denon Wing (where Mona Lisa can be found), and the Richelieu Wing. What I suggest is doing a little research on their web site ahead of our trip and see what you are most interested in viewing. This is especially important if traveling with children. What we do is go through one wing, and then hit the gift shop, and head off to other adventures. It is so overwhelming with over 35,000 pieces of art, I find my eyes start to glaze over after a few hours. But this gives me something to come back for!
Two suggestions for treasured gift items- 1) The Louvre Gift Shop has some incredible posters, writing stationary in elegant boxes, postcards, books, jewelry and some special items we just don't see elsewhere. 2) For music-lovers, like our son, we pop into the Towers Records there and are able to find unique European sounds that we just cannot easily find at home. This makes for a special gift and light weight for packing.
Day #3- Out In The Country
The Palace Versailles- This famous Palace is an easy one hour train ride from Paris. The town of Versailles is very small and rather quiet during the week. [Suggestion: Lines can be very long to get in, and we found that purchasing tickets in the city was the best way to go. Arrive as early as you possibly can, but do eat something before leaving the city, as there is very little nearby.]
The site began as Louis XIII's hunting lodge, and then his son Louis XIV transformed the Chateau and expanded it. Eventually he moved the court and government of France to Versailles in 1682. Until the French Revolution, there were three kings that resided at the Palace, with each one adding more and more luxuries to the chateau and grounds. The rooms are complete with such an impressive, and opulent décor and finery. It is so impressive as you walk from room to room. The Hall of Mirrors is quite famous, and you can look down on the gardens below. A Grand Canal was built, and to the left of the Palace was a Swiss Lake that at one time housed large boats for the Kings enjoyment. The Queen, Marie Antioniette, had a Petit Trianon built, which was a lovely estate located on the grounds. It was an escape of sorts for Marie. It was a two story home on a small lake with a large turret, but was born of a simpler time, and a secret place where she could go and enjoy her life away from the stares of the court. (They recently added golf carts so that visitors can rent them to trek out to see her home.)
Our Favorite Restaurant- La Closerie des Lilas
It is hard to get a bad meal in Paris, and we often pop into restaurants based on the menu or the vibe. But here is one of our favorite that we return to each and every time we visit Paris.
La Closerie des Lilas (garden of lilac trees) opened in 1847 as a post station, and by the late 19th Century was frequented by French poet Guillaume Apollinaire, and other poets and notaries. By the early 1920's it was a favorite spot for Ernest Hemingway. You know you have been to a spot often if your name is on a brass plaque at your favorite seat at the bar. His is right there! There is an outdoor café, indoor seating with old-world Parisian red leather booths and soft candlelight. The piano music sets the mood, and I always think they are having way more fun at the bar, than the tables. It is a lively place, to say the least.
The service and the food is beyond reproach. Even the Grande Salade (a house salad in our world) is delicious and full of flavor. They are well known for their Red Turbot Filet, Veal with Truffle sauce, and their Shellfish Platter. Our table of four started with two appetizers—the seasonal vegetables with truffle carpaccio and sesame vinaigrette, and the Duck foie gras with candied fruit. My husband enjoyed the filet mignon of veal with a layered macaroni "au gratin" with truffle juice. But alas, I am rather boring and always enjoy the filet de boeuf Hemingway-style (with a rich red wine reduction). We are not big dessert fiends, but find it hard to resist their homemade Chocolate Profiteroles which we all shared and enjoyed immensely. 171 Boulevard du Montparnasse- 6th Arrondissement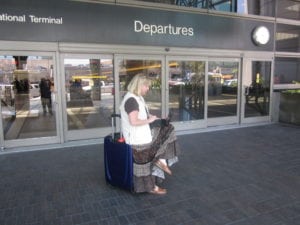 Departure- Waiting Means Time To Write