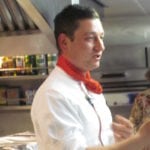 On a recent river cruise in the south of France, I had the opportunity to learn about life on a river boat. And more specifically—-from the kitchen. The person educating me on all this was none other than our illustrious Executive Chef, Benjamin Hausner. Watching he and his culinary team "in action" on the first few days of our voyage had me wondering just how all this comes together, and with such seamless fluidity? It is a well-orchestrated dance, and all the moving parts play an important role in the magic that occurs on-board this Viking ship.
After sharing my questions with Viking's Corporate Office, and obtaining their approval, I was able to steal Benjamin away from his duties one afternoon so I could learn more. Quite unexpectedly, I was also educated about things I had not even considered—-such as the delivery of paper goods, the staff's down-time and how all those fresh flowers and delicious cheeses magically appear on-board!
Each river cruise route has a season, and that includes some "pre-season" planning. For this journey in Provence, the season runs from March to mid-November, which is largely dictated by the weather, and when travelers want to visit a given area. There are four ships along this route for Viking. Two run north to south routes, while the other two run south to north. Each staff member signs a contract for "the season". In February, the Chefs get together at the headquarters office in Germany to: share ideas, develop new recipes & menu plans, and swap resources on various shops and purveyors for ingredients along the route. As Benjamin proudly explained, a nutritionist is also a participant. They are consulted to help develop menus for very specific dietary needs. The passengers typically identify themselves at the time of booking their reservation and this is very helpful to make sure they enjoy the cuisine just as much as the other passengers. The staff is also trained to be discreet, as not everyone wants to announce this. Benjamin and his team are pleased to accommodate all such requests.
The schedule if fairly structured with Saturday being, by far, the busiest day of the week for the entire crew. With the exclusion of the first trip of the season, each Saturday the guests who have been on-board are disembarking. The crew is then cleaning the cabins and public areas, replenishing supplies and taking on the inventory of food, and the ship is being serviced. By afternoon, the guests begin to arrive, with luggage in tow. Meanwhile the kitchen is abuzz with activity and readying for the 7:00pm dinner service in the Dining Room. Everyone will be there–as an entire new ship full of passengers are excitedly on-board and ready for seven nights of fun and adventure.
For those on the culinary team, the day-to-day schedule is a rather grueling one—as the needs are morning, noon and night. Imagine this:
~ Breakfast ~ 7:00am – 9:30am
~ Lunch ~ 1:00pm with a more casual buffet option in the lounge area.
~ Dinner ~7:00pm most evenings
In total, Benjamin had a staff of 8, including his Sous Chef. Four start the day at 5:00am prepping for the 7:00am arrival of guests to the Dining Room for breakfast service. They then break this down and begin prepping for the lunch service. There is a brief break, and the staff then rotates with the second team prepping for the dinner service.
The passengers typically enjoy breakfast, and then are off for a half day tour and return by 1:00 for lunch. And then many head back out for an afternoon exploring the town. Those brief windows of time are taken advantage of by the kitchen staff. They rotate the schedule so that each of the staff disembarks the ship at least once or twice a week, and have the opportunity to sample the various towns and villages.
For Benjamin, the late afternoons are his time to catch up on placing his orders, schedules, and organizing the menus, and meeting with his team. Once during the week lunch is served on the top deck featuring international cuisine, and during the cruise there are a myriad of culinary events in the late-afternoon. This includes: a cooking demonstration, cheese tasting (with cheese our guide had purchased in the Lyon Les Halles Paul Bocuse market), and the Captain's dinner which is a culinary showcase for the Chef and his entire team.
The majority of the cuisine is prepared for "same day" enjoyment. There are a few items, that is prepared one day ahead. Two times per week the kitchen staff prepares a rich stock for use throughout the week for soups, and as the base for his various rich sauces. As Benjamin explained, this takes all day to prepare the stock. Meat is placed in a marinade the day prior to its use, but other than that, most items are prepared the "day of" its use. This includes all the breads. Their onion bread was one of my favorites!
On day three, we had the pleasure of taking a tour of the kitchen with Benjamin and a few other passengers. The kitchen appears to be the size of a 9' x 11' room. As might be expected, everything was very orderly with a clipboard holding special requests for each day of our trip. (I even saw the note for my special birthday cake for the 15th!) The kitchen operates in typical restaurant fashion, with a sauté station, a grill & fry station, a salad & dessert station and the kitchen line. There was a walk-in refrigerator, however the prep area must be elsewhere, as I did not see that. It is hard to believe the quantity of delicious food and fresh breads that were whisked out of that small kitchen each day.
R & R- No, not rock and roll, but rest and relaxation! According to Benjamin, there is a cafeteria and sitting area for the crew where they can play billiards, enjoy meals, watch television, visit and read. The Chef and his kitchen staff tend to have down time in the late morning and afternoons. Depending on the ordering, and special events on-board, they tend to work 8-12 hours per day, with some breaks in-between.
Each day the menus are different, with the exception of the Captain's Farewell Dinner. That dinner, for which I still have the menu (as it was also my birthday), was very elaborate. The first course provided four options, including: Salmon Caviar and Crips Potato Cake, Champagne Risotto & Grilled Shrimp, Arugula Salad with Cherry Tomatoes and Pine Nuts, or Yellow Bell-Pepper Potage with Sauteéd Sea Scallops. The Main Course provide three lovely choices—from Tournedo Rossini (Grilled Filet Mignon & Seared Foie Gras), Baked Lobster Thermidor, or Homemade Porcini Mushroom Ravioli. The Desserts included a platter of wonderments such as: Mascarpone and Strawberry Compote, to classic Crepe Suzette, Coconut Creme Bruleé with Raspberry Sorbet, or Fresh Fruits. There was also a Cheese Plate (Comte, Saint Marcellin, and Tomme) served with apricot chutney and crackers.
Benjamin explained that once a month they receive deliveries for certain supplies that have a longer shelf life. Then, on a weekly basis they receive water, flour, polenta, meat from the United States and so forth for each cruise. This is sent from their Germany-based headquarters office. During the week they do secure some items from the local Farmers Market's along the route.
The Big Exchange On The River – A celebration of sorts is found top-deck, about four days into the cruise. A sister-ship with various supplies pulls up along-side our ship. There are handshakes, waves, and supplies are swapped across the bows of the two ships which are side by side in the Rhone River. The transaction is completed with cheers and air kisses, cocktail toasts, and it is quite an eventful occasion. We were so glad we did not miss the fun that afternoon!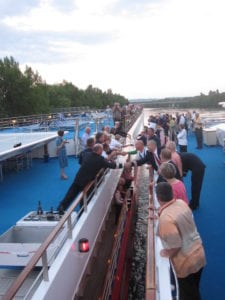 Benjamin's family lives in Vienna, and when he is home (late November through early March) he enjoys relaxing and catching up with his family. However he is also active with sports such as snowboarding, soccer and table tennis. Benjamin had gone to college and then went on to catering school. He also worked in the Army service. His home was on the Danube River and at one point had the opportunity to meet one of the River Cruise Captain's. He was encouraged to explore this career opportunity and he enjoys it immensely.
I had to ask him what HIS favorite meal is, and he indicated it was his Mother's Goulash. She makes plenty of this for his celebratory return home. He is on his third contract, as he describes it, which means his third season on the river. I asked him about joining the new fleet of Viking Longships, but it sounds like he wants to stay right here, enjoying Provence.
Benjamin is amazing, and such a joy to watch on-board, as he meticulously observed everything going on around him. In the Dining Room and anywhere that the food and beverages were found, he was keenly watchful. He was often checking the coffee station, double checking the buffet set-up, walking about, and always with that big, broad smile. I could just tell he was in his element. He is doing his dance, and it was a pleasure to watch.
As my interview came to a close, I offered a small token of my appreciation. I brought him and his team chocolate treats from the Valrhona Chocolate Factory we had visited in Tournon the day prior. That was a real treat for his team and I wanted him to know how much I appreciated his insights and time. I also wanted them all to know how much we enjoyed their delicious cuisine.
It was a wonderful time, and I feel as though I indeed learned so much about life on the river, Viking style. Thank you Benjamin! This was our second cruise and we look forward to enjoying another one next year. Budapest here we come!!