Roger's Gardens is my "go-to" place when I need to ponder something, find a few moments of calm, or an inspiration for an upcoming social event, table setting or ideas for my courtyard garden. Roger's is a family business and is proudly celebrating its 50 year anniversary!
In addition to its impressive array of plants—-from timeless favorites to hard-­‐to-­‐find and exclusive varieties—Roger's Gardens has become renowned for its extensive and breathtaking seasonal decorations and themed rooms during the spring, Halloween and Christmas seasons. Resting on six acres of grandeur right in the center of Corona Del Mar, it is a heavenly spot to enjoy, and sometimes to even LEARN.
There are a bevy of great Seminars and events that will be held on the weekends. They are great fun and most are free to attend. (Also, food trucks are on hand every Saturday and Sunday from 11 AM – 2 PM!) Here is the February line-up and hope to see you there!
My Edible Garden with Steve Hampson
Saturday, February 1 at 9 AM
Well-known horticulturist, Steve Hampson, will discuss everything edible, including vegetables, herbs, fruits, berries and more. Emphasis this month will cover, but will not be limited to, topics such as planting the last of the cool season vegetables, starting warm season vegetable transplants from seed, and insect control and fertilizing of fruit trees. Steve will lead a lively and interactive discussion about what, where and when to plant, prune, feed and harvest. Bring your questions as well as your own tips and tricks, as audience participation is encouraged.
Gourmet Food Tasting | Michelle Haut Chocolat
Saturday, February 8 from 11 AM – 2 PM
Just in time for Valentine's Day! Join us for a chocolate tasting of the beautiful bars from Michelle Haut Chocolat, including our exclusive Red Rose Petal Bar. Each bar is handmade from scratch daily using all natural ingredients in their Laguna Beach chocolate kitchen. The chocolate is a custom blended 73% bittersweet chocolate from Belgium. Michelle uses only the freshest and purest ingredients from around the world including crystalized flower petals. No artificial ingredients, additives, or preservatives.
Terrarium Workshop with Cathy McEntire | RSVP Required and Fee To Particpate
Saturday, February 8 at 11 AM & 2 PM
Create your own terrarium! Join us for a morning of fun and walk away with your very own 'Gardens Under Glass' creation. Combine a collection of compatible plants featuring succulents, ferns, or tillandsias. Registration fee is $60, per guest and includes the glass terrarium, choice of two plants, and instructions. If desired, additional supplies or plant material is an additional fee. Space is limited. Call to make your reservation at 949.640.5800.
World Class Sweet Peas with Steve Hampson
Saturday, February 15 from 9 AM
Well-known horticulturist, Steve Hampson has been growing and trialing sweet pea varieties for 10 years and has gained insight into ones that are exceptional. Many modern varieties have been bred for large, ruffled, fragrant blooms that are great for cutting. Steve will cover topics such as seed sowing, soil preparation, insect and disease control, support systems and growing in containers. Learn how to grow and care for these wonderful cool-season plants you can pick arm full of this favorite flower to enjoy in your home.
Daffodil Show
Saturday, February 22 & Sunday, February 23 | 9 AM – 5 PM
Roger's Gardens is proud to present its first ever Daffodil show. Dozens of familiar and unusual California grown Daffodil varieties will be on display. Customers are invited to bring Daffodil and Narcissus stems for entry and display. Please bring your entry, with the variety name, if known, before 11 AM on Saturday. Daffodils will be presented in four classes, with prizes for the best three entries in each class, as well as a "Best of Show." Entries will be on display until 5 PM on Sunday. For complete contest rules and details go to the "Seminar & Events" section of www.rogersgardens.com.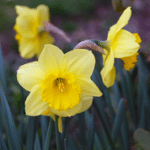 "A Day of Art" Painting and Drawing In The Garden
Saturday, February 22 from 9:30 AM – 4:30 PM
Back by popular demand, Roger's Gardens proudly presents "A Day of Art." 50 artists will be painting and drawing in the gardens for this all day event. Throughout the weekend, we will have interactive workshops, and paintings by the artists will be on display. "A Day of Art" at Roger's Gardens can be enjoyed by all ages. *In case of rain, the event will be rescheduled to Saturday, March 1st.
Roger's Gardens is located at 2301 San Joaquin Hills Road in Corona del Mar For more information, please visit rogersgardens.com, or call 949.640.5800.