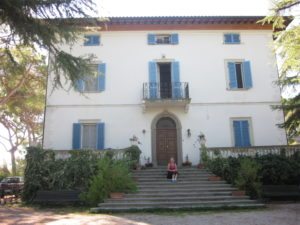 Living Like A Local- Even though it was only for a week, we so enjoyed our time in a 19th Century Villa adjacent to a winery in the hills of Umbria. The winery next door is a family run operation and a fabulous resource for our stay. We visited Poggio Bertaio Winery enjoying a private tour of the facility and vineyards, followed by a delicious wine pairing with a selection of cheeses and Italian sliced meats. They produce approximately 6,500 cases of wine per year and we enjoyed a Grechetto (a light Italian white wine), Rosso and Stucchio (Sangiovese—one aged in stainless and the other in oak), and their top of the line Crovello (a Merlot & Cabernet blend). We made our selections and headed back to the Villa for our first evening of "local style" fun.
The town itself, Castiglione del Lago, is approximately four miles away—perched on the western edge of a large lake. The Villa is an impressive 19th Century structure that was owned by a land baron way back in the day. The long driveway, flanked with tall Cypress trees welcomes guests with a somewhat formal "salute". Images of horse-drawn carriages clip-clopping along the pathway comes to mind.
The two story abode has 8 bedrooms, a large living room, dining room, kitchen, and all the charm of days gone by. Many things, such as electrical and elegant bathrooms have been added over the years. Outside are acres of Umbrian land that could become an amazing garden, and my mind starts to race as I lay out the design plan in my head. The property kisses up to the winery with rows of vineyards and rolling hills as far as the eye can see. A pool area is on the south end, with a bocce ball court to the north. A perfect landing zone for our week of pretending we are locals.
Our Culinary adventure would include the resident Chef preparing some dinners for us, and the Owner of the Villa had arranged three different Chefs to come to the Villa and teach four of us to make some traditional dishes. In this article you will find photos from the lovely home cooked meals and complete recipes and photos from the three Chefs that we had the pleasure of meeting at the Villa.
Our food frenzy began straight away. As we entered the Villa, the Resident Chef was in the kitchen preparing the appetizers for our first meal together. We immediately felt a fondness for this lovely woman, who is the perfect personification of a Nonna (grandmother) as one could ever find. Meet Rosanna, who flits around the kitchen like a ballet dancer, and although we do not speak the same language, we do understand. Food is our common narrative.
Welcome to Rosanna's Kitchen! The hearth of any home, and this kitchen does not disappoint. With a large work area right square in the middle, the kitchen is huge, with two ovens and old world charm. The blue and white tile-work is lovely and across from the sink is a hearth and fireplace so large one could stand in it!
Rosanna began the evening in a flurry of activity, making delicious appetizers that had be pre-requested by returning guests. This included: a Leek and Artichoke Tart, fresh Asparagus Wrapped in a Phyllo Dough, and Zucchini Slices with Roasted Tomatoes and herbs. What a feast to begin our week. The wines we had selected next door were the perfect complement to the start of a lovely evening.
Our Main Course consisted of a delicious Eggplant Parmesan, and a Lasagna with a rich Ragu. Both were baked in the oven with cheese overflowing the pans. Delicious!
The dessert was a delicious Tiramisu made the old fashion way, with real Lady Fingers and dipped in espresso with a touch of brandy.
# 1 Class With Anna- Home Chef
Anna is such a nice lady and cooks from the Heart. We cooked from 10:00-1:00 then enjoyed lunch on the patio.
Menu:
-Pork Tenderloin
-Mixed Vegetables
-Pasta Alla Norcina Panzanella (Bread and Vegetable Salad)
-Torta Del Nonna (She started this first as it takes the longest to cook)
PORK TENDERLOIN
Ingredients:
2-3 Pork Tenderloins
2 Branches Finely Chopped Rosemary
1/4 Cup Sea Salt (she uses Sicilian)
Pepper
Directions:
Mix the rosemary, salt and pepper to create the rub. Trim the tenderloins of fat and massage rub into the loins. Pour olive oil all over. Cook at 450 degrees for 15 min. or so, and then reduce the heat to cook, using temp to cook to right temp for pork. (Approximately 160 degrees).
MIXED VEGETABLES Green Beans – She cooked the green beans in boiling water for a very long time. We all agreed that we would prefer to blanch, steam or microwave the Green beans.
Ingredients:
2 Cloves of Garlic Chopped Finely
1 Peperocino (pepper in a jar)
1 Small Bunch of Parsley Chopped
8 Large Mushrooms Sliced
Splash of Dry White Wine
Directions:
Cook garlic in olive oil then add Pepperoncino and mushrooms. Sautee all three, and then add parsley. Add splash of white wine at the end
PASTA ALLA NORCINA For The Pasta Sauce
Ingredients:
4 Large Italian Sausages (no fennel)
1 Large Garlic Clove
1 Pepperoncino Chopped Finely (fino-fino)
Handful of Various Mushrooms (can use dried mushrooms)
Splash of White Wine
2 Small Containers of Panna da Cucina (can use sour cream or creme fresh or mascarpone, or mixture of cream) This thickens the sauce nicely and is a secret ingredient for Italian cooks.
Directions:
Heat the sausage in pan. Add half a stick of butter. Add garlic, pepperoncino and mushrooms to sautee. Sautee for approximately 20 min. Add a splash of wine. Finish with the cream (Panna da Cucina) to thicken.
For Pasta
I believe she used packaged pasta and cooked it in the pot. Then added it to the sauce. Tossed and served.
PANZANELLA- Bread and Vegetable Salad
Ingredients:
2 Day Old Loaf of Bread (flour and salt only, no fat or salt in the bread) Will have to source this locally
1 Fresh Green Onion
3 Cucumbers Peeled (but leaving a little bit of peel) (I found the cucumber was very important for this dish)
2 Tomatoes (red ripe tomato and Roma not quite ripe)
1 Red Onion
1 Green Bell Pepper
1 Bunch of Fresh Basil (tears the basil for more flavor)
1/2 Cup of Olive Oil
Splash of White Vinegar
Salt and Pepper to Taste
Directions:
Cut up the bread into cubes—cutting away the crust. Place on counter to dry out. Meanwhile slice and chop up the vegetables and place in a bowl. Soak the bread cubes in COLD water in a bowl for 5 min. no longer. Squeeze out the water, just like a sponge. Take each clump of bread and crumble it into very small pieces into a large bowl. Add all the vegetables, and toss. Add the olive Oil, white vinegar and then salt and pepper to taste.
-Note: I recall the cucumbers had so much flavor and that added a great deal.
TORTA Del NONNA Note: This was rather bland, and needs way more flavor and I would add Grand Marnier or something fairly strong…..
Ingredients:
300 Grams of "00" Flour
Lemon Zest of 1 Lemon
120 Grams of Butter (about 1 stick)
120 Grams of Sugar
1 Tsp. Baking Powder (with Vanilla) (They use "Lievito Pane Degli Angelli")
2 Egg Yolks
1/2 Cup Pine Nuts
Directions:
Place the flour on the table add zest of lemon to the flour. Add butter and and mix in sugar with a fork. Work in but not too aggressively.
Add 2 egg yolks, mix together very well and then roll into ball and flatten. Place in Saran Wrap and into the refrigerator for at least 1.5 hours.
For The Cream: Ingredients:
2 Cups Plus 2 oz. (18 oz) Whole Milk
4 Tablespoons (heaping) of Sugar
4 Egg Yolks
4 Tablespoons of Flour (sift thru with a strainer)
Skin of One Lemon
5-6 Coffee Beans
1/2 Cup Pine Nuts
Directions for Cream:
Heat the milk to tepid (not too hot). Mix the 4 eggs and flour. Mix warm milk and eggs in bowl. Mix in sauce pan, place back on the heat, skin of one lemon, 6 coffee beans (I would add more things with more flavor). Cook and then let cool.
Directions for Dough:
Cut 2/3rds and 1/3rds for the dough. The larger portion is for the bottom and the smaller piece is for the top. Use parchment paper on the bottom and Saran Wrap on top of the dough so it does not stick. Roll out dough and place in pan. Without par cooking the dough she places the filling into the pan. She then rolls out the dough for the top and places that there.
Form the dough around the pan with edges tucked in. We would use a tart pan with the bottom that pops out. Remove the lemon peel and coffee beans. Pour into the cake mixture (raw) and sprinkle with pine nuts. Place the dough topping on the top and seal all the way around. Sprinkle the remainder of pine nuts. Prick with a fork in middle to prevent bulge.
Cook the cake at 325 degrees for 20 min. and then test.
#2 Class with Chef Iside Lorenzo
Chef of La Parolina Restaurant A One Star Michelin Restaurant and She Was a Delight To Have
www.laparolina@libero.it – Iside De Cesare (on Facebook)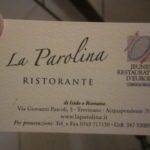 MENU:
-Egg Carbinara
-Tortellini Homemade Pasta with Potato, Herbs and Parma
-Pork Tenderloin with Apples Puree
-Chocolate Molten Cake
Egg Carbinara
Ingredients:
Very Fresh Eggs (yolks will be used for one part, and egg whites for another)
Bowl of Very Fine Bread Crumbs (depends on how many eggs being prepared)
1 1/2 Cups of Cream (she used a heavy cream which you can get at Smart and Final of similar quality–long lasting–as used at Savannah Chophouse)
3/4 Cup Parma Cheese Graded (Chef used 36 month old cheese which is rather dry)
8 Slices of Cheek of Pork (Cheek is unsalted and uncurred, very much like ham. Can use Panchetta and add some lard)
1 1/2 Cup of Corn Oil (to heat in small skillet)
Ground Pepper and Salt to taste
Directions:
Step #1-
Place bread crumbs on plate – one, by one, prepare each egg yolk and place on the bread crumbs. The a spoon gently roll them over to fully coat on all sides, with a spoon and then place on small square sections of Parchment Paper. Set them on a tray and place in the refrigerator until ready to fry in small skillet
Step #2-
Place cream in a sauce pan and add the Parma Cheese. Cook slowly on low heat
Step #3-
Heat a small skillet with 2″ of oil. Place the eggs in one by one to cook them (over easy). Place on tray
Step #4-
Finely slice the X Bacon. Place the XX Bacon in skillet, and cook until crispy. Place on paper towel to absorb the fat. Will be used to sprinkle on top of the egg for presentation
Step #5-
Whisk the egg whites (or use machine) to very thick state. Place in a steamer (Chef used machine but can use a steamer). Take spoonful (like a pillow) and place in the steamer to steam for 3-4 min.
Step #6 – To Plate
Place a spoonful of the cream/parma mixture on bottom of bowl. Lay the egg white pillow on top and place cooked egg on top of that – sprinkle with the cooked bacon then add pepper (I would add some salt too).
Tortellini Homemade Pasta with Potato, Herbs and Parma-
Ingredients For Dough:
100 Grams (.22 pounds) of "oo" Flour
1-2 Eggs Depending on Size (70 grams of egg to 100 grams of flour)
Saran Wrap Chef's Note: The eggs they use are special for pasta as the chickens eat carrot and corn so the dough becomes very yellow in color.-the two proteins make the gluten, and that is what makes it elastic. So she lets it rest for at least 15 min. or can place in refrigerator overnight, but then have to let arrive at room temperature before rolling out.
Directions For Dough:
Step #1
Make a well with the flour and place the egg(s) inside and mix the yolks with your fingers. Massage the flour into the egg mixture bit by bit. Kneed the dough aggressively for 4-5 minutes, create a flat round mound and wrap in Saran Wrap. Set on counter for at least 15 min. or in refrigerator overnight and then bring back to room temperature.
Step #2 – Roll out dough
Cut dough in half and roll out one half at a time. Roll out extremely thin, which takes patience and time to do. Sprinkle small amounts of flour every 2-3 rolls to keep it from sticking. It is all about the feel of the dough as you go.
Step #3- Cutting the Dough
Chef cut the dough into small squares (quite perfectly I might add from free-hand). The squares are used to then make the Tortellini "hats" as we call them.
Ingredients for Filling of the Dough:
3-5 Boiled Potatoes
1/2 Cup of Parma Cheese
2 Tbsp. of Combo of Lemon Verbina and Marjoram (looks like Thyme)
3-4 Tbsp. of Combo for Topping on Pasta (for final presentation)
Pepper and Salt to Taste
Directions for Inside of Pasta:
In a bowl, press the potatoes thru the ricer to reduce to a fine texture. Add the spices and Parma Cheese. Mix Well – this becomes the mixture for the inside of the Tortellini.
Directions for Preparing the Tortellini:
For each square of pasta, place one small spoonful in the center. Brush water around the edges, form a triangle with your hand and press the two edges to create one. Wrap the two side around like arms to form a hat, and press the edges together. Let rest on a tray for 1 hour if possible
Directions to Cook:
Place in boiling water for 2 min. or until al dente. Remove with a strainer
Directions to Plate:
Plate with olive oil, and sprinkle with herbs and Parma cheese
Pork Tenderloin With Golden Delicious Apple Puree/Sauce
Ingredients:
3 Pork Tenderloins (trimmed of gray casing and fat)
1/4 Cup of EVOO
3/4 Cup of Mustard Dijon
3 Sprigs of Tarragon
4 Golden Delicious Apples
Directions:
Step #1
Chop the tarragon finely and mix the tarragon with the mustard. Add small amount of salt.
Step #2
Cut the loins into 3-4 inch sections (individual portions). Rub with the mustard mixture on all sides
Step #3
Heat large skillet with oil and sear on all sides – browning each side. Place in a roasting pan and let it rest for 15 minutes or more. Prior to serving place in the oven until cooked thru to medium rare (160 degrees). Chef's Note: The Pork is seared and then let to rest. The juices sit in the pan and then once it is placed in the oven the juices re-absorb into the meat making it moist and delicious!
Step #4
Peel and core the apples cutting them into squares. Size does not matter as it will be pureed. Blend in blender and add a bit of water
Step #5 To Plate
Spoon small amount of apple mixture in a bowl (or plate). Place 5-6 slices of Pork Loin on top. Serve with a bowl of the sauce on the side.
Chocolate Molten Cake Chef's Note: Add 50 grams of sugar if using DARK chocolate. For Milk Chocolate you will not need the added sugar.
Ingredients:
500 Grams of Dark Chocolate (or milk chocolate if preferred – She used Dark)
250 Grams of Butter
6-8 Eggs 400 Grams (depending on size)
50 Grams of Sugar (only if using dark chocolate)
50 Grams of Milk
50 Grams of Cream (Note: I would just use half and half)
70 Grams of "00" Flour – spray Pam – Small aluminum containers or ramekins to cook the cake in
Instructions:
Place the chocolate on a Dutch Oven (bowl over a steaming bowl to gently melt the chocolate). Let stand for a few minutes so not too hot – do not want it to burn. Whisk the eggs and pour the eggs into the chocolate and whisk aggressively. Add the milk and cream add 70 grams of "00" flour slowly into the mixture. Spoon the mixture into individual containers (very small as it is rich). Bake at 400 degrees convection oven for 3-4 minutes and test. The inside should be gooey, and the outside firm. –Note: Not sure exactly how long to cook this, as each oven is different, so need to test it.
Class #3- Torinino
This Chef is from the Sicily area, but moved up to Umbria for work. He was a delight and later in the day sang to us as he cooked!
MENU-
-Rustico Champignons
-Mushroom Quiche
-Tagiattelle Al Sugo Di Pomodoro
-Pasta with Red Sauce
-Filetto Di Maiale In Crosta
-Filet of Encrusted Pork (with Fennel & Dried Tomatoes)
-Ciambottolo Con Verdure di Stagione
-Mixed Vegetalbes with olive Oil and Basil
-Patate Alle Erbe- Potatoes with Herbs
-Tort a Di Carote – Carrot Cake (Chef started with the cake as it takes the longest to cook.)
PASTA
Ingredients:
1 Kilo (1,000 grams) of Organic Flour ("000")*
7 Eggs*
3 Dashes of Salt (Chef used Himalayan Salt)
Directions to Make The Dough:
Make a bowl with the flour on a wood surface. Add eggs into the center. Mix with a fork, adding a little bit of flour at a time, ever so slowly until all the flour is mixed in. Then switch to a scraper. Kneed the dough for 5-8 minutes putting muscle into it. Cut in half and pat with flour and place in Saran Wrap to rest on the counter.
Directions to Make Pasta:
Chef used a hand-cranked pasta maker to roll out flat pieces. I would use my Kitchen-Aide with pasta attachment. Taking small slices, the dough is rolled out long and thin. Then on #8 it is rolled thru the machine 3-4 times. Then move to #4 for 2-3 times and then to #2 for the final one that makes the pasta very, very thin. The long strips are then laid out to dry on clean towels. (4″ wide and 15″ long) After an hour, or so, stack 6-8 of the strips and roll into one big tube. Tap one side to straighten out. Slice the pasta in tiny strips and then loosen with fingers into small nests of pasta. *Chef's Note: Typically the guideline is 1 Egg to 100 grams of flour.
MUSHROOM QUICHE
Ingredients:
1 Onion
2 Cloves of Garlic
8 Very Large Mushrooms
1 Egg
250 Grams of Ricotta
150 Grams of Swiss Cubed (or can use another cheese)
2 Handfuls of Parma (approx. 1/2 cup)
1 Pie Shell (frozen from store is fine)
Directions For Ingredients:
Sautee the onions and garlic in a pan with olive oil. Add the mushrooms and sautee. Mix one egg in a bowl. In second bowl combine all the ingredients.
Directions For The Dough:
Using a tart pan, can line with Pam spray or can add parchment paper to a round pan. Roll out the pie dough to be thinner. Place inside the pan and gently press the bottom and side edges. Pour the mushroom mixture into the dough and pan. Fold the edges all around the entire pan creating a "rustic" looking edge. Bake for 20-30 minutes at 350 degrees. Test for done-ness.
VEGETABLES
Ingredients:
4-6 Zucchini – Chef quarters them and then cuts out the center with seeds.
4-5 Potatoes
3 Red Peppers
1 Onion (other veges can be added as well)
Olive Oil
Directions:
Cook on the stove for 30-40 minutes to sautee the veges.
CALAMARI WITH STUFFING
Ingredients:
6 Calamari (rinsed and patted dry, tentacles – 10 or so—chopped up)
2 Cloves of Garlic
1 Tsp. Parsley
2 Eggs Whisked
6 Fresh Anchovies (or Paste)
Loaf of Bread (2 days old)
1/2 Cup Parma Cheese
Splash of White Wine
Pepper to Taste
Directions For Stuffing:
In a pan Sautee anchovies, garlic. Cut the bread (not the crust) and soak in tepid water in a bowl. Add the Parsley and the bread, and splash of white wine. Add the 2 whisked eggs. Place all of this in a bowl. In the saucepan Sautee the Tentacles, and pour that in with the stuffing and some of the browning from the pan as well.
Directions For Preparing Calamari:
Fill each calamari with stuffing. (Chef called "stuffing the sock".) Place them all in the pan with a splash of wine and cook with a proper lid on top. Cook for about 20-30 minutes and turn often. Replenish with wine or olive oil on the bottom of the pan. These can be sliced and plated.
PORK IN PASTRY DOUGH
Ingredients:
2 Pork Tenderloins
2 Pastry Dough
12 Halves of Sun Dried Tomatoes
Spices of Dried Fennel
Directions:
Place Pie Dough in the roasting pan on top of Parchment. Place the sun dried tomatoes in the center, and sprinkle with the spices of fennel. Place the pork in the center and then place more sun dried tomatoes on top and wrap it up. Poke the dough with a fork along the length of the roast. Cook in a 350 degree oven for 20-30 minutes. Note: Toward the end of the cooking period, suggest brushing with olive oil or egg wash. Chef did not do this but I prefer to have a brown exterior.
CARROT CAKE – For 8 People (Chef served the cake sliced, but we think it was a bit dry and would benefit from a cream cheese frosting or whipped cream on top!)
Ingredients:
6 1/2 Large Carrots 500 Grams
4 Eggs – He uses Organic (Bio Logico)
180 Grams of Sugar (Zucchero)
60 Grams of Flour with Almonds (Mandorle Farina)
350 Grams of White Flour Organic ("000")
1 1/2 Containers of Lievito pane de Gli Angeli (baking powder with vanilla in it)
Directions for Carrots:
Peel the carrots and dry them well. Grate them in the Cuisinart – Place in a bowl and in the Refrigerator
Directions for Wet Mixture:
Mix eggs and sugar in the Mixer (I would use Kitchen-Aide)
Directions for Dry Ingredients:
In separate bowl, mix the Flour, Baking Powder – Then add the carrots and wet mixture very slowly
Directions for Baking:
For round pan, use olive oil and wipe out access. Flour dust the pan. Cook at 350 degrees for 20 min. and then check the cake. May take up to 30 minutes however need to watch it so it does not burn.
This concludes our amazing cooking classes and recipes, however the adventure continues with my next article on the quaint and charming hilltop towns we visited and the fabulous cuisine we enjoyed out and about on our journey exploring Umbria. Stay tuned for more fun!