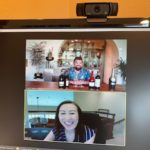 This was another wonderful "virtual" Zoom Event with a winery guest. And who can say no to a featured guest that is a member of the Wagner family?  Chuck Wagner, founder of Caymus in Napa Valley, has given all of his kids the farming & winery bug—- and we are so glad he did.  Meet Julie Lim, the Owner of OC Wine Mart and she has three locations—Aliso Viejo, Yorba Linda and the newest one in Orange.  She is putting these "virtual" events together so that we can all honor, enjoy and learn about wines at a time when we are all home in "restless" mode.   She is a go-getter and I think she knows just about everyone in the industry. She also has a big heart and is trying so hard to make sure that her business makes it to the other side of this mess. As you can only imagine these are very challenging times. So, as they re-open their in-store programs, please go visit and buy some freaking wine and cheese!!
I was spoiled rotten on Saturday with a "delivery" in the early afternoon of the four wines that would be showcased Saturday evening on the Zoom event. This was accompanied by an incredible sampling of cheeses and Prosciutto.  I placed the Chardonnay in the refrigerator so it would be at the perfect temperature by 6:30pm.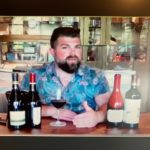 Joe Wagner developed Meiomi Winery in 2006 while he was still working for his father, Chuck Wagner, at Caymus Vineyards, the Cabernet-centric winery founded by Joe's grandfather. Joe was only 33 years old when he sold Meiomi to Constellation Brands for $315 million in July 2015. That was less than 10 years after its founding. Wow!!!  Not one to rest on his laurels, Joe moved on with his partners to found another winery Copper Cane Wines & Provisions. He explained to us on the Zoom Event what Copper Cane is all about and now I really do get it! Very interesting… so stay tuned as I explain it in this article….
Just Who Is "Copper Cane Wines & Provisions" in  Napa Valley?
With a focus on innovation and genuine craftsmanship, Copper Cane Wines & Provisions houses a collection of brands that are crafted to offer a touch of luxury for everyday indulgence. The current portfolio includes: Elouan Pinot Noir from Oregon, Belle Glos Pinot Noirs from prime California coastal vineyards, Beran Zinfandels of California, Carne Humana Red and White Blends from Napa Valley, Quilt brand and Steorra, a Brut Sparkling wine made of Chardonnay and Pinot Noir grown in Sonoma County's prestigious Russian River Valley.
"Genuine Craftsmanship for Everyday Indulgence" Joe Wagner
Copper Cane is their overarching philosophy.  Joe explained to us what that is—the balance of sugars and acidity which is how they determine when to physically pick the grapes. They do it more based on the visuals of the grapes vs. the chemistry in a tube.  They are looking at the grapes— the dimpling and observing how the color transforms over time. It goes from a young, green hue, to a later yellow tone and then to a copper color. That is when it is ready to pick with the right balance of ripeness and maturity on the vine.
Meet Joe Wagner, Owner and Winemaker
Joseph is a fifth generation Napa Valley winemaker with a dedicated passion for the business. Joe's roots in winemaking began at an early age—in farming as he describes it. His family founded Caymus Vineyards in Napa Valley.
In 2001 at age nineteen, he rolled up his sleeves and has yet to look back. His passion and natural talent for winemaking quickly became apparent after he started his own award-winning single vineyard Pinot Noir label, Belle Glos. In January 2014, Joe formed Copper Cane Wine & Provisions, with the goal of focusing on innovations that have always captured his interest, and to find new ways to offer the highest quality products that satisfy consumers' appetites for genuine craftsmanship. He also has a profound interest in the wine and food pairing and recipes. On their web site you can find all kinds of wonderful recipes and when he chats about wine, he does not go too deep before he mentions the pairing with food. Very smart.
As he explained on the Zoom, and answering questions from us all— he mentioned that they use mostly French Oak except for their Zin. My favorite term he used was the "hang time" to create the Brix. Love that!  The grapes are harvested from many locations all the way west to Sonoma County and as far south as Santa Barbara, but everything is actually "blended" in one location giving them much more control.
Let The Tasting Being…..
Boen Chardonnay-2016
So, as most lovely Wine Tastings commence, we started with a white—-a crisp and delicious Boen Chardonnay.  This is from a tri-appellation— Sonoma, Monterey and Santa Barbara counties.  Crisp, with a great balance in terms of acid and structure. Boen means farm.  This was paired with St. Angel Triple Cream Brie. It pairs perfectly with its richness of the cheese and the crispness of the white.
This wine received Wine Spectator 91 points award!
Elouan Pinot Noir- 2017
This Pinot Noir is from Oregon.  The Old English name means "good light" referring to more sunlight up north.  (He was looking in baby book of names as he has six kids, but only 2 girls. Yes my mouth also dropped open… wow!)
In Oregon, Burgundy is the mantra. But Joe and his team wanted to steop away from that New World Burgundy approach and do something completely different. This has a taste of bright raspberry and boysenberry jam palate— it is an everyday wine and is very food friendly. This was paired with delicious slices of Prosciutto. I only had one roll of the ham, and Peter had all the rest. Noted!
Belle Glos Pinot Noir – 2018
This is a Las Altria wine from the Saint Lucia Highlands in Monterey County. Interestingly, they use dry ice in each layer to cool the grapes as they are picking the grapes. They use the whole berry. They are basically freezing the berries! The name Belle honors a woman who worked at Caymus for many years. She lived to be 98 years and Joe knew her very well and wanted to honor her. As I sipped this I could not stop thinking of paring this with Leg of Lamb.  It is full of intense flavor and well balanced, but lighter than a Cab Bomb. This was paired with the Honey Bee Goat Gouda cheese and it was delicious.  I have saved some to enjoy this evening.
Quilt Cabernet Sauvignon- 2017
Drawing from a patchwork of six prime Napa Valley AVA's to create full-bodied, rich and decadent wines.  Quilt exemplifies the classic structure of wines from the region, while the blending of fruit from a variety of vineyards allows the wines to maintain more complexity and a better style-consistency from vintage to vintage.
This wine is so robust—-rich and full of flavor. There is a hint of fruit. Steaks would be a super complement to this wine—even a hamburger!! Can't you just imagine making a "Luxury Hamburger" with caramelized onions, fresh tomatoes, pickles and lettuce?  This was paired with the Parrano cheese with a Gouda and Parmesan flavorful finish.
This wine received the Wine Spectator 91 points.
All the cheeses paired so perfectly with the wines. It was a match made in heaven.
So fun to hear Joe's stories, interesting facts about the wines and his family stories and Julie did a great job interviewing him as we sampled the wines and pairings. Years ago, I had the pleasure to meet Joe's father, Chuck Wagner, at a wine dinner here in Orange County and he was such a wonderful man.
The AVOW Restaurant in Downtown Napa-
They have a Restaurant called AVOW. It opened in late July of 2019.  The Chef is Michael Williams and it is located on Main Street (813 Main Street in downtown Napa).  (They hope to be reopening very soon.)
The building is the historic Fagiani/Thomas building and they were able to add a new façade. The building has been returned to its early 1900 roots. The first floor has a bar, dining room and kitchen are on the second floor and a lounge is on the top floor with a new bar and outdoor seating on the rooftop deck, overlooking Veterans Memorial Park. Guests can order food on all three floors.
The menu is eclectic and shares influences from around the globe, which I adore! California, Asian, Latin, Steaks, Lamb, Trumpet mushrooms, an oyster bar, many vegan offerings and edible flowers adorn many of the dishes.
The Next Two Zoom Events- Mark Your Calendars!
To RSVP your spot call Julie Lim at (714) 785-5451 or email her at Julie@ocwinemart.com 
Also, they will deliver free in Orange County, and will ship free in CA if you are in San Diego, Northern California and so forth! Awesome…
-June 12- Cade, Plumpjack & Adaptation Virtual Tasting $180
With Winemakers from all three wineries!
-June 19- Silver Oak Father's Day Virtual Tasting $210
With Winemakers from Silver Oak and Twomey Cellars!