Enjoy the delicious offerings of the Orange County Restaurant Week from Sunday, March 6th thru Saturday, March 12th, 2022! Indulge in chef-driven lunch & dinner menus, cocktails to-go and even wine specials. Leave the cooking to the restaurants this coming week and help support our "beloved" local restaurants. There are 24 Orange County cities included in this program–with many offering patio dining, indoor dining, and or course, fantastic "To Go" menus as well! You might even dine on a patio one day and place an order to take home for the following night! This is just for one week only. Please don't miss out and perhaps try something NEW!
For lunch there are three price points ($15, $20 & $25) and for dinner $25, $35, $45 and fabulous "dinners for two" ranging from $60 to $120! There is honestly something for everyone with these creative menu offerings:
Date Night Week
Family Restaurant Week
The Cocktails
Discover by City
Vegetarian Dining Options
Restaurant Week for the Squad
Sweet Dessert Spotlight
Explore the Orange County Restaurant Week Menus Here:
My Five Tips On "How To Do OC Restaurant Week"
Grab your calendar.
Select 2-3 days for Lunch and for 2-3 spots for Dinner too.
Invite friends and give them a few options of places to go.
Include at least 1or 2 NEW restaurants that you have never been to.
Book your reservations and go enjoy!!!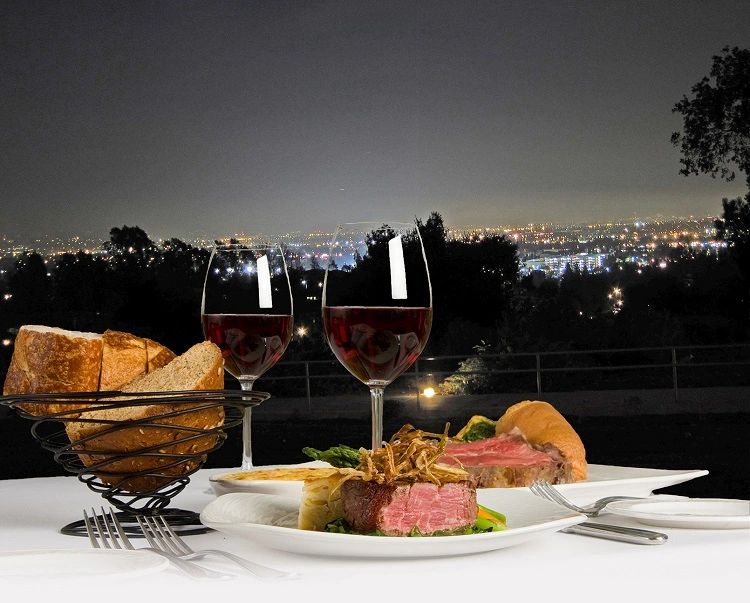 Here are Just a Few Examples to Give You Some Ideas for Orange County Restaurant Week
Below please enjoy a few ideas and there are tons more on the website!
–The Tea House on Los Rios (in San Juan Capistrano) This is a fabulous location for tea and lunch. The large patio wraps around and surrounds a darling Victorian-inspired home on the historic Los Rios Street. The food is as delicious as the teas and there is a small boutique for taking home some teas too. This is a great spot for a birthday lunch or gal pal getaway.
-The Beachcomber Café (on the beach at Crystal Cove) This is a spot I often take out of town guests as it is quintessential Southern California and right on the beach. Bring beach chairs and just enjoy the beach. They will bing you when your table is ready. (Just don't arrive super hungry in case you do have to wait.)
-Five Crowns (Corona del Mar) – A classic Lawry's Steakhouse set in an English Tudor-style restaurant. The Prime Rib is delicious, however, for Restaurant Week they have a number of creative menu options to select from. This restaurant is a spot I frequent and enjoy celebration dinners with the family as well.
-Nirvana Grille (Laguna Beach on Broadway Street just a block from the beach) Chef Lindsey has created two of the most robust menu offerings of this Restaurant Week. There are three different dinner menus (including a romantic dinner for two) and for the starter, entrée and dessert there are so many delicious choices. I cannot even decide which one to pick! Bravo Chef Lindsey and can't wait to see you!
-Summit House (Fullerton with spectacular views!) This is a classic award-winning steakhouse with views to die for. Very romantic as the sun is setting. The perfect dinner spot!
-Descanso (located in Costa Mesa) This modern Taqueria is a very "family-friendly" spot and perfect for lunch or dinner. They have a large patio and are offering a robust prix fixe menu. Another time, come back to enjoy their Taco Bar where you can build your own with the help of the chef (think Sushi bar style) and they also have four Plancha Grills where the chef arrives and cooks tableside for your group. That is my favorite and always a great interactive show!
-Ysidora Restaurant and Lounge (located at the Inn At The Mission San Juan Capistrano). Their stunning patio and busy bar scene are great for people watching at lunch or dinner-time.
Ready, Set, Go!