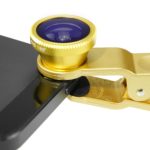 This is one awesome kit that is so simple to use! What for my dramatically enhanced photos as soon as I receive this from Amazon!
Leave it to my social media and web site specialists (Joy and Ian from Comatica) to find a cool gadget that I just have to have. I have a small Cannon camera that I tuck into my purse or pocket and use for taking pictures when at events, traveling or dining. I also find I am using my iphone, as it is handy to then create a collage and post on Facebook, or on my web site.
This gadget is ingenious! It is a clip that affixes to the outside of my iphone where the lens is located. I can choose lenses from FISH EYE (great for capturing a large room or scenic area in a smaller space), a MACRO (great for shooting cuisine, flowers and close up shots), and a WIDE ANGEL (which I have not even figured out just yet). Camkix is the name of the product and it can be found on Amazon for only $20 (plus shipping of course). Here is the link: http://www.amazon.com/Universal-Camera-including-Microfiber-Packaging/dp/B00CSJ50II/ref=sr_1_11?s=electronics&ie=UTF8&qid=1398141814&sr=1-11&keywords=camkix%C2%AE
I just ordered my kit from Amazon, and the cost was $20. This includes: One Fish Eye Lens, One 2-in-1 Macro Lens and Wide Angle Lens, One Universal Clip, and all fits into One Microfiber Carrying Bag. The Universal 3-in-1 Camera Lens Kit is designed for Smart phones (including iPhone, Samsung Galaxy, HTC, Motorola), Tablets, iPad, and even Laptops.
Notes:
-The wide angle lens is paired with the macro lens. By gently unscrewing the wide angle lens it reveals the macro power beneath.
-Three different lenses provide three different photo effects. There are covers for the lenses
-The Universal lens clip easily attaches to a wide range of devices.
-Made of high-quality glass and top-grade Aluminium.
-Purchase includes Camkix retail packaging and a one year guarantee.