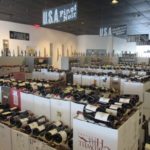 Sometimes we have a media event which unexpectedly coincides with a major announcement. On this fine March Saturday, it was just such a day. We were meeting with Best Wines partners Kyle Meyer and Tristen Beamon, to hear all about their vino business. Our group included members of the International Food Wine & Travel Writers Association (IFWTWA), and the day was planned by our esteemed President Linda Kissam. Little did we know they had just announced they were "on the move"!  Best Wines had just acquired the Wine Exchange of Orange. This is seriously big news, as both operations are huge. Now it will be gigantic! Kyle and Tristen pronounced, "We offer the best wines, at the best prices, with the best service, since 1982!"
Kyle used to work at Wine Exchange so he has come full circle, shall we say. He has his pulse, and palette, on the wine industry, and is a wealthy of information and experience. Tristen is the brains behind the software and inventory infa-structure they have instituted at Best Wines. This means that one no longer has to run out on the sales floor to see if they have a particular wine in stock. It also makes for instant selling online. They really are a great team—both adding such a unique specialty to their overall business model. A perfect partnership is one where both bring something unique to the table. Or in this case, the Wine Bar! Splendid indeed.
With 2,700 sku's that is just an incredibly staggering inventory. The wines are divided by country of origin, and style. Once patrons get the lay of the land, it is rather easy to find ones way around the boxes and displays. In addition to this gigantic candy-store of a retail warehouse, they also have a wholesale wines department, selling direct to restaurants and chefs. You may have heard of The Architect Company, their private label of wine, which is only available wholesale, and primarily sold to restaurants. The winery that produces this wine is the Fortuna Vineyards, and they produce a Chardonnay, Cabernet Sauvignon and a Reserve under this label. It is bottled exclusively for Wine Exchange under this banner.
A little factoid that we learned was that the wines that are offered by the glass at restaurants tend to be the more common wines & brands. Allotment wines, or limited production wines, are sold is such small quantities those just cannot accommodate the demand and ability to inventory. That is why it is often worth it to select a bottle of wine, and secure a taste of something really special.
The first question that might come to mind is— ok, so what makes you different? Well, we too wanted to know the answer to that question, and here is what we learned. It's complicated…. but here are their key points of difference:
1)   Experts who ferret out the best wines, for the best value, around the world.
2)   Annual buyer wine trips ensure one-on-one meetings and the hand-selection of wines to bring back to Wine Exchange.
3)   The mega-store is open seven days a week with knowledgeable staff who can answer questions, or find someone who can.
4)   Allotment wines (small, special production) account for about 70% of the inventory.
5)   Educational aspect is deep—with 250 videos on-line including interviews with wine makers and shakers.
6)   Communication to the customer is key—offering daily and weekly email specials to their loyal audience.
7)   Owners lead wine tours to Europe for those seeking an immersion-style wine vacation experience.
We settled in to their conference room for our wine tasting. As the day unfolded, I realized that the four wines they had selected for us to try, actually each spoke to a special element of their business model. Here is how I read it….
The Champagne = Our pet. We showcase what we love.
The Rose = Hard to get. We seek out the "hard to find" wines.
Chardonnay = Friendship. We enjoy an easy, welcoming style.
Bordeaux = Selection. We offer high-end finds, yet offering value.
So, speaking of tastings, here is a quick review of the four lovely wines we sampled, and this will give patrons just an idea of the amazing selection found here at Wine Exchange.
R&L Legras Brut Blanc de Blancs Grand Gru –($60 Retail*)
This French sparkler is 100 % Chardonnay Grand Cru, a luxury cru fruit with a 6-7 grams ratio of acidity. The wine is light and crisp, with a hint of green apples, and white chocolate. Kyle and Tristen shared with us that many 3-star Michelin restaurants in France (such as Lameloise, Le Doyen and Guy Savoy) serve this wine in their restaurants. I purchased a bottle to take home, if that gives you any indication of how much I enjoyed it.  (*Note- Most wine retailers would sell this for about $60, however Wine Exchange generally sells it for about $35 a bottle.)
2013 Elatis Vino Rosato Burlotto ($17)
This wine is from the Burotto Vineyard in the Piedmont Region, and is one of the best Roses they sell.. They use old world barrels and made from the blending of two grapes—-Freisa and Nebbiolo. The wine has hints of rich strawberry and spicy cloves with a bone dry finish. This was not my favorite, but I am admittedly, not a Rose connoisseur.
2012 Varner Chardonnay- Santa Cruz ($45)
This wine comes from the Bee Block of Spring Ridge Vineyard, which is located center-west of the Santa Cruz Mountains. And as its name suggests, it is a mountainous AVA that sits between Monterey Bay and San Francisco. The rugged terroir in the mountains can be extremely trying for growers. But the twin Varner brothers have managed it well—scoring 94-95 points every year. The higher elevation offers more of a Burgundian-style and I was pleased to learn that no pesticides are used. The Varner brothers are also known for their Fox Glove brand of wines. The wine had a light fruit forward flavor—with hints of peach, and it was very light and refreshing. The high quality is evident at the first sip.
2009 Le Petit Haut Lafitte Pessac Leogna ($35)
This wine is produced by Smith Hart Lafitte, and is a Red Bordeaux wine. The blend is 70% Cabernet Sauvignon, 25% Merlot and 5% Cabernet Franc.  They use Estate grapes, and some of the blend is used in bottles costing upwards of $250. The petit blend benefits from these premium grapes and it really shows in the end product. It was amazing and only 4,165 cases were produced. I was intrigued at the description that Kyle offered when tasting this wine. This really says it all…. "I taste hints of Cassis, black currant, a minerality and earthiness to it, wet rocks and something toasty."  So descriptive! That is the kind of attention to detail they bring to the party. And yes, I also purchased a bottle of this little gem to take home and enjoy over dinner.
Lastly, we enjoyed our little jaunt into the uber-private, and slightly chilled, under lock-and-key wine room. This was a treat, as I have never seen a bottle of wine with a price tag that had three zeros as the end. Wow!
Patrons can purchase on-line and pick it up in the store, have it shipped, or just stop in to make ones selections right there. I typically bring my recipes and menu with me and make my selections with the help of the staff. If you are a wine-lover, this is a special place to wander about. Such an incredible selection and fun finds to behold.
Wine Exchange
1544 E. Warner Avenue
Santa Ana, CA 92705
(714) 979-1509
Open 7 days a week
www.WineX.com