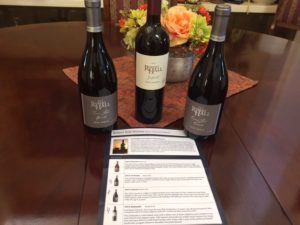 As I nuzzle into a spot at a Tasting Room the fun begins almost immediately. I start trying new wines, chatting with the staff and continuing my learning about the precious vino. A little shopping in the wine inspired gift shop and I am a happy camper. If I am impressed and think the value is there… I might sign up for their Wine Club. Why would I do that, you might ask? Well many wines are only offered to members. And it's fun when FedEx rings my door bell and my shipment arrives.
I typically participate in 2-3 Wine Clubs at a time and I rotate them in and out.
Now, after many mistakes I think I have finally cracked the code on how to manage all this. I am sharing this with you—- just in case it is helpful to you wine lovers out there….
1) The Newsletter– This typically describes the wines and offers the retail and club pricing. Save this in a folder near your wine cooler so you can refer to it later.
2) Know The Prices– I just write the prices on the back label so I know when opening the bottle what it costs for both retail and club pricing.
3) Take Notes– I jot down a few notes about the wine and place it in the folder with the Newsletter. That way I can recall at a later date whether it was a winner or not, and what I paired it with. I use a rating scale from 1 to 10 and that tells me all I need to know about considering a re-order.
4) Use Tags for Holds – I just received a shipment and for 2 of the 3 wines, the winemaker is suggesting I store the wine for up to two years. I have found that if they say that, I sure well better do it. So I put the bottle in time out. I tag it so when my husband is rummaging around he does not grab those before they are ready for prime time.