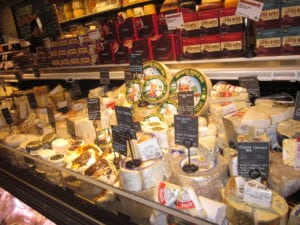 What are the odds? Now we all know that I like to cook. So what is the likelihood that I would admit to muttering the phrase, "I may never cook again!" But here I was wandering through the new Whole Foods in Newport Beach, and making my list. Here are my top four "value" finds that will make YOU not want to cook too.
#1 Salad Bar & Prepared Hot Entrées– Everything exudes "freshness" and the key here is attention to replenishing the goods and keeping the area spotless. Mission accomplished! Both hot and cold options feature an endless array of salads and vegetables, local fare such as: Salmon Salad, Greek Couscous, cheese, beans, cucumber, tomatoes, and so forth. The selection is dizzying. And for hot entrée items, here are just a few examples: Zucchini & Lentils, Five Cheese Lasagna, Baked Ziti, Meatloaf, Chicken Enchilada, Seasonal Vegetables, Rosemary Chicken, Turkey Meatballs, Coconut Pecan Sweet Potatoes. These are just a sampler of what you will find. [The containers are weighed at check out and the price is $8.49/lb and on Wednesdays $5.99/lb.]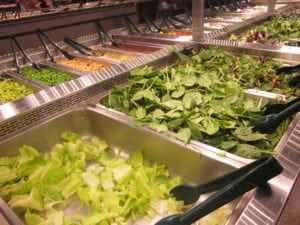 #2 Soups on Parade- They have 11 different soups daily. Who does that? No matter what you are in the mood for, there is bound to be something here for you to thoroughly enjoy. The list rotates, however, on this day included: Roasted Tomato Basil, Sweet Potato & Corn, Three Lentil, White Bean& Kale, Chicken Posole, Potato Leek, Black Bean, Minestrone, Tortilla, Chicken Noodle, and Broccoli Cheddar Cheese. [The smallest container is $2.99 with three sizes offered.]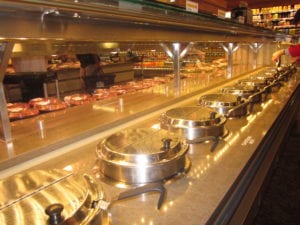 #3 Sandwich Wraps- The selection rotates, but on this day, there were two options: the Chicken Salad Wrap, and the Ahi Tuna Salad Wrap. Both are approximately 12" long and cut in half. This is a very good value at $5.99 each.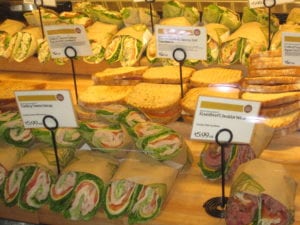 #4- Custom Fresh Pizzas- Of course these are fired in an authentic wood-burning pizza oven! And they are delicious. So many choices for toppings, and each day there is special offering of three different pizzas. [Pizzas are $10 for a 12" pizza with one topping and are cooked to order. They have a special on Thursdays for a pizza with toppings they have selected.]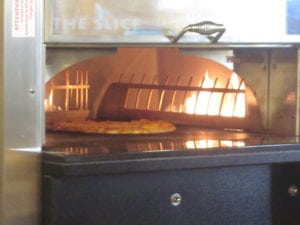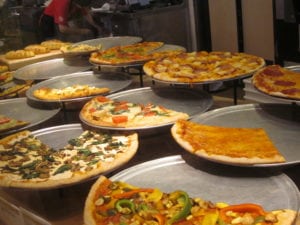 A few other observations for my foodie friends….. The Deli next to the salad bar offers an incredible array of culinary delights to take home and enjoy. Here are just a few examples: Lemon Cranberry Quinoa, Smoked Mozzarella Pasta Salad, Sonoma Chicken, Zombie Sesame Tofu, Chipotle Lime London Broil, Green Beans Almandine and Baked Apples.  Next to the Meat Department in the cold case, one can find an Instant "Slow Cooker" Dinner Package. Brilliant! This includes in one package, the fresh vegetables, cut steak, and all the fixings to toss into the crock pot and at the end of the day find a home cooked meal. The Crab Cakes (located in the Fish Department) are excellent and are offered with many different seafood options. Two of these fried at home with an Arugula Salad would be splendid. Fast and easy!
This new market offers the traditional market fare as well—with a lush fruits and vegetable, meats and fish, canned goods, a plethora of personal care and lotions, dairy products and some frozen foods. However this market is much more!  It has a……Sushi Bar ~ Chinese Wok Bar ~ Coffee Bar ~ Gelato Station  ~ Juice Bar ~ Fresh Ground Peanut Butter Grinder~ Peach, Sage &  Raspberry Honey's to Jar ~  Olive Oil Bay ~ Tea Bar ~ Artesian Breads ~ Imported & Domestic Cheeses ~ Bulk Nuts, Beans, Legumes, Granolas & Mushrooms ~ Lotions & Vitamins ~ Flowers.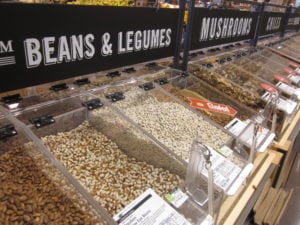 The Back Bay Tavern- Tucked in the back corner of the store with a street entrance as well, is a wood-charmed pub "of sorts." (The bar actually dates back to the early 1930's.) In my opinion, The Back Bay Tavern almost appears as an after-thought in the design of this place. The 24 beers on tap pay a nod to the "tavern feel," however the space is small, the menu is very convoluted—from tavern burgers to spicy rainbow rolls, and the happy hour just lacks creativity. With 24 beers housed below these elegant pulls—why not feature fare that is complementary to the beer, hops and happenings? There was just nothing calling to me from the menu with my beer in-hand. And for wine drinkers, the regular menu and the Happy Hour menu were quite limited.
Just One Thought……'cause I always have one…..Since there is no real kitchen to speak of right there at the Tavern, and such wonderful fare is being created just down the aisle-way, why not turn it into a Tasting Bar…. offering wine and beer flights, lots of options, pizzas or flat-breads (with orders radioed down to the Pizza Oven team), and a flat-priced plate for hot or cold entrees whereby the guest makes their selections and brings it back into the Tavern. Simple and leverages the existing cuisine already being prepared!
Whole Foods of Newport Beach ~ Located at Fashion Island