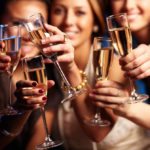 Well, this year Valentine's Day happens to fall on a Saturday, so this means a full weekend of blazing, blooming love-birds and starry-eyed couples enjoying this heart-filled celebration. Restaurants go all out, and are certainly depending on reservations galore, flowing cocktails and a bevy of souffles and desserts, ordered on sheer whimsy.
Now, for those men and women out there who are without a romance to "call their own"—- have no fear. I have uncovered some wonderful alternatives along the coasth that will not only make your weekend a delicious one, but will ensure some fun along the way. So email your favorite group of girlfriends, or guy-buddies, and let's plan a sensational weekend.
Cocktail Bars Sans The Romantic Lighting-
I have hand-selected these bars because they do not scream romance. They are cool bars, with a fun or elegant setting, and most offer flexible seating so your group can grow organically, and allow you to pull up a chair easily.  This includes: Bluewater Grill, The Cannery, Pizza Nova (can dock and dine), Pelican Grill (don't miss the outside balcony with commanding views), 3-Thirty-3 Waterfront, SOL Cocina, Gulf Stream (the outside fire pits on the patio are lovely), Canaletto, Quiet Woman, Side Door, and Javier's in Crystal Cove (also with fire pits on the covered patio).
The Ultimate "To Go" Dining And A Movie-
Sometimes, taking a delicious dinner home and turning on a coveted Netflix movie spells P-E-R-F-E-C-T. Not only relaxing, but you can pour your favorite beverage to your heart's content and no one is counting how many scoops of ice cream you enjoy! My favorites include the following:  Pei Wei (at Bison and MacArthur) because I love their ten minute parking up front and can easily call ahead, and keep the menu in my car.  Moulin, is a fairly new and fabulous French-style bistro in Newport offering: sandwiches, complete dinners, rotisserie chicken, and desserts that make you want to crawl inside the glass case with just a fork and plenty of time.  Zov's in Newport Coast has a wonderful selection of Mediterranean cuisine, and always packages items so nicely. Bandera in CdM does a suburb job with their dinners, and especially their rotisserie chicken. They have a ten minute parking spot right up front and center. With a "to go" window inside, guests can quickly pay and be on their way in mere minutes.
A Market, on PCH, is an iconic spot offering delicious food all day and evening. From soup, to the sandwiches, and the hot entrées, to the desserts—- it is all "not to be missed" fare. A Market has perfected the concept of "to go"—-so go, and enjoy!
Live Music and Cocktails-
There really is nothing like live music, and although some establishments have ended this tradition, we have a few mainstays that deserve our patronage so that they continue.  Check their schedules for music and times, as this fluctuates, but here are the mainstays: Nightly live music can be found at: Billy's at the Beach, 21 Oceanfront, The Blue Beet, Bayside, Mastro's Ocean Club in Crystal Cove.
Other venues offer music on specific nights, so do check their web sites. My list includes: Tommy Bahama Island Grille has island & contemporary music Thursday thru Saturday evenings and Sunday's at lunch time. The Aqua Lounge offers DJ music Thursday thru Saturday, and on Tuesday and Wednesday evenings they offer live music adjacent at the Oak Grill Fire Pit (which is lovely in the early evening under a canopy of trees). Pelican Grill has music Thursday thru Saturday. Muldoon's offers music Thursdays thru Saturdays, Quiet Woman has music Tuesdays thru Saturdays, Alta Coffee & Restaurant on the Peninsula has music Friday & Saturday evenings with everything from jazz to folk music. The Village Inn on Balboa Island has music various nights and has a nice schedule posted on their web site (www.vibalboaisland.com).
Ladies Afternoon Tea-
There are three places right here in Newport that I think are worth the effort to pause in the afternoon and enjoy tea. This includes: The Resort at Pelican Hill (serving tea in the Great Room, with seatings from 2:00-3:30, call 855.467.6800), a new spot W Café and Tea Lounge in Westclilff (just behind Gardenology) offering chef inspired cuisine and refined teas all day, and Pascal's Tea Garden Creperie (at Sherman Gardens) on Saturdays and Sundays from 11:30 to 3:00pm.
Brunch or Dinner In The Garden at Sherman Gardens-
Pascal's Café Jardin is a special setting overlooking the central garden at Sherman Gardens in Corona del Mar.  Café Jardin will be serving a Sunday Brunch on February 15th from 10:30 to 2:00. They are also creating a wonderful three-course French-inspired dinner on February 14th from 5:00-11:00pm. For reservations, guests can call 949.673.0033.
Other Options…..And if this list does not meet your fancy, I would suggest: a local sports bar or paddle boarding on the Back Bay. Or take in a painting class in Cannery Village at Dana Ridenour's Gallery. This is such fun and you can bring your own wine with you. She provides step by step lessons on most Saturday evenings, and makes it the perfect evening with friends. Guests can reach her at 949.642.5787.
Please enjoy your weekend and Dine Well…