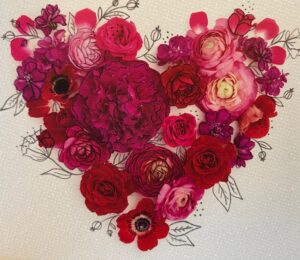 Here Is A Great Gift To Give Your Valentine!
Before we dive into some Dining Options and To Go restaurant ideas, here are two items from Whole Food that I would suggestion folks to jump on pronto!  A great value indeed—and yup, you're welcome!  At Whole Foods they are offering a Double-Dozen Bunch of Roses for $19.99 and a Six-Pack of Chocolate Covered Strawberries for $9.99.  (Now thru Feb. 16 and while supplies last) And they even have Lavender Bath Bombs for the bubble bath. Just sayin'. Also at The Lab, Petals and Leafsprings has a floral pop-up truck on Saturday, Feb. 13th from 10:00am to 2:00pm. Let's buy local.
As we all know, right now is a very challenging time for the restaurants— and for all of us really. We want to support the restaurants as best we can so here are some dining options that will hopefully spark some interest and help you in your weekend planning. Since Valentine's is on a Sunday, the whole weekend is your opportunity to shine brightly and show some shimmering thoughtfulness.
Dining Options and To Go Restaurant Ideas:
I am focusing for the most part on places I know and places that I frequent where I have seen with my own eyes their set up for on-site Patio Dining. If I do not feel it is worthy I will say so. In some cases, you are better off to order the food to go and enjoy a romantic evening at home. If they menu is on-point go for it and still enjoy it at home. Other spots are doing a great job and are lucky enough to have the real estate to offer a great patio dining experience.  Whatever you choose, please be safe and have a wonderful weekend. Spoil the one you love and be their hero!
ANAHEIM
The Ranch Restaurant & Saloon
The Ranch has a lovely patio that is covered but tables are well spread out. Can book on Open Table. The food is delicious. Here is their offering To Go: VALENTINE'S DINNER– TAKEOUT FOR TWO–  Staying home for Valentine's Day? Share our Dinner for Two, available for pick-up or delivery on Sunday, February 14th between 5:00pm – 8:00pm. Menu includes Heirloom Beet Salad, 20-ounce Cape Grim Grass-Fed Châteaubriand, Potatoes au Gratin, Baby Carrots, República del Cacao Flourless Chocolate Cake, and Strawberry Cheesecake.  Other offerings as well… Can order here: https://www.exploretock.com/theranchrestaurantsaloon?utm_source=THE+RANCH+Restaurant+%26+Saloon&utm_campaign=917fcee0ac-EMAIL_CAMPAIGN_2020_05_28_08_52_COPY_01&utm_medium=email&utm_term=0_ba03d45a43-917fcee0ac-208671072
COSTA MESA
Olea Restaurant
Open for dinner on their great Patio and offering a great TO GO menu for Valentine's Weekend.
Don't miss ordering their Duck Wings for which they are famous for !
To Go menu must be ordered today Friday for pick up Saturday 2/13 from 1:00-3:00pm.
To Order call (949) 287-6807 and schedule your pick-up time to enjoy at home!
For $159 the Valentine's Menu includes: Choice of Liter "Love Potion Craft Cocktail" or Bottle of Taittinger Brut Champagne, Seasonal Mixed Green Salad for Two, Two Filet Mignon Steaks (6oz each), One-pound of Alaskan King Crab Legs and Champagne Butter, Scratch-made Mashed Potatoes, Heirloom Vegetables and Brussels Sprouts and Gourmet Triple Chocolate Melt to Share. Simple heating instructions included, however modifications politely declined.
https://www.oleanewportbeach.com/our-menu#menu=valentines-day
NEWPORT BEACH
Bluewater Grill
They have a great outdoor patio with views of the Rhine Channel. Celebrate love at Bluewater, from Friday, February 12th until Sunday, February 14th. We will be featuring Valentine's Day specials like steak and lobster. Call for a reservation or come in since we save space for walk-ins! You can also order for take-out with curbside pick-up. Call for Reservations: 949 675 3474
To place a To Go Order: https://bluewatergrill.alohaorderonline.com/Engage.aspx?goal=0_278fa3d634-b86c6bdda7-7617511&mc_cid=b86c6bdda7&mc_eid=0c42eebefe#/engage/ordering/menu/
 Café Jardin- At Sherman Gardens
CAFÉ JARDIN has re-opened for outdoor dining! It is so pretty set amongst the plantings and fountain bubbling nearby.  The Cafe is open – Wednesday to Sunday 11:30 am to 2:30 pm, and the more casual Creperie in the upper courtyard with a walk up window is open Saturday and Sunday 11:00 am to 3:00 pm  Reservations can be made on Open Table. For inquiries or To Go call: 949-673-0033  www.pascalrestaurants.com
Canaletto's Fashion Island (around the corner from Whole Foods)
https://www.ilfornaio.com/location/il-fornaio-newport-beach/
They have a wonderful four course dinner for $75 for two and it runs through Feb. 18th.
It is a little hard to find on their web site but follow this instruction:
-Go to the link above
-Scroll down Under "Open For Outdoor Dining & To Go" and Click on the box that says
'Order Online"
-Select location (Fashion Island)
-Select Pick –Up (the box to the right)
-The Valentine's Special will pop up and you can order right from there. If you scroll down there are other items below for add-on's,  as you wish.
Note: The outdoor seating there is very limited, so I would suggest TO GO.  They do a very good job on easy Curbside Pick-up. Order online and then pick it up. Everything we have had has been delicious.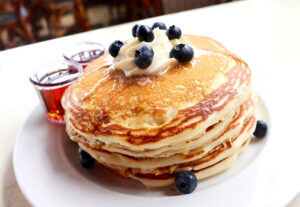 Champagne's Bistro and Deli- (at Bison and MacArthur)
This is a great spot (and not just for Valentine's Weekend)! They do breakfast, lunch and dinner. They are open from 8:00am to 8:00pm every day. They have two lovely patios for dining there, and they do a lot of To Go business. They have even added Curbside Delivery!  You want Blueberry Pancakes and crispy bacon to die for, lunch sandwiches, soups, salads, Turkey meatloaf, Tri-Tip, delicious Pizzas and endless choices. To order: http://www.champagnesdeli.com/
-Five Crowns- Corona del Mar
They do a marvelous job on To Go (just pull up and they place it in your car) and the Patio Dining is lovely as well.
Dining On The Patio- Now thru February 14 | $69 per person
First Course: Pride of the Crowns Salad, Wedge Salad OR  Lobster Bisque
Entree Course: Roasted Prime Ribs of Beef- CA Cut with Mashed Potatoes and Yourkshire Pudding, 8 oz. Filet Mignon OR 14 oz. New York Strip Steak with choice of one side dish.
Dessert: C.C. Brown's Hot Fudge Sundae OR Dark Chocolate Mousse.
TO GO ORDERING: The "Sweetheart Steak Kit To-Go"- Perfect for cooking your Valentine a delicious meal at home!  $109- Serves 2- Available now thru February 14- Includes: 32 oz. CERTIFIED ANGUS BEEF® BRAND Heart-Shaped Ribeye, Cooked Asparagus, Red Wine Butter (6 slices). To order On-Line: https://www.opendining.net/menu/5e7268d1505ee91e5e7b23ca?from_locations=1&appid=5e72696a902ad58b207b23f0&utm_source=Lawry%27s+Marketing+Email+List&utm_campaign=3d7d350e28-EMAIL_CAMPAIGN_3_28_2019_10_18_COPY_01&utm_medium=email&utm_term=0_9a1f96fc7d-3d7d350e28-33340007#ordering-for-prompt
-Zov's Newport Coast
https://www.zovs.com/locations/zovs-newport-coast/
Excellent Mediterranean cuisine and the best Hummus in town! Great trays of food with Chicken Kabobs, delicious rice and salads and so on. They have a lovely patio, will do Curbside or you can go in to pick up your order. Easy in and out and there is a Vons Pavilion is in the same parking lot if you need to pick up some wine or cocktail mixes.
IRVINE
-Angelina's at Los Olivos– in Irvine (across the freeway from Irvine Spectrum)

Some of the best pizza in Orange County (my opinion). They have three lovely patios for outside dining. Great parking too. Guests can order To Go and  go inside to pick it up or they will deliver curbside. https://www.angelinaspizzeria.com
LAGUNA BEACH
Nirvana Grille wants to make this Valentine's perfect no matter what state of Covid we are in. Allow Nirvana Grille to make Valentine's Day this year one to remember and make your love feel spoiled. Add-On options like our curated basket by Chef Lindsay (available first come first serve), Chocolates, Love Mementos & More delivered to your table when you come in to dine with us or ordered with your To-Go meal to create the most memorable meal, perfect for the man or woman in your life! Valentine's special menu available Friday, Saturday & Sunday.
Dine There On Their Two Lovely Patios. The Three-Course Dinner is $89 per person and includes a glass of Champagne with the Dessert Course.
Dinner $89 Per Person
Includes a Glass of Champagne each with Dessert Course
Starter choices are: Heirloom Tomato & Burrata Salad, Butter Lettuce Salad OR a Roasted Beet & Citrus Salad. The Entrée choices are: Coriander Swordfish, Grilled Rib Eye, OR Potato Gnocchi and Dessert choices include: Pot de Crème, Chocolate Layered Cake with Sweetheart Sprinkles OR Chambord Glazed Black Cherries with Goat Cheese Maple Ice Cream.
To Go Menu- available for to-go and is ordered online for the same menu however it will be $129 for 2 people since we will not have the need for service we have reduced the price. Pick up is available until 6pm Friday, Saturday and Sunday with no less than 12 hours notice to make sure enough supplies are ordered.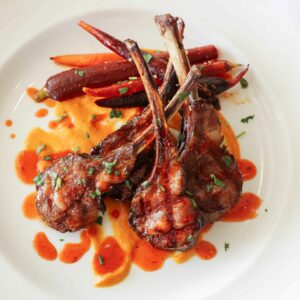 Las Brisas (on PCH with killer views of the Pacific Ocean
This iconic restaurant perched over the cliffs of Laguna Beach is the perfect destination for a romantic dinner with unmatched views of the OC coast. This Valentine's Day weekend, Las Brisas will be offering a 5-Course Menu for $125/person Friday 2/12 – Sunday 2/14 from 3 p.m. to  close and is available on the patio and extended outdoor dining area.
The Romantic Valentine's Day menu highlights includes: a Champagne Toast; Calamari Ceviche Tostada; Grilled Lamb Chops with chipotle-agave glazed carrots; Scallops with cauliflower, olives, and tomatillo; and Tres Leches Cake with toasted coconut.
Note: Their Regular menu is available for take-out and Regular Brunch menu will also be available on Sunday.
SOUTH  LAGUNA  BEACH
Montage Laguna Beach
Celebrate Montage's Laguna Beach re-opening with a much-needed romantic escape for Valentine's Day. Throughout the month of February, the hotel is offering a Romantic Getaway Package, complete with accommodations in an oceanfront guestroom, evening amenity of sparkling wine and chocolate-covered strawberries, rose petal turndown, $100 dining credit for dinner or breakfast in bed, and complimentary upgrade at check-in (based on availability). https://www.montagehotels.com/lagunabeach/accommodations/special-offers/
On Valentine's Day, couples will be able to enjoy a romantic dinner for two at The Loft restaurant ($95/pp). With the sparkling Pacific Ocean as the backdrop, guests can enjoy a 4-course prix-fixe dinner featuring dishes such as: Roasted Baby Beet Aigre-Doux with Pickled Mustard Seeds, Medjool Date, Marcona Almonds, and Goat Cheese Snow; Big Eye Tuna Carpaccio with Foie Grois Chips and Truffle Oil; Roasted Rack of Lamb with Braised Lettuce Heart, Fava and Lavender Jus; and for a sweet finish, an Ivory Chocolate Heart with Strawberries, Almonds, and Coconut.
For those who might prefer to have a more private dining experience, guests and locals will have the option of enjoying a romantic dinner for 2 To Go. For $275 (for two guests), couples can dine on the decadent dishes above, accompanied by a bottle of Perrier-Joüet Champagne and one dozen roses.  Located at: 30801 South Coast Highway in Laguna Beach.
SOUTH COAST PLAZA
 Valentine's Day is quickly approaching. South Coast Plaza's collection of fine restaurants offer both outdoor dining and takeout for the holiday weekend.  Here are some of the tempting menus created in the name of love:
TERRACE BY MIX MIX & HAMAMORI VALENTINE'S DINNER — Once again chef-pals Ross Pangilinan and James Hamamori collaborate on a six-course fusion dinner for two served on the lush, covered terrace off the Bridge of Gardens. Hamamori will create a signature appetizer, followed by pristine sashimi.  Guests will also experience James' distinctive nigiri sushi. TERRACE by Mix Mix will contribute a pasta course of heart-shaped ravioli with ricotta, butternut squash, sage and pomegranate; ribeye steak with potato fondant, ratatouille and ginger beet purée, truffle jus and finally dessert of chocolate ganache, tiramisu and fruit. February 14, 6 p.m. Collaboration dinner for 2, $250, excluding tax and gratuity For reservations: call Hamamori, 714.850.0880
WATER GRILL For the ultimate in Valentine's dining, Water Grill's four-course menu is on point. Choose from starters such as jumbo lump crab cake, oyster sampler, wild jumbo shrimp cocktail or A5 Japanese satsuma wagyu.  Second course options are WG's signature clam chowder, roasted beet salad or classic Caesar. Guests select from seven entrées—among them Dover Sole, wild Chilean sea bass, Double R Ranch filet or NY Strip and the seasonal offering of Wild California Spiny hard-shell lobster. Dessert options include chocolate espresso cake or Key Lime pie.
February 13-14, 11 a.m.- 11p,m. Four-course dinner, $120 per person, optional four course wine pairing, $40, excluding tax and gratuity For reservations: https://www.watergrill.com/southcoast  or please call 949.208.7060
VACA – Chef Amar Santana offers his popular à la carte menu, known for Spanish cheese and charcuterie, creative tapas, paellas and Aspen Ridge Farm wood-grilled steaks. For Valentine's dinner, specials include pâté de foie gras on toast with cherries, kumquats and duck chicharron; Shigoku oysters with caviar and Santa Barbara uni, seared turbot filet with melted leeks, umami broth, and roasted Liberty Farms duck breast with vadouvan carrots.
February 14, 5:30-9:30 p.m. À la carte pricing on menu; specials range from $19-$64 For reservations: http://www.vacarestaurant.com/reservations/   or please call 714.463.6060
THE HALL GLOBAL EATERY  — The Hall will serve its weekend lounge menu on its expansive patio with social distancing on Valentine's evening. Specials include chilled poached lobster with truffle-miso vinaigrette, avocado-pickled beet hearts and shave summer truffles, as well as oysters on the half shell. A seafood briwat (Moroccan egg rolls) and an entrée of roasted Chilean Sea bass with rock shrimp risotto and asparagus will be available. February 14, 6-9:30 p.m. À la carte pricing on lounge menu; specials range from $14-44. For reservations: please call 714.515.5544.
ANTONELLO RISTORANTE — Antonello will serve dinner on its covered heated courtyard Valentine's weekend. Guests may order from the restaurant's popular à la carte menu served with restaurateur Antonio Cagnolo's legendary hospitality. Enjoy signature dishes such as Mama Pina's miniature raviolis, penne vodka with shrimp, limone sole and short ribs with risotto and broccoli in light mascarpone sauce. February 11-14, 4-9pm (à la carte menu). For reservations: please call 714.751.7153
OUTDOOR DINING & TAKEOUT — AN QI BISTRO — Indulge in an exclusive five-course Valentine's feast for two or more, available for outdoor dining and takeout.  Begin with artichoke-black truffle congee with lemon basil scallops. Next enjoy butternut squash raviolis with lemongrass brown butter sauce followed by entrée selections of Zabuton steak with shiitake mushroom galette or almond-crusted filet of snapper, white asparagus gratinée and kaffir lime chutney. Finish with dark chocolate-banana mousse with dulce de leche and milk chocolate ganache. February 13-14 (Valentine's menu only all day, 12-9pm on the 14th). Five-course dinner $75 per person, minimum order for two, excluding tax and gratuity
For reservations: please call 714.557.5679. To preorder takeout online:  call 714.557.5679 or text 714.504.2822 or visit: https://www.exploretock.com/anqi/experience/255094/an-the-go-valentines-day-prix-fixe?date=2021-02-13&size=1&time=12%3A00
KNIFE PLEAT — The restaurant will offer a deluxe Valentine's menu for two to-go February 13-14 as well as courtyard patio dining February 12-14, Valentine's weekend.  For takeout, Michelin-starred chef Tony Esnault has created a four-course luxe menu for two. The amuse bouche trio features cured kampachi with tapioca chips, Cape Grim beef with black garlic and vichyssoise spherifications with potato, leeks, truffle and olive oil.  Next is Maine lobster salad with Harvest Farm chicory, blood orange, mandarin and oro blanco. Guests choose from entrées of Ora King Salmon with beets roasted, pickled, coulis, balsamic vinaigrette, or grass-fed beef short ribs with heirloom carrots roasted, raw, coulis, confetti. Dessert is a heart duo of champagne mousse, raspberries confit, almond cake paired with Jivara chocolate, lemon-ginger crémeux, chocolate biscuit.
Two Valentine's cocktails have been created: The bourbon-based Italian Affair and the Love Elixir, made with Empress gin.  Serve two. $24. Wine pairings, of three half bottles, are available. Outdoor dining: February 12-14, dinner only, starting at 5 p.m. Five-course menu, $175 per person; optional wine paring $75 per person, excluding tax and 23% service gratuity. For reservations: please call 714.266.3388 Takeout menu:  February 13-14. Four-course menu for 2, $195, wine pairings for two, $95, excluding taxTo preorder online: https://www.exploretock.com/knifepleat/experience/256029/valentines-day-dinner?date=2021-02-13&size=1&time=12%3A00  or call 714.266.3388 Knife Pleat is a participant in SCP2GO
SEASONS 52 — Seasons 52 offers limited seating with reservations for patio dining Valentine's weekend. The à la carte menu will be served. It offers two options for takeout Valentine's dining. A dinner for two to enjoy at home with a bottle of wine starts with field green salad, followed by wood-grilled Kona crusted filet mignon with Brussels sprouts and lemon-parsley marble potatoes. Dessert is two Mini Indulgences of raspberry chocolate chip cannoli or Belgian chocolate s'mores. One bottle of wine is included with dinner. Please select from:  Harvest Sun Chardonnay, Farm & Fare Cabernet Sauvignon or Open Ranch Pinot Grigio.  Wine upgrades for $10 a bottle are available.  A second takeout option is Seasons 52 Green Box dinner. Each box serves four to six and is freshly and naturally prepared. Food is chilled and ready to be reheated when convenient. Advance 24-hour preorder required.
Green Boxes feature a choice of two entrées: whole side of cedar plank-roasted salmon with dill mustard sauce or Kona crusted wood-grilled beef tenderloin with aged balsamic demi-glace. Menu includes salad—select from field greens or romaine Caesar. The main course comes with lemon-parsley marble potatoes and vegetable. Finish with six Mini-Indulgences:  raspberry chocolate chip cannoli or Belgian chocolate s'mores. Valentine's reservations: please call 714.437.5252 (à la carte menu). Takeout menus: Valentine's Dinner for two, including a bottle of wine, $99 excluding tax
To order online:  Salmon Green Box for 4-6, $125, excluding tax. Tenderloin Green Box for 4-6, $165, excluding tax. 24-hour preorder required. To order online: https://www.seasons52.com/the-green-box  or call 714.437.5252. Seasons 52 is a participant in SCP2GO
THE CAPITAL GRILLE — On February 14, The Capital Grille will offer limited reservations for outdoor dining. The à la cate menu will be served and long-stemmed rose will be given (while supplies last). For takeout, The Capital Grille offers a premium three-course dinner for two. First is a green salad with raspberry vinaigrette with seeded rolls. The entrée is a surf and turf of hand-cut 20 oz. filet and four 4-oz. butter poached lobster tails to share, served with grilled asparagus with lemon mosto and Sam's mashed potatoes. End on a sweet note with desserts of TCG cheesecake, flourless chocolate espresso cake and chocolate covered strawberries. For reservations: please call 714. 432.1140 (à la carte menu). Three-course takeout dinner for 2, $175, excluding tax. 24-hour preorder required. Available for pickup February 13-14. To order online: https://www.thecapitalgrille.com  .  714.432.1140. The Capital Grille is a participant in SCP2GO
MORTON'S THE STEAKHOUSE – Morton's offers a Valentine's dinner for two all weekend long that includes a bottle of wine to share and is available for both outdoor dining and takeout. The three-course dinner starts with a choice of Caesar or Wedge salad, baked five-onion soup or Maine lobster bisque. Guests will enjoy a luxe entrée of 6 oz. center-cut filet mignon with a 6 oz. cold water lobster tail, served with a signature side dish. End on a sweet note with dessert selections of Key Lime pie, NY cheesecake, crème brûlée or double chocolate mousse.   Select from a bottle of JCB No.21 Brut, Crémant de Bourgogne or Raymond Vineyards Primal Cut Cabernet Sauvignon, North Coast. Outdoor dining: February 11-13, 5-10pm, February 14, 4-9 p.m. Valentine's Dinner for two, including a bottle of wine, $169, excluding tax and gratuity. For reservations: please call 714.444.4834 or visit OpenTable For takeout: pre-order by February 13, 5 p.m. for February 14 pickup:  https://mortons.order.online/store/Mortons-14832?hideModal=true
TAKEOUT ONLY BELOW…
TIFFANY & CO. BLUE BOX CAFE– Breakfast at Tiffany for Two or Tiffany Tea for Two is perfect for Valentine's weekend. Add your own bubbly! The Blue Box Cafe at South Coast Plaza offers curated menu packages to enjoy at home. BREAKFAST AT TIFFANY FOR TWO — The bento box packaged menu includes chia seed yogurt pudding with farmer's market fruit, croissants with organic strawberries and lavender mascarpone, Tiffany avocado toast, smoked salmon and buckwheat mille feuille, and Bellocq No. 727 The Tiffany Blend:  A floral infusion of Chinese and Ceylon black tea with notes of lychee, rose buds, lavender and vanilla.
TIFFANY TEA FOR TWO – The impressive offering is dressed up with festive touches for Valentine's. Start with a variety of scones with Devonshire cream, cherry ginger marmalade, and wildflower honey.  An assortment of creative tea sandwiches is complemented with a generous selection of petit fours and confections. Included is a tin of Bellocq No. 727 Tiffany Blend Tea.
Breakfast for 2, $120, excluding tax. Tea for 2, $150, excluding tax. For more details and to preorder 48 hours in advance online, https://bbot.menu/tiffanyblueboxcafeorder/    For more information:  please call 714.540.5330, press 7. Tiffany's Blue Box Cafe is a participant in SCP2GO
I hope you find something on my list that is truly delicious and romantic to enjoy this Valentine's weekend….
Cheers to Love, Deirdre