The city of Laguna Hills is really smiling happy right now. Meet the new Ironwood Cellar-Craft-Cook Restaurant. It is the newest darling to central OC, where there has been a void for some time in upscale dining options. The community has welcomed them with open arms—well, truth be told, is embracing them with big ole' bear-hugs.
The cuisine is delicious, the ambiance is lovely and inviting, the craft cocktails are amazing, very nice wine list and lots by the glass….checks all the boxes…double-time. But best of all is the most incredible staff and management team that epitomize "exemplary service". They are just such professionals, with big hearts and endearing smiles. They really get it. Always, and in all ways!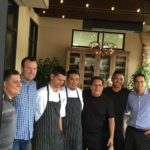 Working together in previous restaurants, and some are life-long friends. With pasts at Fleming's, Charlie Palmer's or Crow Bar and Kitchen, this band of five partners seems to have a perfect recipe for success, and I am a big fan. The Team includes: Russ Bendel, Kevin Franke, Executive Chef Jared Cook, Kyle Simpson and Gabe Whorley. (Their web site has a complete profile on each of the partners under the "about us" section.)
I have had the pleasure of enjoying this spot a few times in recent weeks since their opening. And, have also brought friends in as well. When I heard the Vine in San Clemente had a new little sister, I was all in. We so enjoy Vine, but it is a little far for, well….you know….for a low-key pop-in. Both restaurants are only open for dinner, but the good news is they are open seven days a week!
The setting is casual with rustic light fixtures, natural woods and don't miss the beautiful vineyard inspired paintings & photography. In fact, on the left wall (of what I call the "Romance Booth") the two paintings were washed with the juice of grapes, not paint. A lovely wrap-around patio, with views of the Saddleback Mountains, is not to be missed. And tucked at the far end of the patio is a semi-private Captain's Table, just perfect for a group of eight or so. (I see a wine-tasting there in my future.)
Tastings… On a recent visit for a media introduction, we had the pleasure to sample some of Executive Chef Jared Cook and Chef de Cuisine Paul Villa's favorites. A Charcuterie Platter (made of Ironwood of course) was center stage with all of my favorites—prosciutto, burrata and goat cheese, olives, marinade peppers, toast-points laced with fresh garlic.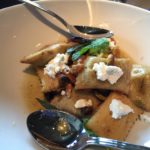 The show-stopper for me is the Dumplings, which are handmade pasta pillows filled with English sweet peas. They are topped with goat cheese, basil, and drizzled with browned butter. Yes, you read that correctly. And yes I order this every time! Next on the pass, were their incredible meatballs. (These were served as smaller bite size, while on the menu, it is served as one huge sphere atop a bed of pappardelle pasta.) Formed with a mixture of three meats, and a rich Pomodoro sauce, these were delicious. The ginormous burgers (which could be shared) was cooked to perfection with a puffy potato bun. This American Wagyu Burger was dressed with hook's two year cheddar, Cabernet bacon jam, pickled onion, heirloom tomato, and leaf lettuce. Amazing. There were also Oysters on the half shell, and a colorful Blue Crab salad with sea salt roasted heirloom beets, ruby star grapefruit, filbert (hazelnut) crumble, celery leaves, avocado, baby beet pickles, capers and charred lemon. It was very refreshing and lots of flavors in every bite.
The two desserts sent everyone to heaven. The warm Fromage Blanc Brownie was served with Nutella ice cream and filbert praline crumble. The second was an Oatmeal Raisin Cookie Crumble served with Apple Strudel ice cream and a bourbon caramel sauce. Both were so refreshing.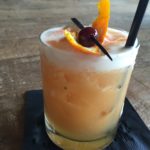 Cheers To This… Craft cocktails are inventive and on each visit I enjoy trying something new! Here are a few of the crowd favorites, beginning with my fave, the Flaming Buffalo. This is a bourbon based cocktail with lemon, orange peel, egg white, and Serrano for a subtle spicy finish. The Snozzberry is made with vodka, creme de mure, lime, fresh basil and ginger beer. The Siesta was eye candy with tequila, JOYA white sangria, lemon, grapefruit and an artful sprig of lavender on top. With ten signature cocktails it is fun just reading the list!
Craft beers rotate, ten in total, with a wide range of styles—from IPA's, to Pale Ales, Lagers, and Hefeweizen.
The wine list is well-curated, with an in-house Sommelier having an opportunity to hand select his faves. It is a global list with a heavy-hand of California's finest, and I favor Central Coast & Napa/Sonoma regions, so that is fine by me! With an impressive 25 by the stem, and 46 by the bottle, there are many of choices here, and a wonderful way to branch out and explore a new wine.
Touring The Menu… Top seller on the menu is the Jidori Chicken Schnitzel with beech mushrooms, pattypan squash, gold wax beans and preserved lemon & basil emulsion. The seafood is the second most popular entree and on a recent visit the Sea Bass was amazing. (Their fish is delivered daily and is items rotate. Specials are posted in chalk above the entry.)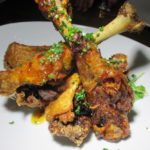 The crispy honey Duck Wings are a signature dish, and not always available from the farm. Between Vine and Ironwood the demand is greater than the supply!
Something that caught my eye on the menu and is a must try next time, is the Watermelon and Heirloom Tomato Panzanella with fresh feta, crispy olive oil croutons, and sweet basil pesto. That just sounds like a perfect summertime salad.
The menu has so many artful choices and as I glance through it I see a lot of value here. Starters/Soups/Salads range from $7 to $19, entrees from $16 up to a $36 rib eye steak. Seven different side dishes are yours from $5-7.
I suggest you arrive early in the evening, and dine on the patio, if available. Here's to dining well…you will love it too!
Ironwood Cellar-Craft-Cook 25250 La Paz Road, Laguna Hills
(Just west of the 5 Freeway at La Paz off ramp)
www.ironwoodlagunahills.com
(949) 446-8772
Hours: M-TH 5:00-10:00pm, F-Sat 5:00-11:00pm, and Sun 5:00-9:00pm