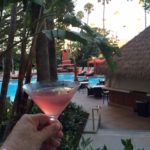 What an amazing transformation has just taken place from the Palm Terrace—- to presto-chango—-The Oak Grill and Aqua Lounge,  located at The Island Hotel—- just across the street from Fashion Island. A complete change has taken place here and takes advantage of the beautiful outdoor patio, and in the distance the pool & cabanas and cozy fireplace. They have smartly added a gated entrance from Newport Center Drive so one can easily access the restaurant and lounge directly from Fashion Island (near Neiman Marcus), and complimentary valet is also available at the hotel entrance.
Oak Grill Restaurant-
Executive Chef Marc Johnson (previously with Mastro's Ocean Club and Cotton Row) oversees the culinary programs for both Oak Grill and Aqua Lounge. He has created a contemporary California menu featuring his imaginative takes on the bounty and diversity found throughout the region.  When asked about his influences, Marc said, "Growing up in the melting pot that is Southern California and later working in Alabama, I was exposed to so many different kinds of cultural cuisines. Those influences can be found in many of my dishes today. The menus are fresh and approachable, but I like to include some unexpected twists to keep things exciting."
Complementing Johnson's culinary leadership is seasoned General Manager Miguel Rodriguez, who previously worked alongside Marc at Mastro's Ocean Club.  Rodriguez, is also a certified sommelier, and curates the wine and beer programs at both venues, with an extensive wines-by-the-glass list and a robust offering of local craft beers on tap, alongside American heritage cocktails. With twelve craft beers, over FIFTY wines by the glass, and a wine list to lust over—- these are well thought out and impressive lists indeed. And for those couples who have different wine preferences—this is the perfect solution! (I like white and my husband prefers red, so this is ideal for us.)
In addition to Chef Marc Johnson and Miguel Rodriguez, the Pastry Chef is Andy de la Cruz and he creates amazing desserts. Well, you might as well meet the rest of the management staff. They are all attentive and love what they are doing. That is apparent and you will enjoy meeting them when you are here. Kevin Hall is the Assistant General Manager, for both the Oak Grill and Aqua Lounge. You will see his smile from across the room. Joshua Smith is the Manager of Aqua Lounge and he has been a part of the Island Hotel for years, which is nice to see. Paul Jimenez is the Manager of the Oak Grill and he is on top of things in the dining room. All of these fine gentlemen are ready, willing and able to assist you with customer service as a top priority!
Oak Grill's brand-new, floor-to-ceiling design exudes sophistication and relaxation with its oak floors, curved booths, deep reds, nautical accents, and romantic lighting. The restaurant's expansive outdoor patio is tucked in under the massive shade trees and is just lovely in the afternoon or after sundown with the perfect lighting. As they settle in, occasional surprise live music performances are planned. And overhead heaters will keep us warmed as summer fades to fall in a few months.
Serving breakfast, lunch and dinner is a tall order. However this restaurant is doing an amazing job of just that. After the hustle and bustle of the early morning business crowd departs for their meetings, the room transforms into a lovely "lunch spot" and with indoor and patio dining there are numerous choices for just that right spot. Dinner turns the ambience upside down to an elegant soiree of lights and magic.
With a sneak-peak-preview of the menu, we enjoyed the following items from Chef Marc and his illustrious team. We started with Tandoori Spiced Ahi Tartare, with Asian Pears, Avocado, Cucumber, Curry Oil and Papadum. The next course was Heirloom Tomato "BLT" Panzanella with Field Greens, Crispy Pork Belly and Avocado served layerd in a Mason Jar. (In other words—- a deconstructed BLT salad—very creative and delicious!) The next course was Pan Seared Main Diver Scallops with Heirloom Beans, Capers and Stewed Baby Tomatoes. This was inspired by Mama Chena. Next was the Chilean Sea Bass with Cranberry Quinoa, Peas and Carrot Puree with Fennel and Sake base. The final entrée was the Braised Short Ribs with Anson Mills Blue Corn Grits, Portobello Mushrooms and a Sauce Bordelaise. The finale was a Rocky Road Bar, served with Gianduja Chocolate Mousse, Marshmallow & Crispy Rice Pearls.  The room was silent as everyone devoured this!
My Secret Find: In surveying all of this new space from top to bottom, I really enjoy the small bar tucked in the back of the Oak Grill dining room. The outdoor patio is a strong second and the lanterns in the trees were a welcoming touch.
Al Fresco Patio, Pergola and Fire Pit-
Stepping past the Oak Grill to the right and Aqua Lounge to my left, I glide out the glass doors and down the ramp to a lovely lower level patio. This is a special spot with greenery surrounding the large patio (seating 30 people, I would guess).  There is a wooden pergola structure overhead, and I assume vines will soon be growing skyward on the upright columns. A large fire pit is center stage with conversational seating all around. Other clusters of seating pods for restful repose are all about. This is a great find for an afternoon tea, cocktail, romantic rendezvous or post dinner cheers.
Aqua Lounge-
The Aqua Lounge beckons a sense of water from the moment my toes touch the lush azure carpeting with swirls of silver as a soft accent. The ceiling has an intricate waved design. The seating is hip, and modern with many sofas and comfy chairs in conversational pods sprinkled around the lounge. The colors are soft in creams, blues and silver tones.  The 360 degree bar has creative lighting with hues of soft blue and light wood—creating a centerpiece of drama in the expansive room.  And tucked in the corner is a DJ booth. In the evenings (beginning at 8pm) they are spinning all types of hip music for guests to enjoy. The DJ's rotate throughout the week to ensure a new vibe nightly. For eats, guests can enjoy a selection of casual, shareable small bites (such as: flatbreads, short rib beignets, oysters, charcuterie)… to name a few, and a more robust late-night menu is available Thursday-Saturday evenings. Dining is prepared by the Oak Grill kitchen.
Favorite Find: The outdoor wood planked patio is my favorite spot, as I can watch what goes on inside and out on the patio as well.
Aqua Lounge presents a finely curated wine, craft cocktail and beer program. The beverage show-stopper is the masterfully crafted classic cocktail program featuring seasonally inspired drinks created with freshly squeezed juices from The Irvine Ranch fruit and locally sourced herbs. The renowned mixologist Tony Abou-Ganim guided the development of the cocktail offerings. A unique offering here at Aqua are the punches that are prepared tableside in a punch-bowl and are perfect for groups of 8-10 people.
Below is just a sample of their amazing drinks, all of which I have humbly tasted in the spirit of "the experience". My personal favorite is the Newport Sunset…
–TAG's Sunset Punch– Gay Eclipse Rum, Zacapa Rum, Marie Brizard Orange Curaçao, fresh squeezed lime and orange juice, Falernum syrup, Angostura bitters, and fresh grated nutmeg.
–Cucumber Cobbler– Coastal sage-infused Hendrick's gin, fresh green apple and cucumber purée, house-made ginger syrup, and fresh lemon juice.
–Moscow Mule– Ketel One vodka, house-made ginger beer, freshly squeezed lime juice, served tableside in copper mugs.
–Newport Sunset– Ketel One Citron, Aperol, Pavan Liquor, grapefruit juice, lemon juice and honey syrup.
One Suggestion: The Aqua Lounge does not offer a Happy Hour program, and probably doesn't need to. However, unfortunately this will not be my "girlfriend's once-a-week get-together spot" as the drinks are quite expensive. We rotate from restaurant to restaurant around Newport. When I ordered a well-brand Cosmo, the price tag was $16—and unfortunately I just can't have one. We will be watching to see if there are some future offerings that are more reasonable for us non-hotel locals.
The Details:
Oak Grill & Aqua Lounge
690 Newport Center Drive
Newport Beach, CA 92660
-Reservations for Oak Grill can be made by calling 949-760-4920
or by visiting http://www.oakgrillnb.com/ (open for: B/L/D)
-Aqua Lounge can be reached by calling 949-760-4920 or visiting http://www.aqualoungenb.com/  (opens at 11:00am to close)