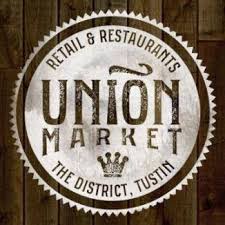 Union Market is a combo "Food Hall" and "Collection of Boutiques" and is found in the heart of The District. Shops and eateries are cleverly all under one roof at Union Market within The District in Tustin. From a selection of gourmet foods, coffee, organic juices, cocktails, artisan shopping it offers a relaxing vibe for meeting friends, or just hanging out.
Coffee, Cocktails and Libations-
Artisan coffeehouse, Portola Coffee Lab takes the art of making coffee to new levels by not only hand-selecting the beans, roasting, but also introducing us to different brewing styles for coffees. They were white lab coats for heaven sakes! They take this very seriously. The Central Bar is known for its craft cocktails, exceptional wines, reasonable prices, and chic decor. Let the bartender's make you a specialty handcrafted cocktail.
Dining, Eateries & Desserts-
At The Kroft guests enjoy comfort foods made from scratch— such as the market-inspired sandwiches and poutines made from hand-cut potatoes, double fried to perfection, and piled high with fresh cheese curds, homemade gravies and signature toppings.  Kettlebar, is a Southern-infused steam kettle cooking eatery. Guests will find traditional Southern specialties, such as: seafood pan roasts, bouillabaisse, jambalaya, gumbo, clams and oysters on the half shell, etouffee and po'boys. And, Farmers is open daily selling gourmet sauces, jams, granola, mustard, olive oils and more foodie items from local venders.
And, for those with a sweet tooth, guests can enjoy a gourmet, handmade popsicle at Front Porch Pops; try the Torch S'more Co. with their handcrafted mallows, grahams and chocolates. The Crepe Coop is popular at the Anaheim Packing District and now is adding their sweet and savory crepes to this newest outpost. (Try the OG! with bananas, strawberries, Nutella, whipped cream, slivered almonds, and vanilla bean gelato.) The Dirty Cookie just revolutionized the way we eat cookies and cream. Now, you can enjoy a cookie shot, a shot glass-shaped cookie filled with housemade flavored cream, as well as a variety of other delicious baked goods. Did someone say juice? The drinkbar Juicery has delicious cold-pressed, raw juices.
Boutiques-
The newest store to arrive is Apples & Oranges, a shop for a cause spot to find locally made soap, handmade ceramics, jewelry and other artistic finds—proceeds go to charity! Shop for flowers, spices and salts at Spice and Tulips;  print your fave photos onto wood at Woodsnap; find great boho-chic apparel at Luella; pick up some hand poured and natural soy candles at Artisan Candle Shop; buy sweet gifts and apparel for babies and kids at The Treehouse Shop; or find curated jewelry and unique finds like nail lacquer and ceramics at The Shangri-LA.
Coming Soon to Union Market…
Belage Gourmet for sandwiches and bakery items,  Market 2 Plate for pasta and salads, Cubed for poke, Youngstone Cheese for grilled cheese/fondue/cheese platters, The Hatch for gourmet sliders/craft beers/tiki bar, Churned Creamery for ice cream, and The OC Hit Factory, a music studio, music producer and radio station.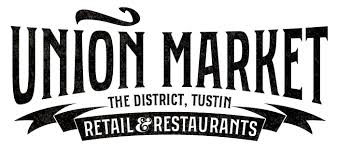 Location:
2493 Park Avenue (Jamboree and Barranca) – Tustin
Union Market- http://unionmarkettustin.com/
The District- http://thedistricttl.com/