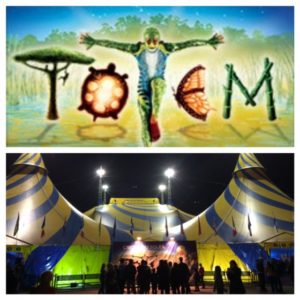 Cirque du Soleil TOTEM® is a fantastic acrobatic show currently under the Grand Chapiteau (big top tent) at The Great Park in Orange County, CA. The way the production transforms, and morphs the stage into so many different setting is truly remarkable. The make-up, costuming, props are all just so engaging. Each cast member has their own unique specialty, and you will be spell-bound.  (Playing now through December 29th and then it moves to Santa Monica, opening January 17th!)
What it is: The performance depicts the evolution of humanity— from primordial and amphibians forward to the aspirational goal of taking flight and uses many mythological characters along the way. There are approximately 14 different scenes, and each one is more amazing than the last.  Using interactive projection technology and sounds they create scenes that are just amazing—and all on a relatively small stage! The band is a complete band hidden behind tall reeds (which actually are blown up in sections and then flattened for easy transport). LED lights are used as colorful jiggling props, large structures and trampolines appear and disappear, a scorpion bridge bends and flexes, and of course acrobats descend from the skies. It is magical.
What it is not: in my opinion, not ideal for children. It runs 2.5 hours with a 20 min. Intermission. There is also not a logical plot line that kids can grasp, and although very entertaining, I think they would grow weary rather quickly.
Suggestion To Production Team: I would like to see the Ring Leader (dressed in all red with a long waistcoat) would be the perfect one to open the show and provide a little narration throughout the show.
Details:
-Do not arrive late. They start on time and you don't want to miss the opening. Also if you are late they make you wait outside the Tent until that scene is over as the light will distract the artists and guests.
-It is actually warm inside tent. We arrive all bundled up but that is not necessary.
-Parking is $10 cash only
-Departing the parking lot- They manage the outflow of cars extremely well.
-Bring binoculars if want to see costumes and make up close up
-Eat before you arrive as only popcorn is available, and limited sodas, water, beer and wine.
-Discreetly bring water as it is $5 on-site—Granted it is cold but sorry,  but that is just robbery!
-They have upscale port-a-potty restrooms with sinks for hand washing. Very well thought out! If I used them anyone can do that.
-Tickets: Can easily be purchased and there is not a bad seat in the house. I used Goldstar to obtain discounted tickets, but you might also check out Groupon for specials in January.
-Web Site: http://www.cirquedusoleil.com/en/shows/totem/tickets/irvine/offers.aspx