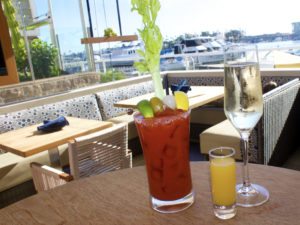 Sadly we just learned that the Ritz Prime Seafood has closed. Here are two articles that may be of interest on other topics in the area, since the Ritz article is no more…. So Sad. Below are my personal thoughts on this….
This first article highlights the recently renovated Irvine Marriott which is a lovely venue with indoor and outdoor patios, fire pits, a speakeasy and as summer approaches will be a lovely spot to dine and meet friends. Click here to view this article on the Irvine Marriott and their dining and Speakeasy:
http://tastesandtravel.com/2017/03/celebrating-all-our-senses-at-the-irvine-marriott/
And here is a just released today article about the NEW Five Crowns Spring Menu:
http://tastesandtravel.com/2017/03/five-crowns-welcomes-spring-in-style/
A Tip Of The Hat To The Ritz Prime Seafood's Re-Boot Team By: Deirdre Michalski
Looking Back…. Just To The Past Few Months:
No, I am not going to walk it back to the beginning when they moved from Fashion Island to Miracle Mile. We all know the miss-steps the super high pricing, forgetting the loyal customers. They might as well have just brought in a whole new concept! I just want to say that the Team brought in about six months ago was fantastic. The Management Team, The New Chef, The Manager and the Serving Staff were all great and were really trying to turn that ship around. I am very sad that they closed and I am sad for all the staff. That is not easy folks. Especially when it happens to super nice people. Let's show some respect.
Grill Concepts brought in new management about six months ago. They tapped Open Bar Hospitality to manage the restaurant. Open Bar's executive team is led by Ben Sabouri and Young Lee, who are both veteran food and beverage operators from Las Vegas. Change is best if it is led from the top. And in this case, when I met Ben Sabouri, I could sense that he really has a pulse on the customer. He is a listener, and he is quite observant to subtle things that make a big different. He is also charming and quite the storyteller if you can get him on a roll! They also had unveiled a brand new menu, and on a recent visit I had the sincere pleasure to meet and taste Chef George Neyra's delectable cuisine. His inspiration is garnered from around the globe. Yes, the menu was seafood-centric, however his team hammered out an incredible Tomahawk Steak and their Rack of Lamb is something to dream about. His flavors are refined, yet complex, and. His plating was stunning. Seriously delicious! The staff was also revamped and the wait staff was now on-point. They were very personable, and most importantly, very well versed on how each menu item is prepared and the ingredients too! Isiah was our waiter all three times I was in and he was such a pleasure. Manager Sean Rowe shared with me their coveted recipe book from behind the bar. They are all so thoughtful and wanted the guests to have a memorable experience at The Ritz.
I have them all in my prayers and hoping for a NEW landing zone quickly. I will come right away and enjoy it incredibly, I am sure. (Request, please include Claude's Wings on the new menu as I could eat 40 of them in a sitting!)
And since I am Irish… all good stories end with a toast, so here is a toast to the Ritz Team and as a bonus, for all you at home, here is the recipe for the coveted Ritz 55 Cocktail. Lead Bartender Zeb Reicher kindly offered up the recipe on my most recent visit. You're welcome!!! The drink has hints of a Sazerac or Vieux Carre (a 1930's cocktail from the French Quarter of New Orleans and the name refers to the "old square"). This potent absinthe and rye whiskey inspired beverage with a burnt-orange color is served with one square ice cube, although some prefer it served neat.
Ritz 55 Cocktail
¼ ounce absinthe (coat the glass)
1 ounce HighWest Double Rye Whiskey
1 ounce Hennessy VS Cognac
1/4 ounce B&B Liqueur
1/4 ounce Carpano Antica Formula Vermouth
2 Hard dashes Peychaud's Bitters
1 Hard dash orange bitters
Orange rind garnish (if desired)
Instructions: Coat the inside of a glass with absinthe, and discard excess. Combine remaining ingredients and stir. Serve over one large square ice cube, or serve neat. Garnish with lemon or orange rind (if desired).
Manager Sean Rowe shared with me their secret Recipe Book kept behind the bar containing all the yummy recipes for the cocktails they prepared. I am sure this book is in safe keeping.