Save this date……February 21st, 2015. From 11:00am to 4:00pm, at Baker Ranch in Lake Forest, guests will have an amazing opportunity to take a sneak peek at an amazing new development. They will be unveiling plans for all of their future parks, and will include a virtual tour of "Promenade Park," a new community park that will not only be a great place for families with kids to play, but will also provide residents with a safe means to travel from one end of the community to the other—- out of the way of traffic. Join them to mingle with a Celebrity chef, enjoy a massage by the pool, and music from a live steel drum band. You could get used to this. I'm are sure of that!  Please see below for all the details on Saturday's events!
About Baker Ranch-
Baker Ranch is a community of brand new homes in Lake Forest that epitomizes family-friendly, "resort-style living" in Southern California. Visit the web site, http://liveatbakerranch.com/  however here is a brief overview of the overall community. With welcoming clubhouses the community exudes "resort-style living" and offers special events space for larger celebrations. Open Space is at the cornerstone of this community—and  outdoor amenities include: trails in vast open space and hills, open pathways that connect the community from one end to the other, and all is cradled at the base of the foothills. It is close to everything, with great top-honored schools, and just fifteen minutes from the beach.
Shea Homes and Toll Brothers are the two home builders that are a part of this plan and offer Townhomes to single-family homes. The floor plans are open, with natural light, incredible quality of finishes, and upscale amenities.  Six new neighborhoods and 19 distinctive floor plans offer a wide range of architectural styles, with sizes ranging from approximately 1,273 to 3,268 square feet.  With no Mello-Roos tax, the cost of living will be much lower than other new Orange County master planned communities.
Village One-
In Baker Ranch's first village, six new neighborhoods will become the foundation for a community of high quality and fresh style.  It will feature a state-of-the-art clubhouse, complete with resort-style swimming pools, covered poolside cabanas, luxurious spas and private spaces.
–Townhomes- One Neighborood is dedicated to this and is called Brookland- by Shea homes 2 and 3 bedroom Starting at low $500,000's
–Single Family Homes– Five Neighborhoods ranging from low $600,000's to over  $1 million. Two are by Shea Homes and three are by Toll Brothers, including: The Knolls, Parkview, Ridgewood, Heights and Highlands.
Plan Your Day's Visit  on Saturday, February 21st:
Renowned chef Richard Blais of Bravo TV's "Top Chef" will be making a special appearance at the unveiling and will be doing a cooking demonstration at 1:00pm and 2:30pm in the afternoon. And, Spa Gregorie's will also be at the event as well, giving free massages to guests who tour the model homes. http://spagregories.com/
Schedule Of Events for Saturday:
»        At The Grove Clubhouse:
11:00 AM – 4:00 PM: Grand Unveiling of the future parks at Baker Ranch, complimentary Spa Gregorie's poolside massage, beauty break with L'Occitane En Provence, appetizers and refreshments, sounds from a harpist and guitarist group
1:00 PM: Cooking demonstration with Richard Blais (from Bravo TV's "Top Chef"), followed by a book signing at 1:45 PM.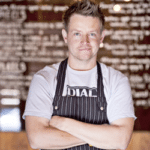 2:30 PM: Cooking demonstration with Richard Blais (from Bravo TV's "Top Chef"), followed by a book signing at 3:15PM.
»        At The Arbors Club:
11:00 AM – 4:00 PM: Pilates demonstration with Trim Fitness Studio, kids craft table, balloon artist, face painting/metallic temporary jewelry tattoo, healthy mini dessert bites and fresh juice/infused water, sounds from Pan-A-Cea (a steel drum band).
2:00 & 3:00 PM: Synchronized swimming demonstrations
We hope to see you there for a wonderful day of enrichment and exploring these wonderful new homes!