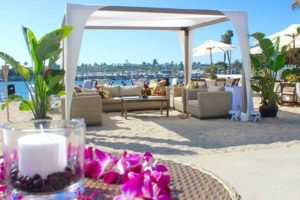 This is a "must attend" Newport Beach summer event and is on everyone's calendar for August. This is serious "on the Bay summer fun"! Did someone say Food, Cocktails, Beer and our favorite local chefs tempting us with their favorite bites? Well, I'm all in for that. This fancy-pants event will be held Saturday, August 17th and Sunday, 18th, 2019.
This summer "classic event" is in its third year and right out of the gate, Year #1  it was a fan favorite and has been winning awards ever since it began! This takes place on the scenic waterfront stretch of Newport Dunes. The bay creates a gentle breeze with a plethora of food, beer and cocktail stations. There are elegant sitting areas with white drapes floating in the breeze and colorful pillows calling us to just press pause, even if just for a moment.  It's a festival. A celebration of food, wine beer and craft cocktails. Taste dishes from local top chefs, and explore over 100 wines and hand-crafted premium cocktails.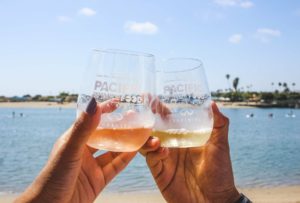 Here are some event highlights…
-As guests enter the event, bubble enthusiasts will enjoy a Lillet Spritz welcome cocktail and a visit to the Bubble Bar at the end of the sand featuring: G.H. Mumm, Scharffenberger Cellars, Argyle Winery, Gloria Ferrar, Wilson Creek and Martini & Rossi.
-Dacor has created a "Wine Lounge" to browse the latest in luxury wine appliances and sample more than 25 beautiful wines under the big tent paired with bites from BXCR Wine Bar.
-In-between bites from favorite chefs and pours from the region's most distinguished wineries, sample a variety of refreshing sips from renowned breweries and distilleries including: (drum roll…) summer inspired margaritas by Hornitos, samples of ice cold beer from JT Schmid's Brewery at the vibrant District Lounge and Makers Mark cocktails from the Makers Wanted Tour Truck.
-Saunter along the boardwalk sampling summer inspired dishes from more than
50 of Southern California's favorite chefs.
-Don't miss the giant made-on-site paella by Chef Leo Razo of Villa Roma along with empanadas paired with wine from the oldest winery in North America, Casa Madero. Enjoy fresh Smoked Shrimp Cocktail and Scallop & Lobster Ceviche at the Atria Lounge.
-Did someone say music & a par-tay?  Celebrity Cruises will have a Silent Disco, the KLOS Beach Party with Rock 'N Roll tunes and beach party games will be at full tilt and of course a live radio broadcast of The Fork Report with Neil Saavedra.
-Memorable Photo Opportunities can be yours- There will be a variety of fun photo opportunities, including: a giant Adirondack chair, the larger-than-life wine bottle and wine glass, step & repeat and of course and the natural backdrop of the azure bay. Guests can stop by the Infiniti Lounge to get a photo taken at the photo booth, and guests will be encouraged to share pics using these event hashtags: #PacificWineandFood #PacificSales #PacificWineandFoodClassic #BeNice.
General Admission Tickets- The General Admission entry begins at 2:00pm and the event runs to 5:00pm both Saturday and Sunday. Prices are: GA Saturday Tickets: $119, GA Sunday Tickets: $99, and GA Tickets at the door are  $150   http://www.pacificwineandfood.com/tickets.html
Sorry but VIP Tickets are Sold Out: Too Bad, So Sad…VIP ticket purchases were the way to go as guests will enter early at 1:00pm (vs. 2:00). VIP's also will have access to the Grassy VIP Gazebo Courtyard, featuring a spectacular view of the bay and several exclusive cocktail and food offerings.
-This first-class epicurean event was recently named one of USA Today's 10Best Food Festivals in the nation for 2019.
-Recognized by The International Food, Wine and Travel Writers Association as one of the top ten food and wine festivals in the world.
-OC Best Event- LA Times 2018.
-OC Weekly's People's Choice for Best food Event 2017 & 2018.
After Party on Saturday, August 17th– Guests can keep the fun going at the official Yacht Rock After Party of the Pacific Wine & Food Classic at Newport Dunes' waterfront restaurant, the Back Bay Bistro. Enjoy panoramic views of the sun setting over the Back Bay while listening to live music by Trinity Tribute Band performing the music of Journey, Foreigner and Styx, including Yacht Rock favorites. The Yacht Rock After Party: 5–10PM and tickets are $25–$50.
For Tickets to After Party: http://www.pacificwineandfood.com/after-party.html
Partners- As they say, it takes a village, and this event is no exception. In addition to the amazing restaurants and chefs, wineries, breweries, and volunteers… here are the list of Partners that we all want recognize…
-Major Kudos to: Pacific Sales Kitchen & Home the Presenters of this fine event,  and powered by Southern Glazer's Wine & Spirits.
-Additional Partners include: Infiniti, Celebrity Cruises, Dacor, OC Foodies , Fork Report with Neil Saavedra, KLOS 95.5, Orange Coast Magazine, Sunset Magazine, Ace Agency, Agency 51, Riva de Balboa boat rentals, Maker's Mark, Hornitos Tequila, Absolut Elyx, Lillet, GoVino, US Foods, and Fiji Water.
-Fashion Island Hotel Is the Hotel Partner for this weekend. They are offering 15% off your stay, and complimentary shuttle to the event. Score!
Benefitting Chartiy of This Event-
This event benefits the Golden Rule Charity. This is a non-profit organization that is "Helping the Hospitality Industry in Times of Need… One Individual at a time, One Community at a time."  When disasters of all kinds strike, the hospitality industry shows up in full force to support their local communities—generously donating everything from food to venue space to their event expertise in order to raise funds and provide for the needs of those afflicted. However, these champions of their communities are not immune from tragedies that impact their ability to operate at full capacity. Golden Rule Charity is passionate about delivering timely resources to get these employees back up and running when faced by an unexpected hardship. Founded in 2015, Golden Rule Charity is led by hospitality industry native, Judy Walker.  It has been the only organization providing timely relief to hospitality companies and employees in need, with a nationwide reach. In this time, we've granted more than $60,000 in funds which have directly gone toward dozens of individuals in need. Organizations we have joined forces with include Napa Valley Community Foundation, Sonoma Valley Community Foundation, Caterina's Club and dozens of individuals, bringing aid to disaster victims. https://www.goldenrulecharity.org/
Event Location:
Newport Dunes Waterfront Resort, 1131 Back Bay Drive, Newport Beach, CA
Guests Please Note:
-The Pacific Wine & Food Classic is limited to guests ages 21 and over.
-No backpacks are permitted. Period.
-Security will check ID's and all bags.​