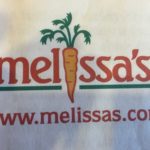 Melissa's World Variety Produce company does it all in the world of fresh produce. They sources the items from 40 different countries, purchase the items, distribute them, and sell them wholesale and retail.  This includes a staggering number of fruits and vegetables from all over the world.  They are the largest distributor of specialty produce in the United States. But as we learned on a recent visit to the warehouse in Vernon, CA, it is so much more.  Melissa's really celebrates this industry in every way, shape and form. They listen to their customers, they talk to the chefs that use their products and they truly enjoy educating us all on how to best enjoy these lovely products. They have on-staff Chefs who are constantly testing recipes, write cook books, and Melissa's welcomes all types of customers to learn more about the seasonal varieties that are available. Guests can just feel their passion and kind hospitality.
Joe and Sharon Hernandez founded the company many years ago and named it after their daughter. They began with three phones, and four chairs, in a small warehouse. It is hard to imagine how it has now grown to a staggering 280,000 square foot office and warehouse complex. (We're talking a small city here.) They also added a state-of-the-art CCOF/QAI Certified Organic Packing Facility. "We provide the freshest ideas in produce, and always want to provide products and service that exceed our customer's expectations. Every-single-day."     Joe Hernandez
On this lovely day, our visit was kindly arranged by Linda Kissam, President of our group, the IFWTWA (International Food, Wine & Travel Writers Association). This was in coordination with Robert S. Schueller, the Director or Public Relations at Melissa's who was our host for the morning. (Robert is someone I also know from my membership in Les Dames d'Escoffier, a women's culinary group. They are Sponsors of our local chapter,  and for that we are eternally grateful for such a wonderful partnership.)
We entered the Conference Room and Test Kitchen to find a plethora of tables with all types of colorful citrus, and carefully carved pieces in bowls for sampling. It is so wonderful to see the fruit whole and also have a peek inside, courtesy of the chef's able knife skills.  We saw Finger Limes (with 500 citrus beads offering quite a citrus burst when you bite into them). I never knew there were so many different types of oranges! There were: Naval, Blood Oranges, Cara Cara (the sweetest with the highest acidity). We also learned about Grapefruit, which does interact with some medications, so adults need to be careful. There was the Oro Blanco (2nd largest variety), Pummelo, and Melogold (which is a cross from the Oro Blanco and Pummelo). And there is Cocktail Graperfuit which is low in acid balance, and resembles a cross between an orange and a grapefruit. Who knew?

Tangerines is a product that has been grafted over the years to eliminate the seeds. There are Clementines (derived from Europe), and Mandarins (from Asia), and a Tangerine is a cross between these two. There are also three types of Mandarins: Satsuma, Jeju and Kishu.
Lemons actually do have a seasonality for growing. The Myer Lemon (first curated by John Myer 40 years ago) has a thin skin and is 10% orange. The season is October to May, and during the summer (July, August and September) they are imported from Australia. Key Limes are often used in cooking and are very acidic. Shoppers want to select green limes if want a more tart taste, as the yellow ones are sweeter. The trend is Seedless Lemons which are available year round and have a thicker skin. It is predicted in five years all lemons will be seedless.
Some new products hitting the streets now include: JuJu's, Finger Limes and Buddah's Hand (a mis-shapened citrus). Robert shared with me a recipe in their wonderful Cookbook that uses the Buddah's Hand to infuse citrus into Vodka. I gave it a try and it was delicious!
Robert explains to us that they deal with 40 different countries. They receive product from different parts of the world, depending on the season, which makes perfect sense if you really stop to think about it. They get certain products below the equator and certain times of the year, and then it rotates. It reminded me of the Spice Industry. So interesting, and always tracking what is going on all over the world! Such an exciting business—they have the pulse on what is being produced, what is new, trending and the farmers, restaurants and chefs are all their guides.
As we walked through the warehouse, I was amazed at all the different types of packaging. There are the Clam Shells (clear plastic boxes), Tote Bags (plastic with handle), Twist and Tie (light-weight plastic with a tie on the end, netting, and so forth.
Who Knew? Some Interesting New Learnings On Produce:
1)      Have you ever sprinkled chili powder on fruit? That's what I thought. No! But in Latin cultures this is often done and so we sampled it on sweet limes. Delicious!
2)      Did you know that Navel Oranges are in the winter months and Valencia Oranges are in the Spring. I did not know that.
3)      Who do you think sets the trends in produce? The Chefs!
4)      Green color on a Grapefruit is not an indication of ripeness, or lack thereof.
5)      Tangerines are grown year round in Coachella Valley, and also in Texas and Arizona.
6)      Some states won't let California ship certain produce as they want to only sell their products within their own state. Can you say Monopoly?
7)      Who do you think sets the trends in changes to produce? Hands down it is chefs and restaurants. However customers have a voice as well. For example, most customers do not like seeds in their citrus— so the farmers are grafting and grafting to irradiate seeds in Oranges and Lemons! In five years we will see very little seeds. Think back to Watermelon. Now only Seedless Watermelon is sold.
8)      Melissa's is the first to have imported Finger Limes into California!
9)      Hatch Chilies are only grown in Hatch, New Mexico and the season is very short. Around Labor Day weekend Melissa's will be roasting Hatch Chilies in front of specialty stores such as: Whole Foods and Bristol Farms.
10)   There are four different Temperatures in the plant because various fruits and veges require different climates to remain fresh. Papayas and Tomatoes for example, thrive at room temperature, while Leafy Greens want to be in the high 30 degree temperature.
THEIR WEB SITE…. www.Melissas.com   The Melissa's Web Site is a wealth of information for any home cook, chef or anyone with an interest to learn more. They have excellent recipes, cooking tips, and "how-to" videos with their chef's on everything from peeling a Yuca Root to how to cook eggplant.  They also have high-end wines, gift baskets, fruit baskets, juicing boxes of produce for delivery to your home, and endless items that can be ordered and shipped to friends, family or clients. What a wonderful way to share great food, and they are prepared so nicely, and shipped with such care. We even got to meet the team who assemble the baskets. They love what they do and it really shows!
Please visit their web site often, and you will be amazed at what you find. This experience has really taught me there is so much more to Produce than I had ever thought. They provided us with a chart showing the entire year and all the Citrus and how it falls in terms of seasonality. So helpful…. And now as I walk through the Farmer's Market and Supermarket, I have a new found appreciation for the time. For every thing—there is a season!