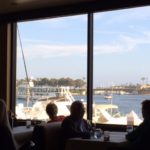 Finally made it to this new waterfront hot spot and what a pleasant surprise! This is quite a transformation from Villa Nova!  Let's just start there. This new darling of Newport is "Wine Country meets Marina" kind'a vibe, and it is all befitting this noble, award winning restaurant. (Their first restaurant is located at The District (in Tustin), and has been winning awards left and right.)  Arrival here at the coastal sister restaurant means sleek stonework, lots of glass, warm wood flooring, and the payoff of expansive views  overlooking the calm blue waters of the Marina. With boats and gondolas gliding past, it is elegance and romance all in one breath.  Guests are greeted by a fourteen-foot wall display of individual glass wine lockers. Above the entry hangs a magnificent golden Chihuly glass chandelier. (This is better viewed after dark, from the outside window just above the doorway.)
A Tour of The Restaurant-
The restaurant was designed by award-winning Richard McCormack Design of Orange County, and construction was handled by ITX Construction also out of The OC. (Personally I always love it when our businesses buy local and use local artisans as much as possible.) The first floor of this treasure-chest features a lively bar with high-top seating as well, and a two-tiered dining room with tables, booths, and expansive views to just die for. The main kitchen is also located on the first floor. Adjacent to the bar is a two-story temperature and humidity controlled glass wine cellar.
Of particular interest was the eye candy first spotted at the hostess stand, and is mirrored in both bars as well. This unique design element consists of a thick lacquered counter top that wraps around all the edges and is illuminated with agate stone images of all different colors. It is so life-like that you might find yourself reaching out your hand out to touch the stones in live form. Very dramatic, and creatively offers soft lighting to those snuggled up to the bar.
There was a wedding upstairs, so sadly we did not get to peek at the upstairs bar and outside patio. Next time! This gives me another reason to return very soon and I will add photos of the upstairs space and views! However, here is a quick run-down based on conversations with staff, photos and a whisper from Executive Chef and Co-Owner Yvon Goetz. The journey to the second floor highlights an elegant wrought iron staircase, which leads guests to the second bar. There is a patio for dining and cocktails, anchored by two fireplaces. The elevation pays off handsomely with forever views of the Marina. The team thought of everything, and has heaters and awnings for comfort in just about any type of weather. The main kitchen is on the first floor where all of the food is prepared. A staircase in the kitchen leads to upstairs space with a staging area, baine marie, and warming facilities for plating events with ease.
There are two private rooms upstairs which are smartly equipped with complete state-of-the-art audio visual equipment for meeting and private functions. The Sonoma Room offering views of the Marina, and can accommodate up to 56 guests. The Napa Room has an indoor fireplace and can accommodate up to 24 guests. (The entire upstairs can accommodate 110 for dining,  or 200 guests for a standing cocktail reception. Good to know!)
The Exceptional Cuisine-
The food was excellent, and our server Linda was engaging and a pleasure to have taking care of us.  Taking a quick walk thru the menu…..for starters, the choices were really endless. From seared rare Ahi tuna, to oysters on the half shell, a seafood Tower, carpaccio,  and on it reads. Salads were all excellent choices as we watched them parade by. The Santa Barbara heirloom tomato starter was so colorful on the plate. The organic quinoa and baby beet salad looked amazing, along with two house salads also offered. For main courses, the choices were aplenty. From pasta, to salmon to free range chicken, and slow braised beef short ribs, or fish the likes of scallops, shrimp,  and mahi-mahi. There really is something for everyone on this menu. If you happen to be in the mood for vegetables the vegetable tower was dramatic and looked divine. From the grill, Brandt Family Reserve and aged meats of every style were available, New Zealand Rack of Lamb, Lobster Tail with Asparagus, numerous sides, and of course Chef Yvon's fabulous three specials of the evening.  (I really applaud the team that the menu is manageable. They have a lovely selection of starters and salads, special offerings of seafood, aged Prime beef, Lamb and three Chef's Specials for the evening that all sounded wonderful. Hard to choose what to order, but I so prefer this than be handed a menu (translation—a book) to read through.
So, after all that, what did we have? Here are a few of the selections we enjoyed, on our recent visit. Our evening began with the "beginnings" as they title it on the menu. We selected the Prosciutto Wrapped Hawaiian Shrimp and a Winery House Salad with finely sliced apple, candied walnuts, gorgonzola cheese, tomatoes and fresh greens. We also had the Blended Salad with romaine lettuce and bleu cheese. It was a delightful start.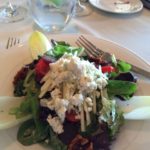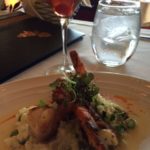 For main courses, our party selected the Lobster Tail with Asparagus and Risotto highlighted by a light Beurre Blanc sauce. Scallops and White Shrimp was my selection, atop an amazing Risotto with snap peas and roasted red pepper. The Rack of Lamb was cooked to perfection and accompanied by truffle infused potatoes. It was delicious. And of course a little dessert consisting of beignets with a crème fraiche (of sorts) and a strawberry coulis.  The perfect finish to an amazing dinner!
Overall, a wonderful experience and our entire party indicated we will all be back again very soon! It is just great to have a spot right on the water to enjoy fine food and spectacular views. The Winery also has three boat slips so "dock and dine" is a wonderful option too! By night the room takes on such a different look, and it is romantic and dreamy and a place for celebrations to be enjoyed.
The Wine Program-
Adjacent to the bar is a two-story temperature and humidity controlled glass wine cellar with the capacity to hold an impressive 6,000 bottles. (I would like to spend a day in there with just a glass and corkscrew in hand.) With focus on wine, the restaurant features a team of eight certified Sommelier, including a Level 3 Somm. On this evening some were drinking white and some were drinking red, so we opted for wine by the glass. We did not give the expansive wine list a fair shake but that certainly gives me another reason to return and give that a whirl. The wine list is quite extensive. Most wine aficionados will be pleased to see there is a fine selection from around the globe. That always makes for some fun choices. Personally, I scan for California Reds with dinner, and found an extensive list of names I recognize and wineries I have personally visited.  The Winery charges $25 per bottle for corkage, should guests want to bring in their own special vintage.
A few thoughts….
-I would respectfully like to suggest  more options for CA Chardonnay— on the reasonable side of the price scale.
-Suggest adding an 18″ glass partition between bar and dining room on the first floor. We were sitting in a booth in the dining room and people in the bar (slightly elevated) were standing above our heads talking with drinks in hand. (Hard to teach manners it seems…)
-The daily specials were so interesting I would have loved to have seen them in writing. It may be just me, but when verbally recited, I always seem to miss some of what is being described.
The Details-
The Winery Restaurant
3131 W. Coast Highway
Newport Beach, CA 92663
(949) 999-6622
www.thewineryrestaurant.net
Open 7 nights a Week for Dinner
-The Bar Opens at 4:00 (no Happy Hour)
-Dinner Service begins at 5:00
-Parking- Only Valet Parking is offered $6.00