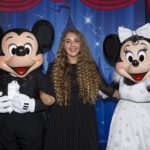 Held at the enchanting Disney Grand California Resort ® in Anaheim, CA, the Illumination Foundation once again created an incredible event. This evening places a spotlight on the incredibly difficult plight of the Homeless in Orange County. The Presenting Sponsors included Disneyland Resort and Wells Fargo, and overall the March, 2014 Table for Ten Event raised $360,000, exceeding the Illumination Foundation's fundraising goal!
The event and table sponsors included: Wells Fargo, Disneyland® Resort, OCTV, Dining Out Magazine, Pandora Bakery, American Harvest Organic Spirits, Salomon, Manassero Farms, Nestle Waters, Sidney Frank Importing Co., Sadie Rose Bakery, Addington Confections, Elegant By Design, Pimco Foundation, Ice Bulb, NYX Professional Makeup, Riedel®, Le Creuset, Jacques Cardin Cognac, KMPG, Armored Wolf, Barenjager Honey & Bourbon, Epicstyle.com, Chef's Insight, Walkers Product of Scotland, Lette Macaron, Future Foods Farms, Patina Group, Armen Designs Newport Beach, Deagan Duchene, Don Davis, Kaiser Permanente, Mr. Lawrence Haynes and family, Mr. Rick Hopcraft and First American Title Co., Mr. and Mrs. Ripu Arora, the Curtis family, the Horstmann family, the Scheinman-Toretto Family, Mr. Tim Sandis, West-Tech Materials, West Anaheim Medical Center and Bob Hodson Photography.
This black tie affair welcomed 340 guests into the Foyer of the hotel with passed appetizers, champagne, cocktails and wine.  A seemingly endless parade of Silent Auction items lined the pathway with creative gift items to tempt the bidders. The room filled with laughter, and photos with Mickey and Minnie Mouse were a favorite. Numerous sponsors displayed their edibles, including Sadie Rose Baking Company, Pandor Boulangerie & Cafe, Manassero Farms, Addington Confections, and many others.
As the doors opened, the reveal was impressive. Each table was a creative reflection of the restaurant featured. Tables were transformed—-with dramatic lighting and sky high floral displays. From masterfully stunning table décor, to extravagant floral arrangements, romantic candles, and exquisite fine china, the room was aglow with drama and elegance. The guests were full of anticipation of what was to come next. Thirty-two of the top restaurants in Orange County generously donate their time, cuisine, staff and creativity to create a remarkable evening for a "table of ten" filled with guests and donors. Dinner was prepared tableside by each Chef, and an exceptional wait staff at hand.  Chef's menus were artfully presented with the perfect wine pairings for a lavish five-course dining experience.
The welcome began with Paul Leon the Foundation CEO and Founder. As the room settled, Paul led the program thanking sponsors Wells Fargo and the city of Anaheim for its vision in partnering with his non-profit endeavor to fight homelessness. Jack Toan of the Wells Fargo Foundation, and Mary Niven, vice president of Disney California Adventure Park & Guest Services, also spoke to the crowd.  Richard Campo of Costa Mesa was presented with the 2014 Community Champion Award for establishing a Sunday School for motel children in Costa Mesa, and Bruno Serato received the 2014 Chef Community Champion Award for his tireless quest to feed and house homeless children and their families through the Caterina's Club named after his mother. The guests were treated to a brief video highlighting the exceptional work that is being done in the community. The room was spell-bound by the grace and talents of 14 year old singer and songwriter Maddy Vance who sang three of her own original songs. She is a remarkable super star in the making.  Santa Margarita High School students' musical trio "R & D" and the Illumination Foundation's children's choir also performed. It was a magical start to the evening.
One of the highlights of the enchanting evening was Anaheim Mayor Tom Tait's inspirational presentation of keys to the Rodriguez-Rocha family for their new residence. The family was the first to receive permanent housing through the HAPP (Homeless Assistance Pilot Program), which focuses on homeless families with children in the Anaheim Union School District. HAPP was established by the city of Anaheim in partnership with the Illumination Foundation.  Dessert was accompanied by the playful banter of the live auction. The trips, fine wines, and other auction items seemed to go quickly.
A special thank you goes out to all the participating chefs, including: Host chefs Andrew Sutton of Disney's Napa Rose and Ralph Stuhlmueller of Disney's Grand California® Hotel & Spa, cocktail reception host Andrew Navidi of Earth & Oceans, Vincent Lesage & Rachel Haggstrom of Waterline, The Balboa Bay Resort in Newport Beach, Ashley Santo-Domingo of 24 Carrots, Bruno Serato of Anaheim White House, Brian Doherty of Bambu from The Fairmont Newport Beach, Vittorio Lucariello of the Beverly Wilshire, A Four Seasons Resort, Steven Mary of Catal Mediterranean Grill, Alex Flores of Carthay Circle Restaurant from California Adventure Park, Lewis Butler of Center Club, Seakyeong Kim of Charlie Palmers at Bloomingdale's South Coast Plaza, Vartan Abgaryan of Cliff's Edge, Marcel St. Pierre of Club 33, David Shofner of Dublin 4 Gastropub, Wineworks for Everyone, Franco Barone of Il Barone Ristorante, John Ledbetter of Lark Creek Newport Beach, Lindsay Smith-Rosales of Nirvana Grille, Dustin White of Orange Hill Restaurant, David Martin of The Pacific Club, David Slay of Park Avenue, Louie Jocson of Red Table, Edgar Agbayani of Roy's Hawaiian Fusion Cuisine Newport Beach, Manny Gomez of Ruth's Chris Steak House, David Fune of Splashes in the Surf & Sand Resort, Norberto Village & Rayne Frey of Tabu Grill, Imran Ali of Tamarind of London, Casey Overton of The Loft at Montage Resort Laguna Beach, Pascal Olhats & Gregory Moro of The Pascal Experience, Marcus Lage of Tommy Bahama Island Grille Newport Beach, Conrad Gallagher of Vanity Catering & Events, and Michael Webb & Thomas Trevethan of Vue Restaurant, The Laguna Cliff's Resort & Spa.
 PHOTO CREDIT:
BOB HODSON PHOTOGRAPHY
www.chefsinsight.com

About Illumination Foundation
The Illumination Foundation is an Orange County-based 501(c)(3) non-profit dedicated to providing targeted, interdisciplinary services for the most vulnerable homeless clients to break or prevent the cycle of homelessness. The Illumination Foundation pioneered an innovative and cost-effective solution to advance health and housing stability for the chronically homeless community. Illumination Foundation provides free mental health, medical and outreach services to homeless families and individuals at clinics throughout the country. To date, Illumination Foundation's housing programs have served 1,183 families and placed 520 families into permanent housing. Illumination Foundation's medical programs have provided medical and social services to 8,718 patients. For more information, visit www.ifhomeless.org .