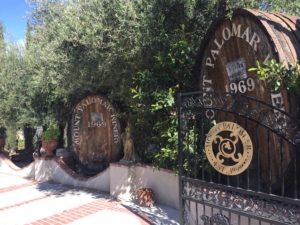 It was a lovely sunny morning as a group of So Cal writers recently visited Temecula. The Mount Palomar Winery was established in 1969. This winery has deep roots in this valley, and responding to their kind invitation, the International Food Wine and Travel Writers Association (IFWTWA) set up camp right there. Perched high atop the valley below, we marveled at the premier views from their restaurant Annata Bistro & Bar. The name Annata translates to "vintage" in Italian. How perfect is that!
The rambling lush gardens, charming covered patios and alcoves offer guests an ideal, European-style setting. As we sauntered past, we observed guests enjoying wine tastings and some were nibbling on appetizers in the various patios and alcoves. This flexible space can accommodate groups both large and small.
As we stepped into the restaurant, with views in every direction, bartender Kevin Adam quickly began measuring, pouring and shaking his way to some memorable creations. Each of their recipes includes at least one special ingredient that is "house made". I was anticipating a wine tasting, but this was a pleasant surprise. It was craft cocktail time here in the Valley. (I took note of this as some of my friends don't consume wine. They prefer beer or craft cocktails, so this could accommodate everyone's preferences.)
Note: See the end of this article for two extra-special offers for your visit to the winery!
Speaking of cocktails—-we began with a Pomegranate Martini. This was made with Tito's vodka, Triple Sec, Pomegranate purée, house made sweet and sour and a fresh orange slice. It was delicious and I am a sucker for drinks with a pretty color. The second beverage Kevin served was a Ginger Crush. This was made with muddled ginger and orange, gin, vanilla bean simple syrup, Italian blood orange soda and a garnish of basil. It was very refreshing . Both are available in the restaurant, as are a host of other tempting concoctions.
I appreciate when a chef showcases his/her menu with a sampling of their personal favorites. Chef Ronnie Chavez did just that and we were quite impressed. Be sure not to miss his Hummus and Pita Chips. Both were made from scratch and he certainly didn't need to tell me. I don't think I can purchase hummus out of a plastic container ever again. One can really taste the difference. He also prepared a red pepper version which I also enjoyed. It is creamy and rich with flavor. The pita chips are a cross between a chip and bread. With the pita chips fresh from the oven and served warm, it was a delight. A perfect nibbler for 2-4 to share.
Our group then had a choice of five different entrees. Chef Chavez made this a tough decision—- providing a nice variety of lunch time options. The entrees included:
Lamb and Beef Kabobs (served with house made tzatziki sauce)
A Classic Greek or Caesar Salad
Steak and Fries (topped with fresh sautéed mushrooms and Alfredo sauce, a jack Demi-glacé, served with fries and truffle aioli
Chicken Flatbread (with mozzarella, Alfredo sauce, crispy onions for crunch and sprinkled with Parmesan cheese)
Pesto Flatbread (made with spinach and mozzarella cheese).
The dining room became quiet as everyone enjoyed their selections. I had ordered the Steak (and yes, the Chef had me at fries). It was prepared perfectly!
Observations- There are seven things I have noticed here that I perceive to be rather unique here in Temecula and I think visitors will certainly appreciate:
As I mentioned previously, the setting is high up on a hilltop with beautiful views of the Temecula Valley below.
The Winery features a welcoming restaurant with a full bar creating craft cocktails and floor to ceiling windows to showcase the views below. This is one of only a handful of wineries with a restaurant and full-bar. (Most visitors return to the downtown area on the other side of the freeway to enjoy these amenities—especially during the daytime.)
And speaking of cocktails—-they just started in December offering "Premium Tequila Tastings" on the patio this month. These are the only tequila tastings going on in Temecula. It includes five samples of Asombroso fine tequila along with a margarita. We're offering them every weekend through the end of January from 1:00 – 5:00pm (times could be subject to change, so call if planning a get-together). All of the information is available here: http://www.mountpalomarwinery.com/Annata-Bistro/Bar/Tequila-Tastings
With a lush garden setting, the winery has meandering pathways and lush greenery creating intimate tasting venues sprinkled throughout the property. The grounds are reminiscent of a European-style winery.
This winery can accommodate wine tastings for small, intimate affairs and also rather large groups. That flexibility is very hard to find in the Valley. For those who have a group that may expand in size during the day, this might be a perfect spot to all meet up.
Guests can arrive at the tail-end of a day of tastings and enjoy dinner until 7:00pm on Friday, Saturday and Sunday evenings
Mount Palomar produces Solera Cream Sherry. They do this in the very last outdoor Solera in the state of California, and possibly the last in the country. It is aged in the California sun for a minimum of five years. The Palomino grape used in this Sherry has rich hazelnut and caramel flavors with a long, smooth finish. It was a treat to see this in operation.
##Meet the Winemaker-

When we were first introduced to the winemaker, I had to do a "say again"? James Rutherford. Rutherford—as in one of the original and iconic Napa families dating back to 1864? Yes indeed. So, from wheat farmers, to silk worms and then to vineyards, Napa is steeped in history. James has a vast experience in Santa Barbara and San Luis Obispo, and later in France, Spain, Italy and Germany. Since many of the over 20 varieties planted at Mount Palomar are native to those lands, it is a perfect background for the winemaker to have. James was kind enough to take us on a tour and we sampled some of the wines right out of the barrel. He is very proud to share his harvest from his new plantings of Dolcetto, Nebbiolo, Mouvedre and Aglianico. We will be looking forward to that as well!

Two Special Offers From Mount Palomar Winery To You-
Two For One Wine Tasting– Mount Palomar has extended a two for one wine tasting special offer to my readers, and I thank them so much for that! Please visit this link and print out the offer to take with you to the winery. This is available Monday through Thursday through January 5, 2017. http://www.mountpalomarwinery.com/tastesandtravel
Glass of Sherry– Also, since the Annata Bistro & Bar is celebrating their recently released Solera Cream Sherry (in November), any customer who orders a glass of Sherry can add a paired dessert for only $2. Just ask!
Mount Palomar Winery and Annata Bistro & Bar
33820 Rancho California Road
Temecula, CA 92591
(951) 676-5047
www.mountpalomar.com
Wine Tasting Hours:
Monday-Friday 10:00am to 5:00pm
Saturday and Sunday until 6:00pm
Note: last call is half hour before closing time
Annata Bistro & Bar Hours:
Monday-Thursday 11:00-5:00pm
Friday/Saturday/Sunday 11:00-7:00pm