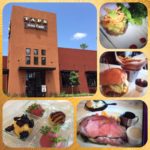 Taps Fish House & Brewery opens Monday, June 8, 2015. Get ready to enjoy a great new local spot. Beautiful and spacious dining room, bar with community tables, booths and a horseshoe bar area. Think brick, natural woods, historical photos, and a dog friendly patio. The service is impeccable.
The preview was very creatively done whereby guests had various menus, which gave chefs and servers a chance to serve a multitude of dishes, and the guests were tasting many different items. As a result, we are all chatting  up and sharing visuals of a plethora of different  items. Brilliant Lee Healy and Taps Team!!!
Imagine…. Ahi Tartare, Smoked Prime Rib, Turkey Burger, and homemade sorbetto—done four ways! A must visit! Opens Monday at 11:00 am. Even have a video of a cocktail being made with Nitro! Epic! I will post a  detailed review and photos here  on my site to view very shortly.